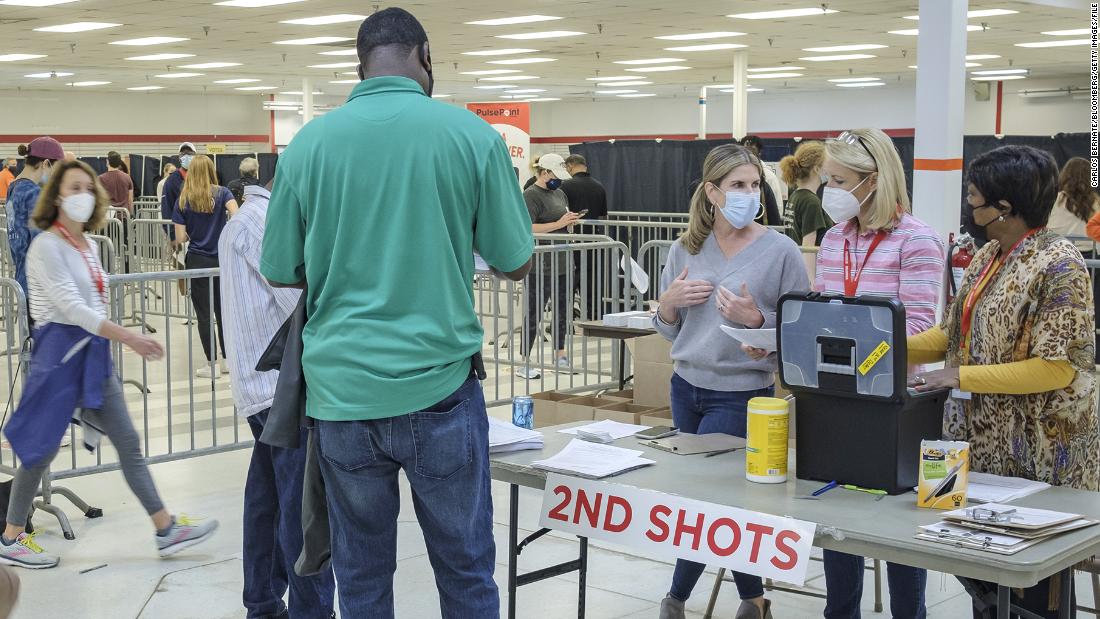 But health experts say what's most surprising is how low this figure is, and that it points to the need to inform people about the importance of the second shot for their own protection and that of others in a pandemic – and to let them know , that it's not too late to get it.
Two of the vaccines in use in the United States – the Pfizer / BioNTech and Moderna vaccines – require people to receive a new dose to get the maximum protection that the vaccines can provide.
"I'm worried about every single person obviously not coming back for another shot, but I would have actually thought there would be a higher rate of people not coming back," said Dr. Leana Wen, a CNN medical analyst. "Based on what we know from other vaccines, there are declines for a number of reasons."
;
The CDC said the number of people missing doses – 5 million – may not be accurate. If a person received the two doses from different reporting units – for example, first from a state-run clinic and then from a local health clinic – the two doses may not be linked to databases, a CDC spokeswoman said.
"However, the reasons for the delayed or missed second doses require further analysis," the spokesman said, and officials should work to understand whether this is due to access or vaccine hesitation.
Reasons and excuses people give for skipping the second dose
Several people have reported getting their second shot somewhere other than their first, and first-place administrators repeatedly contacted them to make an appointment for another shot that had already been administered elsewhere.
However, some people are definitely missing their second dose. Fear of the side effects of the second dose – which is said to be more serious than after the first dose for some people – along with problems getting an appointment and finding the time for it, are among the reasons people have given for missing other doses. .
The second shot of the Pfizer vaccine is expected to be administered 21 days after the first. For Moderna, the second dose is 28 days later.
Da Dr. Ashish Jha, dean of the Brown University School of Public Health, got his second shot, "it was on a day that was terribly inconvenient and I was trying to move it around. They're like: You have to show up on this day on this time, "he said.
"My opinion is that a lot of this is that it's hard to get. People miss appointments, people miss doctor appointments," Jha said at a conference call with reporters on Tuesday.
"I do not think it is people who hesitate or do not want to get it," Jha said. "It's hard to get these things and two shots in a row."
One solution: Make it easier to get the second shot
Wen agreed.
"I think what we really need to work on is making vaccination the easy and convenient choice," Wen said. "Everything we can do to get vaccines out to doctors' offices, to pharmacies, to workplaces, to schools, no matter where people are, is really important."
Within St. Luke's University Hospital Network in Pennsylvania has a success rate of getting people fully vaccinated at 99%, said Dr. Jeffrey Jahre, an infectious disease expert there, in part because the network made it easy to get the second deal, award it when the first shot was given.
The network then followed up with more reminders about the appointment – five days out, three days out and then the day before – and those who were unable to keep the deal were given "an easy way to change it," Jahre said.
More than 43% of the U.S. population has had at least one shot of a vaccine, and 30% are fully vaccinated according to CDC data. And in many places around the country, it becomes increasingly easier to get vaccinated when supply increases and demand decreases.
A perhaps more difficult solution: against misunderstandings
But another reason why people might skip the second dose is not understanding the importance of it or being misinformed. And it can be harder to fix.
Some people skip the second shot because they think the first one gives them adequate protection, Wen said.
Some people say, "Oh, I'm fine. I'm not that much in danger, so I just need a vaccine," Wen said. "And then some people think that one vaccine will somehow give them adequate protection. The other is just for good measure. That's not true."
"I do not want them to go around thinking they have immunity to Covid-19 when in fact they do not because they were given only one dose," Wen said.
In fact, most Americans may be misinformed about the timing of immunity after vaccination, according to a new comment published Wednesday in the New England Journal of Medicine.
The authors analyzed results from a study of 1,027 U.S. adults taken between Feb. 11 and 15 through a panel set up by the National Opinion Research Center.
Approx. 20% of the respondents thought that the vaccines gave the recipients strong protection after the first dose, and a further 36% were unsure.
Only 44% of those vaccinated reported that the vaccines provided "strong protection" one to two weeks after the second dose, as set out in the CDC guidelines.
"Despite current efforts, many Americans, including many who have already received a first dose of vaccine, remain confused about the timing of protection and the need for a second dose," the authors wrote.
Earlier this year, there was a public debate among health officials about delaying the second dose to focus on building partial immunity to a larger portion of the population before giving everyone the second dose. This debate may play a role in the public's lack of understanding of the importance of the second dose, the authors said.
One shot is not enough
In fact, the first dose boosts the immune system, so the second shot boosts it. This makes it a better option for gaining immunity, "as CNN chief medical correspondent Sanjay Gupta explained when the vaccines were first approved for emergency use.
While there is some protection after the first shot, it is not clear how long it will last and it is nowhere near what full immunization offers.
"There is a 36-fold difference between being fully vaccinated versus partially vaccinated," said Dr. Anthony Fauci at a news briefing Friday.
And then there is the question of whether the country can achieve flock immunity – meaning that 70% to 85% of the population is immune – if the number of people who do not receive another dose of vaccine continues to rise.
"I'm worried about that," Jahre said. "To get shelf life, you need the second dose."
And to get to where we want to be in terms of herd immunity, "you have to have durability, you have to have sustainability. And it's very important that people follow the second dose," Jahre said.
"It's definitely a problem," Wen said of the 8% who did not receive another dose. "We need people to be fully vaccinated to protect others as well."
According to Wen and others, people also need to know that if you are among the 8% who have only received one shot of Moderna or Pfizer / BioNTech vaccine, it may not be too late to get the second shot.
According to the CDC, if "the recommended interval is not observed and a delay in vaccination is unavoidable," the second dose of both Pfizer-BioNTech and Moderna vaccines may be administered up to six weeks – or 42 days – after the first dosage.
CNN's Ryan Prior contributed to this report.
Source link