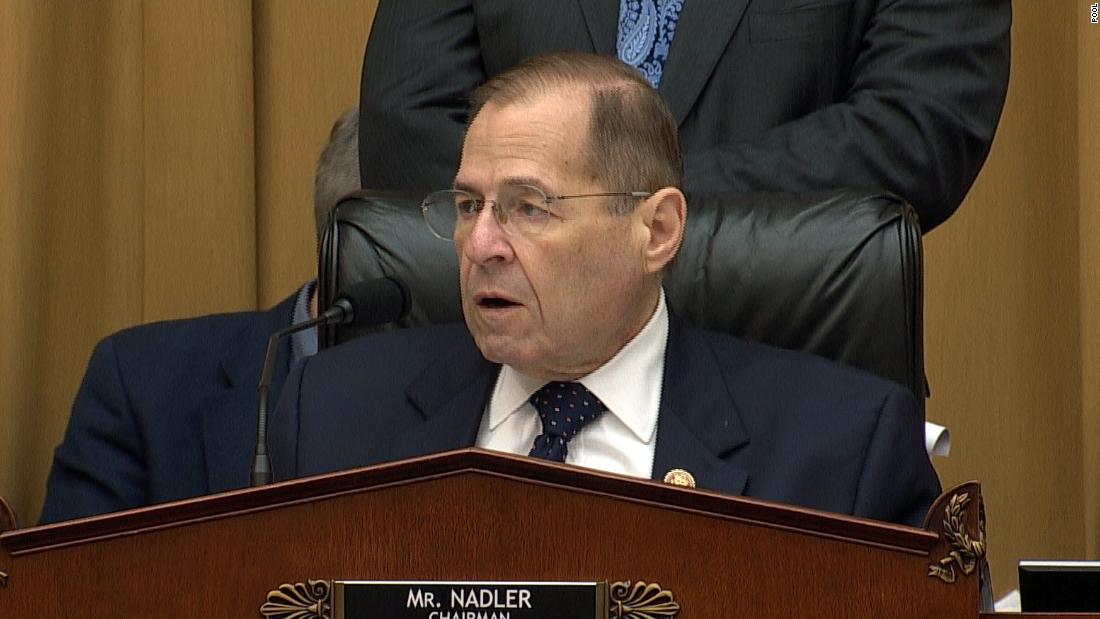 White House Counsel Pat Cipollone sent a letter Wednesday to House Judiciary Chairman Jerry Nadler arguing that the committee's request for documents was illegitimate.
"It appears that the Committee's inquiry is designed, not to further legitimate legislative purpose, but rather to conduct a pseudo law enforcement investigation on matters that were already the subject of the Special Counsel's long-running investigation and are outside the constitutional authority of the legislative branch, "Cipollone wrote.
" Congressional investigations are intended to obtain information to aid in evaluating potential legislation, not to harass political opponents or to pursue and unauthorized 'do-over' or exhaustive law enforcement investigations conducted by the Department of Justice, "he added.
The letter adds yet another layer to the escalating feud between the White House and House Democrats on their numerous investigations into the Trump administration President Donald Trump's businesses and finances
Trump has already declared that his administration will fight all of the House subpoenas ̵
1; several of which are now being considered in court. The Judiciary Committee voted last week to hold Attorney General William Barr in contempt for the full Mueller report and evidence and the Ways and Means Committee issued a subpoena for Trump's personal and business tax returns.
Nadler and other House Democratic leaders are now raising the prospect they will hold numerous administration officials in the same time as part of a package to highlight the Trump administration's stonewalling of Congress. Some of them are also talking about invoking Congress' so-called inherent contempt powers to find or jail those who defy congressional subpoenas.
Cipollone's letter, which was first reported by The Washington Post, was sent in response to the document request the Judiciary Committee made in March to 81 individuals and entities, including the White House. The letters were opened in the panel's investigation into obstruction of justice and abuses of power, which cover many of the same topics as the Mueller investigation. Don McGahn, and the White House instructed not to provide documents in response.
McGahn has also been subpoenaed to testify on May 21, and Nadler is threatening to keep him in contempt if he does not appear.
In the letter, Cipollone accuses the House panel of violating executive privilege with the requests, although he did not say the White House had asserted the privilege over the materials in question.
"If the Committee continues to pursue its inquiry, the requests in the committee's March 4 letter suffer from numerous legal defects and reflect little, if any, respect for the legitimate interests of the Executive Branch or for the accommodation process that governs congressional requests for information from the Executive, " Cipollone wrote.
Source link