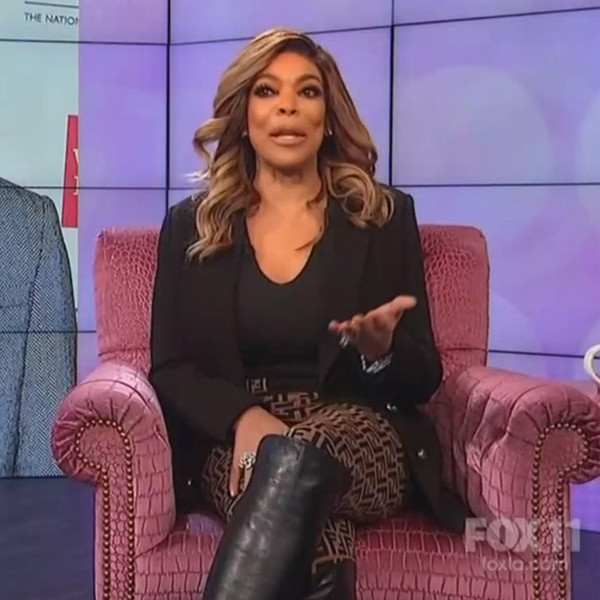 Wendy Williams has never been more excited for Friday.
After experiencing a week full of headlines, the daytime television host may have inadvertently referenced the chatter during today's all new episode of The Wendy Williams Show
During her popular segment "Hot Topics," Wendy was speculating as to whether or not Jussie Smollett would attend the 2019 NAACP Image Awards this weekend in Los Angeles.
" He loves the camera and he loves to pose, "she shared. "Jussie was nominated for Best Supporting Actor and he was spotted at LAX."
But after tasting a throat lozenge, Wendy quickly took it out of her mouth and said, "long week" before placing it into coffee cup. Oh, we feel you girl.
She would later remind her co-hosts and audience members that she would be taking a pre-scheduled week off.
"We are on vacation for seven days," she shared. "We will be back the following Monday." The first week of April will include repeats with popular guests including Katie Couric and Hoda Kotb .
To say Wendy's past week was memorable may just be the biggest understatement in pop culture. Earlier this week, reports surfaced to her husband Kevin Hunter reportedly brought a child with his alleged mistress.
She would later come on a united front with her husband when they stepped out in New York City. And yes, Wendy was wearing her wedding ring.
The talk-show host previously took a two-month break from her show for health reasons. During her return to daytime, she thanked fans for their patience and support.
Soon after, she would reveal on the show that she was living in a sober house.

"After I finished my appointments, seeing my brothers and sisters, breaking bread, I am driven by my 24-hour sober coach back to the home that I live in the Tri-state with a bunch of smelly boys who have become my family, "Wendy explained. "They hog the TV and watch soccer, we talk and read and talk and read and then I get bored with them. Doors locked at 1

0:00 pm Lights out at 10:00 pm So I go to my room, and I stare at the ceiling and I fall asleep to wake up and come back to see you. So that is my truth. "

The Wendy Williams Show airs weekdays. Check your local listings online.