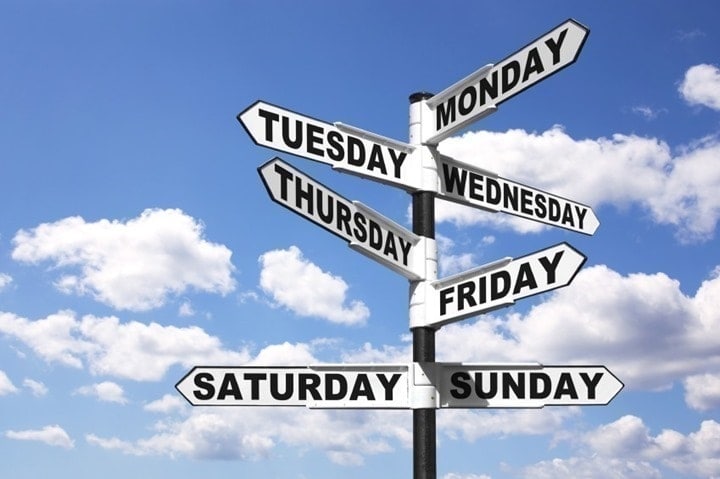 The week in review is a collection of both all the goodness I have written over the past week on the Internet, as well as a small pile of links that I found interesting – generally endurance sports related. I have often wondered what to do with all the coolness that people write, and while I share a lot of it on Twitter and Facebook, this is a better forum to pass it on to you. Most times these different currents do not overlap, so beware of all these places for good things!
So with that, let̵
7;s get into the action!
Sports Tech note offer:
There are still some remaining offers from Amazon Prime Day. In addition, you can always access all offers at dcrainmaker.com/deals
Product

Retail Price

Amazon

Second site

Sales notes

Apple Airpods (2nd generation) – $ 25 off
$ 159
$ 125
Amazon
I use AirPods primarily when I travel just to listen in airports, planes etc … I do not tend to use these for training because they fall out. Also with the $ 50 wireless charging case at a discount. Personally, I just use the basic model.
Apple Airpods Pro – $ 30 off
$ 249
Amazon
Yup, these are the new noise reducers that do not fall out of your ears. I have not tried them yet, but many people seem to be happy with them.
Apple Airpods Pro – $ 50 off
$ 249
$ 199
Amazon
⚡ This is a very strong deal – by far the lowest price Airpods Pro has ever been. Note: Also flirts occasionally for $ 189 ($ 60 off).
Apple Watch Series 3 (38mm)
$ 169- $ 179
$ 169
Amazon
This is the lowest price we've ever seen for the Apple Watch Series 3. While the Series 5 is the new one, the Series 3 has almost all the same features (and still gets all the updates). It dipped a few times to $ 179, but only once ever for Black Friday to $ 169.
Apple iPad – Latest model 8th generation (32 GB)
$ 30 off (10% off)
Amazon
I use my iPad primarily for TrainerRoad as well as Zwift when it is not with a larger screen. I occasionally use it for other apps as well, namely The SufferFest – but I test pretty much every smart trainer app on it. This is the latest iPad that was just announced almost two weeks ago, so not too bad to see it already for sale (US AMAZON DEAL ONLY).
DJI OSMO Action (Action Cam) – Normally $ 329
$ 349
$ 249
Amazon
This is a solid price for DJI OSMO Action and it is a very strong first candidate from DJI competing with Hero 7 Black (realistically, except dual-screen, it simply does not compete with Hero 8 or Hero 9). I really like many elements on OSMO Action, but especially dual-screen. Check out my full review for comparative thoughts. While I would have said that we might see a new OSMO action sometime this spring (an annual update cycle), I'm pretty sure COVID19 has killed every chance it happens for a while.
Garmin Fenix ​​6 Pro – 10% off
$ 599 – $ 1,149
$ 630
Amazon
The Fenix ​​6 Pro (not the S or X variants) is sold by Amazon at a 10% discount or basically saves $ 70. This is a good deal, but of course not an incredible deal. The last time we saw the Fenix ​​6 offer was back in May 2020 for $ 150 off.
Garmin HRM-DUAL (ANT + / Bluetooth Smart Strap) – $ 15 off
$ 69
$ 56
Amazon
⚡ This is one of my go-to straps these days (ANT + and two simultaneous BLE connections). It flows to and from when it's for sale, but this is about the lowest we've seen it.
Garmin Instinct – $ 30 off
$ 299
$ 220
Amazon
Sure, the new solar variants came out this summer with a few new features, but at the core, the instincts are pretty much the same. This was a bit lower on Amazon Prime Days ($ 149), so a $ 30 discount is not really a huge deal (it's usually $ 250ish).
Garmin Tactix Charlie – $ 150 off
$ 599
Amazon
Tactix Charlie is essentially a Phoenix aimed at military people (Amazon Prime Days)
Jackery Portable Power Station – $ 50 off
$ 249
Amazon
This is something I use often when I shoot out and I need to recharge a crapton of drone batteries, action cameras or just cameras and such. I also use it on trips to Eurobike and other places to keep the equipment charged. Technically, you can even connect a solar panel to it. Heck, I even ran a KICKR coach ride from it!
Lasko High Velocity Pro-Performance Fan (U15617) – 16% off
$ 59
Amazon
This is one of the most popular indoor coaching fans out there that competes with the Wahoo Headwind tab but costs a fraction of the price. Of course, it lacks ANT + / Bluetooth integration, but realistically, if you really want it, you can add a smart outlet for $ 10 to switch it on / off from your phone if needed. I actually got this fan in DCR Cave recently on the advice of many people.
Samsung Galaxy Buds Genuine Wireless Earphones – $ 20 off
$ 109
Amazon
This is obviously super popular and having them 31% off should make them even more popular. Wireless charging case included.
SanDisk 1TB Extreme PRO portable external SSD – 32% off
$ 189
Amazon
This is the high speed drive I use to store the recordings I actively edit so I can edit it on both my iMac in the office and then my MacBook when I travel or at home.
SanDisk 256 GB Extreme PRO SD Card – 34% off
$ 66
Amazon
I use SanDisk Extreme Pro SD card exclusively for all my video / photo recording on my Panasonic GH5 and Nikon cameras (video and still images), including up to 6K recording with GH5. I've mostly used 128s, but more and more lately I'm filling up cards faster with higher bit rate, so this sale makes me pick up a lot of 256 GB instead. 128 GB / 512 GB / 1 TB is also for sale with the same link.
Subscribe to the year for The Sufferfest, get free Wahoo TICKR
$ 49
Not applicable
Wahoo's own website
If you want to pick up a Wahoo TICKR strap, this might be another way to do it. If you subscribe to The Sufferfest with an annual membership ($ 129 / year), you get a free Wahoo TICKR (basically worth $ 50). Details on link.
Suunto 7 Wear OS Watch – $ 50 off
$ 499
$ 449
Amazon
Suunto 7 floats with and out of sale occasionally, but usually no more than 20% off.
Suunto 9 Baro Series – $ 100 discount
$ 599 (no cheating is $ 499)
$ 449
Amazon
This is not as good a deal as for Amazon Prime Day, as it was 46% off (basically $ 200 off), but it's still a deal anyway.
Withings Body + WiFi scale – 11% discount
$ 89
Amazon
I have long been a fan of Withing's WiFi scales, especially since they can connect / push data to so many platforms, including Zwift! Note that Body + simply contains more data.
DCRAINMAKER.COM Posts in the last week:
Here is all the goodness that ended up on the main page last week:
Monday: Week in review – October 12, 2020
Tuesday: Amazon Prime Days Sports Tech Deals Round-Up!
Wednesday: Garmin Index S2 Smart WiFi Connected Scale In-Depth Review
Thursday: Strava turns off the Flyby function for all users, must register again
Friday: New US Partnership + $ 500 Gadget Giveaway: Backcountry.com & Competitive Cyclist!
Things I love: Only a handful of major product announcements left. And as such, some normalization and obtaining a few lagging reviews (looking at you among others SRM X, Elite Tuo, Wattbike Atom 2020 and Peloton Bike + reviews …).
YouTube videos last week:
Here's what hit the tubes on You of Tube, be sure not to subscribe there to be notified of videos in the second they hit!
Things I found interesting about interwebs:
Here is a non-small smattering of all the random things I stumbled upon while doing my civic duty to find the end of the Internet:
1) Bears Testing Coolers: For realz.
2) Suunto delays changes in Movescount: Do you remember the planned deactivations of Movescount functionality that were scheduled for this month? No, now next year sometime. This is good news for consumers. Also good news is that 30% loyalty discount for older devices remains.
3) The physical effort and training in doing the original esports: No, not Zwifting, but … playing games behind a computer.
4) Peloton sued by Icon Fitness over existing: It is largely an access right in the sports technology industry to be sued by Icon Fitness, the king of suing companies for suspected patent infringements (Icon manufactures hardware, but mostly buys other patents from companies, also known as a patent role). A brief look at this one and I'm pretty sure it will not stand up in court. For example, Auto Follow, which is essentially ERG mode, has existed well before the aforementioned time frames of RacerMate and many others. But again, Ikon's business is about buying patents for lawsuits. That said, the Peloton is no stranger to the 'trial first, ask the question later' rich … so it takes one to know one. Or something like that.
5) Canadian Spin Class Studio infects over 70 people with COVID: Yes, are somehow confused as to why their COVID measures did not work. Oh, wait, I know: "It says that masks must be worn indoors by everyone and cannot be removed until all riders have been cut into their bikes. Facial covers must be put on again before riders get off the bikes. "Seriously guys. Not funny. They did not carry them below the current high-intensity class indoors.
6) Summary of Rouvy Fall 2020 Updates: They have added drafting, running, TT bikes and of course … a price increase. The draft was noticed as a biggie over the last spring, when Rouvy held the Tour de Swiss almost, which essentially just became a giant simultaneous time trial (no draft). Tariq reviews all changes below.
7) MicroUSB cable tester: This is brilliant. In essence, you can connect any cable to it and it will tell you if it is a cable intended for charging only or a data + charging cable. This is useful if you, like me, have 9,283 micro-USB cables lying around. Funnily enough, I just use the gazillion 'Garmin' branded products that came with their Edge devices over the last almost ten years, simply because I * KNOW * all of these are data + charging.
Firmware updates for Sports Tech Device this week:
Every week, I quickly highlight some of the new firmware, app, software, and website service updates that I see coming out. If you're a sports technology company and release an update – shoot me a quick note (just one-liners are perfect, or Tweet it on me is even better) and I mention it here. If I do not know about it, I can not write about it. Sounds good? Oh – and if you want to get a head start on things, this site is a great resource for watching Garmin, Wahoo, Polar and a few other firmware updates.
Garmin Forerunner 245 BETA Firmware Update: Bug fixes
Garmin Forerunner745 BETA Firmware Update: Bug Fixes.
Garmin Forerunner 945 BETA Firmware Update: Bug fixes.
Garmin MARQ & Fenix ​​6 Series Beta Firmware Update: Bug fixes.
Garmin Instinct & Instinct Solar Firmware Update: Simultaneously adds ANT + and Bluetooth Smart HR broadcast plus some bug fixes
Garmin Venu & Vivoactive 4 Series Firmware Update: GPS Enhancements.
Polar Vantage V2 Firmware Update: Bug fixes only.
Wahoo ELEMNT / BOLT / ROAM Firmware Update: Bug fix related to Di2.
–
With that – thanks for reading everything!