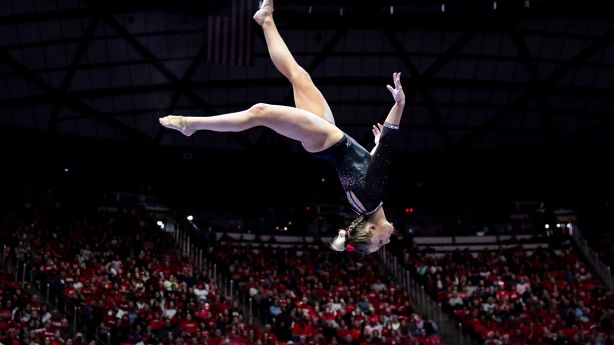 SALT LAKE CITY – The smallest mistakes can be costly when the stakes are high. Utah for Utah gymnastics, errors added up on Friday and ended the team's season.
The Red Rocks have failed to finish higher than fourth at nationals since 2015.
"We have to figure out how to be in the most pressure moments and compete well, "Utah co-head coach Tom Farden said. "The other teams do it."
The Red Rocks placed fourth in the afternoon semifinal with a disappointing season-low 196,725. Moving on to Saturday's championship is semifinal winner UCLA (197,675) and semifinal runner-up LSU (197.5125). Michigan (197.20) finished third and missed the cut.
Individual awards may be decided until the evening semifinal, but Utah doesn't have any leaders. MyKayla Skinner ended the season with a fourth place 39.55 all-around score. She is also on second floor and placed third on vault and bars. MaKenna Merrell-Giles finished fourth in the all-around (38.7375) while Kari Lee placed ninth (39.25).
The team got off to a solid start on floor, scoring 49.31
25 for first place. Macey Roberts started the lineup with 9.8375. Merrell-Giles and Skinner were Utah's highlights were posted 9.875 and 9.9375 respectively
After the first rotation of Utah (49.3125) led in the stands and were followed by Michigan (49.30), UCLA (49.2875) and LSU (49.1875). 19659002] Utah's woes, though, started on vault – the team's best event where it ranks second in the nation. Lee opened with a solid 9.8375, but Roberts followed with a big hop on her landing that resulted in a 9.75. The team hoped to drop the score as every tenth matters on NCAA gymnastics' biggest stage.
It looked promising as Alexia Burch reeled in on 9.8125 in the third spot and Merrell-Giles (9.90) and Skinner (9,925) exploded with big vaults. Unfortunately, Kim Tessen (9,225) fell into the anchor spot forcing Utah to count the 9.75 for a 49.225 total vault.
The Red Rocks slipped to fourth place at the meet's midway point with UCLA (98.70) moving to first and followed by Michigan (98.6375), LSU (98625) and Utah (98.5375).
"We left a little bit on the leg events," Farden said. "They were fractions, but when you get to this level, you are down to the top eight it 's fractions."
Quickly learning there was no room for error, Utah took to bars. But there were multiple stuck dismounts, including Hunter Dulas 9.8375, Merrell-Giles' 9,875, Missy Reinstadtler's 9.8625 and Skinner's 9.9125. Despite their 49,255 effort – their highest event score of the measure – the Red Rocks stayed in fourth place with one rotation left as their opponents gained momentum.
The meet finished with a low 48.8625 for Utah on the beam. Merrell-Giles surprisingly fell off the apparatus in the fifth spot, but by then it was clear the Red Rocks wouldn't advance.
×
Source link