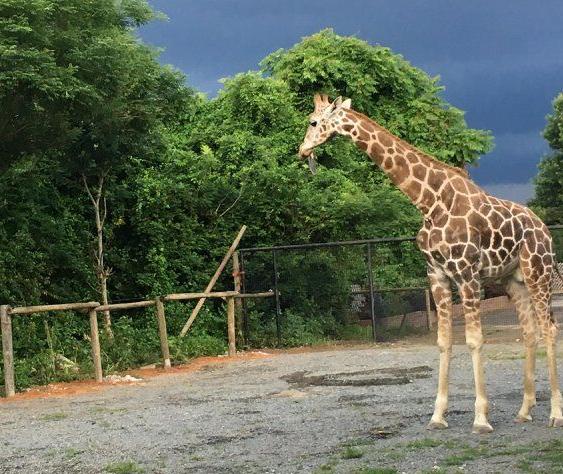 Roers Zoofari in Reston says staff have been devastated after a Monday night barn fire claimed the lives of beloved giraffe waffles and his new giraffe buddy who had not yet been named.
Zoofari owner Vanessa Roer received the call at 17.30 from the Fairfax County dispatch that the barn where the giraffes were housed was on fire. Staff and the zoo's veterinarian arrived within minutes to help rescue and care for about 20 other animals housed in the same area, the zoo said in a Facebook post.
Unfortunately, we have very sad news to share. Tonight, Roer's Zoofari staff and family are devastated after a …

Posted by Roer's Zoofari on Monday, March 8th, 2021
"We are grateful that no staff or other Zoofari animals were injured or lost," they wrote.
The zoo will be closed until further notice.
Fairfax County Fire and Rescue arrived at the zoo on Hunter Mill Road in Reston to find fire through the roof and two floors of a barn.
UPDATE: 1200 block of Hunter Mill Road: The fire is under control. Tragically, two giraffes were found dead. No other animals are injured and all are monitored by zoological staff. No fire injuries were reported at this time. Fire investigators on site. #FCFRD pic.twitter.com/uT1ND7lnvD

– Fairfax County Fire / Rescue (@ffxfirerescue) March 9, 2021
The former Reston Zoo changed Roer's Zoofari ownership in 2016. The zoo has a wide variety of animals, from cheetahs and a bobcat to American bison and a red kangaroo.
One of the first residents of Roers was Waffle's giraffe, who as a child fell like a child, knocking out some teeth and making his tongue hang out.
Stay tuned to InsideNoVa.com for updates.