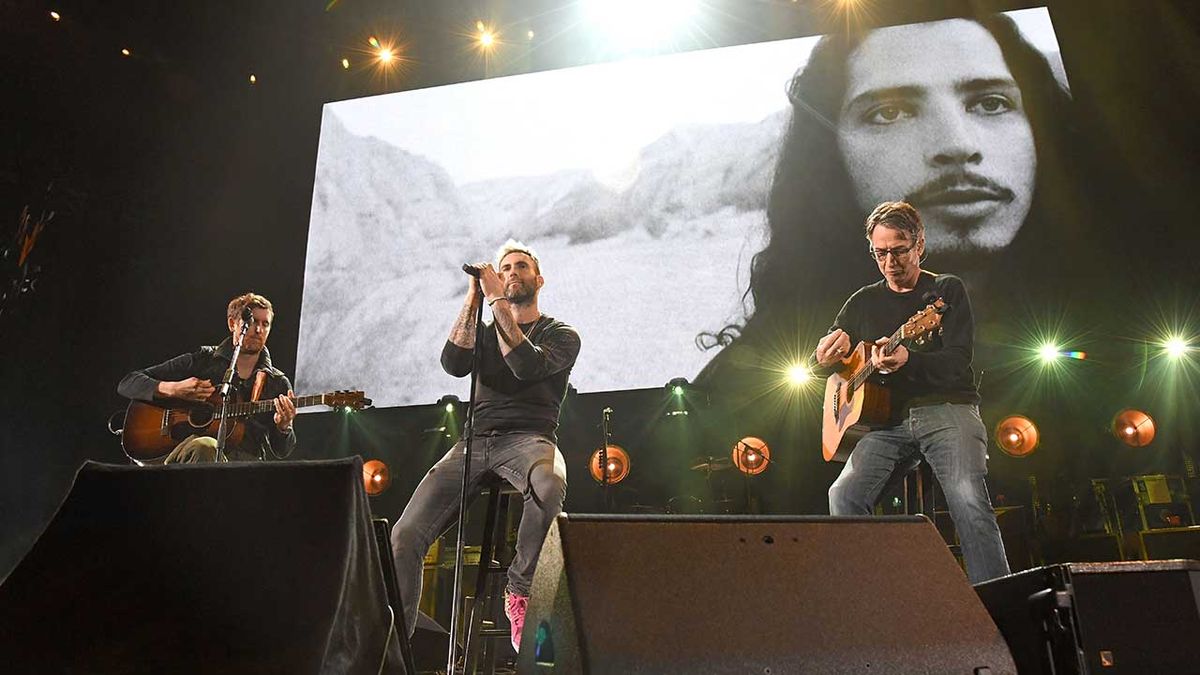 Last night in Los Angeles, an all-star group of musicians gathered to celebrate Soundgarden singer Chris Cornell.
Musicians Performing During The I Am The Highway: A tribute to Chris Cornell on contained the LA Forum the remaining members of the Soundgarden plus Metallica, Melvins and Foo Fighters. Other stars to perform included Ryan Adams, Jimmy Kimmel, Josh Homme, Fiona Apple, Brandi Carlile, Miley Cyrus, Adam Levine, Ziggy Marley, Chris Stapleton and more.
The evening opened with Melvins, who played a five-song set that started with their own Kicking Machine and climaxed with a cover of Soundgarden's Spoonman . Foo Fighter's four-song contribution started with Soundgarden's No Attention and closed with an acoustic version of Everlong, while Metallica's set included boats Master of Dollets and For whom the mountain taxis.
The evening climaxed with sets from Temple Of The Dog (including performances by Stone Gossard, Brendan O & # 39; Brien, William DuVall, Jerry Cantrell, Josh Freese, Fiona Apple, Matt Cameron, Miley Cyrus [1
9659007] Brandi Carlile and more) before the Soundgarden was joined on stage by Taylor Momsen, Buzz Osbourne, Tom Morello, Taylor Hawkins, Wayne Kramer, Peter Frampton and more.
Last night's song was Black Hole Sun with Brandi Carlile on vocals.
Full list of songs and musicians under .
Picture 2 of 8
Picture 3 of 8
Picture 4 of 8
Picture 5 of 8
Picture 6 of 8 [19659010]] Tom Morello " class=" lazy-image lazy-image-loading lazyload optional-image" onerror="this.parentNode.replaceChild(window.missingImage(),this)" sizes="auto" data-normal="https://www.loudersound.com/media/img/missing-image.svg" data-src="https://cdn.mos.cms.futurecdn.net/akzLrhmP6JxXUoS5GV6jEV-320-80.jpg" data-srcset="https://cdn.mos.cms.futurecdn.net/akzLrhmP6JxXUoS5GV6jEV-320-80.jpg 320w, https://cdn.mos.cms.futurecdn.net/akzLrhmP6JxXUoS5GV6jEV-650-80.jpg 650w" data-sizes="auto" data-original-mos="https://cdn.mos.cms.futurecdn.net/akzLrhmP6JxXUoS5GV6jEV.jpg" data-pin-media="https://cdn.mos.cms.futurecdn.net/akzLrhmP6JxXUoS5GV6jEV.jpg"/>

Tom Morello

(Picture: © Kevin Mazur)
Picture 7 of 8
Picture 8 of 8