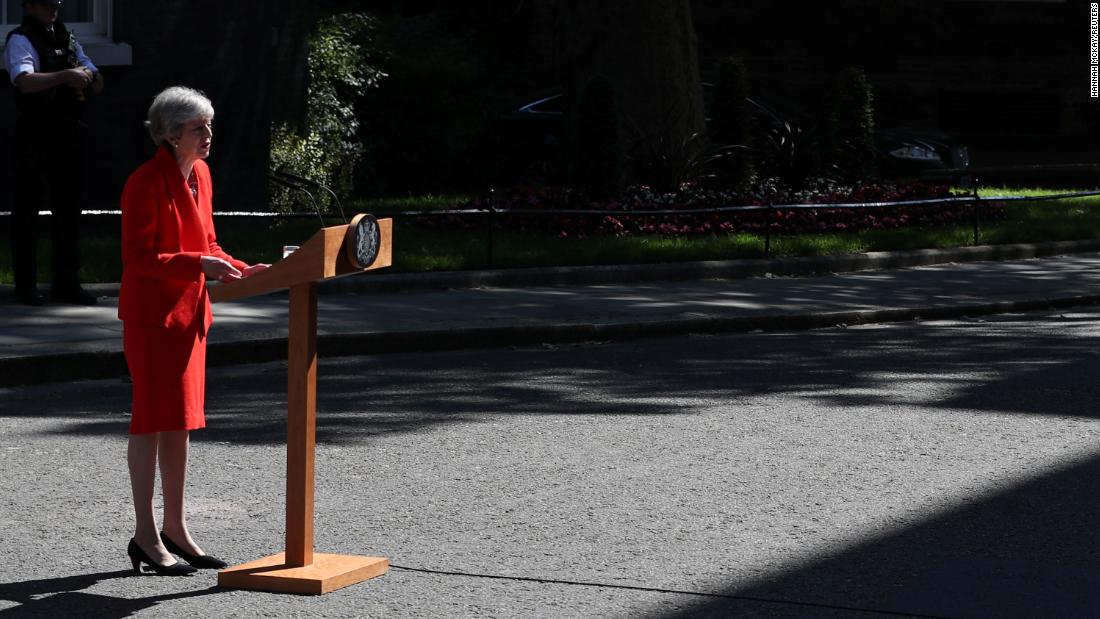 Let's get it right and what you need to know more about Come up to speed and out the door . (You can also get "5 things you need to know today" delivered to your inbox daily. Sign up here.)
1. Theresa May
Well, I tried. That's what UK Prime Minister Theresa May said this morning when she announced her resignation. Perhaps, having repeatedly failed to deliver on her signature policy, she had to step down – Britain's exit from the EU. "I have endeavored to make the UK a country that not only works for the privileged few, but for all, and to honor the outcome of the referendum," said May in brief remarks. "It is and always will be a matter of deep regret that I have not been able to deliver Brexit."
She will stay around 1
0 Downing Street until her successor is named. May support fell into her cabinet after she revealed her latest Brexit plan, which looked as much as the other Brexit proposals voted by British legislators three times. She tried this week to sweeten the deal by dumping the prospect of another Brexit referendum and it was just too much for some senior members of her government. Click here to keep an eye on the latest in May termination.
2. President Trump
Seems to "investigate the investigators" has begun. President Trump ordered all US Intel agencies to assist Registrar William Barr in his review of surveillance issues about Trump's 2016 presidential campaign. Trump has long maintained – without any evidence – that US government units were "spying" on their campaign. The president and his allies would also like to know how the Russia study was started. Now, Barr has expanded powers to investigate all this, including the ability to declassify certain documents that would otherwise be under cover.
3rd Julian Assange
WikiLeaks founder Julian Assange was hit with 17 charges under the Spy Act for his role in publishing national defense information received from former army inspector Chelsea Manning. It is the most direct movement yet of the Trump administration to break down unauthorized leaks of classified information. The troubled advocates say it threatens to criminalize legitimate journalistic practices. This is not the only legal cloud that hangs over Assange arrested in London last month after he was removed from Ecuador's embassy there. He is already facing a federal computer hacking related conspiracy charge, and prosecutors in Sweden say a rape investigation about him will be reopened.
4th Mount Everest
So many people climb Mount Everest these days that "traffic jams" often evolve. And these jams may have contributed to the deaths this week of two mountaineers. Indian climber Anjali Kulkarni, 55, died on his way back from climbing to the summit, and American climber Donald Lynn Cash, 55, died after fainting from high altitude sickness while falling down. A climber wrote a picture on Wednesday of heavy human traffic on Everest, estimated that about 320 people were in a line waiting to be at the summit in an area known as the "death zone". More than 200 climbers have died at the top since 1922. Most bodies are still believed to be buried under glaciers or snow.
DAY OF THE DAY
AND FINALLY
Gearhead Graduate
There are graduation caps, and then there is. (Click to view.) [19659043]
Source link