Number of HIV-infected people across Pakistan exceeds 165,000, raises questions about NACP performance
LAHORE: Number of HIV-infected people in Pakistan has crossed 165,000, raising serious doubts about the effectiveness of the National Assistance Program ( NaCp). The program seems to have failed to stop the spread of the disease.
According to data published by NACP, the number of patients only registered in HIV is only 23,000. One surprising thing in this regard is that NACP has quoted the same figure for HIV patients over the past five years. However, the increase in the number of HIV cases, despite billions of rupees given to the NACP, relates extremely.
In its written response submitted to the National Assembly, the Ministry of Health has maintained that immediate measures are being taken for patients afflicted with HIV, including the provision of drugs and measures to stop the disease from being transmitted from parents to their toddlers. The Ministry has established 35 centers across the country for treatment of aids. But, according to health ministry officials, negligence in blood transfusion and use of syringes afflicted with the virus in the hands of drug addicts also contributes to the spread of the disease.
According to statistics released by the United Nations Global HIV AIDS Control Program, a total of 36.9 million people worldwide are afflicted with the lethal virus, of which 25 percent remain undiagnosed. According to the UN report, the highest number of these people belongs to East and South African states with 1
9.6 million cases.
In West and Central Africa, the number of HIV cases is 6.1 million, while 5.2 million people in Asia Pacific, 2.2 million people in Western and Central Europe and North America, 1.8 million people in Latin America, 1.4 million people in east and central Asia, 0.31 million people in the Caribbean and 0.2 million people in the Middle East and North Africa have also contracted aids. According to the Global Aid Index, Pakistan is ranked 35th, with the majority of patients suffering from the disease.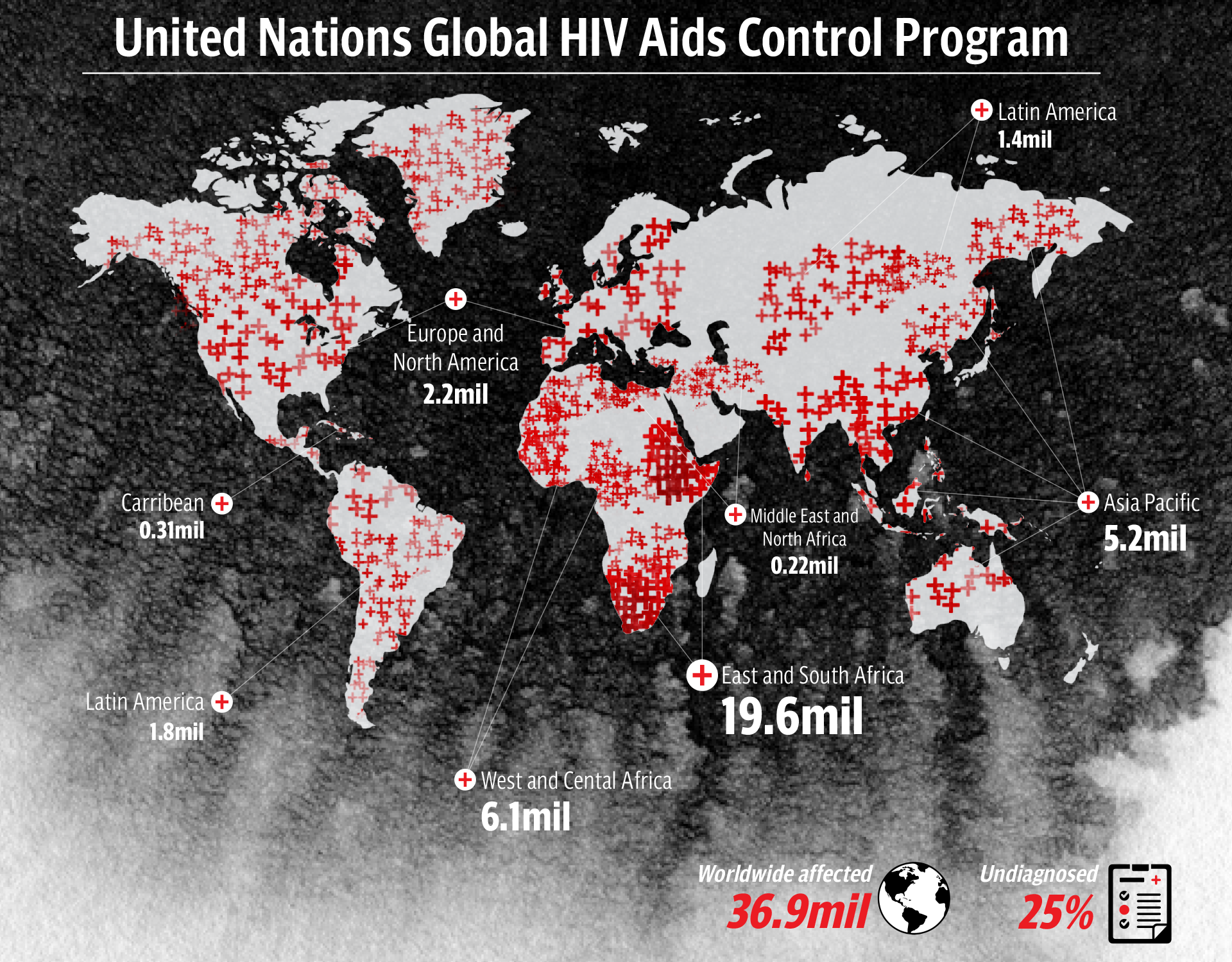 According to statistics released by the National Aids Control Program, the number of HIV cases in the past year has increased by 35,000. In 2018, the number of patients affected by aids was 130,000, which in the current year has exceeded 165,000, while 20,000 cases are estimated each year, of which 60% are from Punjab. According to the NACP report, Punjab has 75,000 cases of aids, followed by 60,000 in Sindh, 16,332 in Khyber Pakhtunkhwa, 5,275 in Balochistan and 6,675 in Islamabad. In addition, approx. 2,500 HIV patients belong to Azad Jammu and Kashmir and Gilgit-Baltistan.
Only 23,757 people affected by aids have been admitted or undergoing medical treatment in various AIDS Control Centers in the country. Registered patients reflect only 7 percent of total HIV cases in the country, of which 15, 115 cases represent drug abusers who have contracted the disease using infected syringes. These patients are administered ARV therapy for medical treatment.
Diagnostic tests for AIDS are also ten percent less compared to diagnostic tests for other diseases that increase alarm bells for politicians and public health professionals in general. According to the report, the number of registered HIV help patients in the federal capital is 2,500, while 11,000 people in Punjab, 8,000 people in Sindh, 2,370 people in Khyber-Pakhtunkhwa and 1,334 people in Balochistan are registered for the disease. [19659003] According to the report, a total of 18,220 men, 4,170 women, 564 boys and 426 girls and 379 transgendered persons were registered for the disease. According to the National Aids program, the virus has been confirmed in more than 1000 prisoners in prison across the country. The AIDS virus was found in 480 prisoners of Punjab prisons, 296 prisoners in Sindh prisons, 181 prisoners of Balochistan prisons and 56 prisoners of KP.
According to the report, over 6,000 patients suffered from this disease and died as a result of the whole country. The federal capital Islamabad, Punjabs Lahore, Faisalabad, Sheikhpura, Rawalpindi, Sargodha, Rahim Yar Khan, Multan Chinniot, GD Khan and Sindh's Karachi, Larkana, Hyderabad, Sukkur, Mirpurkhas, Sanghar, Qambar ShahdadPur, Benazirabad are the places that are the most affected by Aids.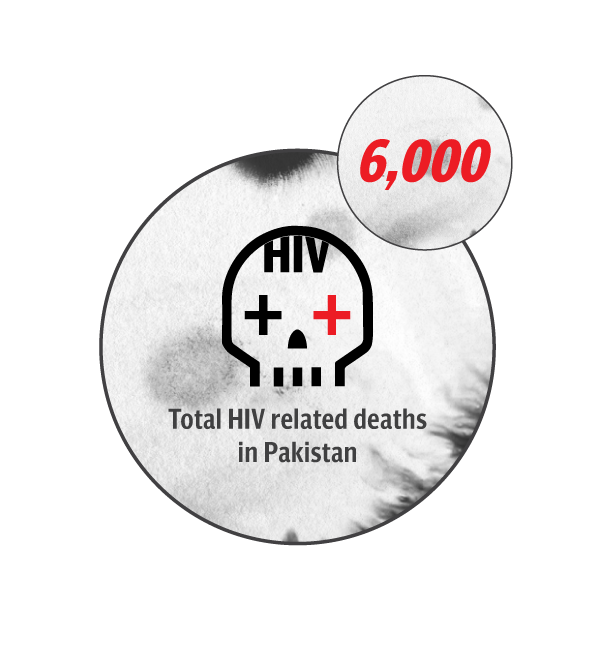 In Balochistan, the areas Quetta, Zhob, Loralai, Pishin, Qila Saifullah, Noskhi, Qila Abdullah, Lasbela, while the areas Peshawar, Kohat, BANNU, Charsadda, Swat, Lakki Marwat, Abbottabad, Malakand division , Mansehra, Mardan, Hangu and Chitral in KP are among the affected cities.
According to the report, the National Aids Control program has opened 25 Aids Treatment Centers across the country trying to prevent the transmission of AIDS virus from the mother to the baby during pregnancy. 33 HIV treatment centers have been formed while 11 new treatment centers will be formed, suggesting reports.
In Punjab, Department of Primary and Secondary Health Department, Supplementary Secretary and Punjab Aids Control Program Project Director Dr. Asim Altaf told the Express Tribune that the program has registered about 12,000 HIV patients in the province, of which about 7,500 receive free medical treatment. He emphasized that the program has taken various initiatives to prevent and stop or contain new HIV infections and improve health and quality of life for people living with HIV in Punjab.
Dr. Altaf emphasized that Punjab is the first province in Pakistan to establish a BSL-3 Advanced Diagnostics Laboratory, which provides a complete service package and is equipped with the latest flow cytometry machine, expert, CD4 counter, and has the ability to perform viral genotyping and HIV resistance test to start or change ART. 19659003] The program, in collaboration with the Lahore Walled City Authority (WCLA) and the Akhuwat Foundation, initiated a project in the city's Red Light District for children of unknown parents and families of people with high-risk behavior. In addition, the program has started Pakistan's first transgender clinic at Fountain House and set up HIV screening centers in 38 prisons in Punjab.
The program also collaborated with Lahore University Management Science (LUMS) for research into bioinformatics and analysis of epidemiological data. The program offers scholarships to MPhil and PhD students researching HIV and has trained in healthcare providers on HIV treatment, counseling and stigmatization in 15 districts of DHQ, THQ and teaching hospitals across Punjab.
He further emphasized that the program provides services to 22,709 injecting drug users with the highest incidence of HIV / AIDS (between 20-35%). The program recorded all those injecting drug users into prisons during mass weapon screening activity, and the National Aids Control Program runs a national program for their rehab implemented by Nai Zindagi.
Similarly, the program delivers 13,461 transgenic people. The program works in conjunction with Akhuwat Khawaja Rehab Program and Khawaja Sara Society of Pakistan.
Dr. Altaf said the program also provides services to overpower the population associated with these vulnerable segments. The program has tested 25,786 bus and truck drivers in 20 locations spanning 14 cities. It has screened over 89,009 prison prisoners in 2017-18, covering all prisons, and it is an ongoing activity still in progress in different districts. The program has also screened 174,000 TB patients for HIV, including those at sentinel sites. For the general population, the program has organized weekend days and other awareness programs. In 2018, the program tested 667,424 people for HIV.
Protection
Prevention of sexual indiscretion is crucial. If a syringe is to be injected, make sure the syringe is new. Transfusion of blood should only be performed if necessary and after making sure that the blood is free of HIV. AIDS does not spread by shaking hands, eating food and joining an AIDS patient. Therefore, there is no need to run away from this disease.
If treatment is not performed after the diagnosis of the HIV virus, the threats to other diseases such as a bacterial infection, cancer, phlebitis and scrofulous increase. The HIV virus cannot currently be treated but can only be controlled so that the patient can lead a healthy life. There are 33 centers of HIV aids that provide free testing and medication.
Aids disease spreads due to a virus called HIV, which is also called the virus that makes the immune system in the body useless. Usually, it is spread due to sexual indiscretion or the use of an affected syringe or any affected equipment that is prickled in the skin, nose, ear and those used for dental treatment. Equipment for cutting hair or shaving or used during surgery can also spread this virus if affected. AIDS is called the last phase of the HIV virus. If HIV is not treated, the immune system is destroyed and it takes the form of AIDS.
The first symptom of AIDS can be colds, which are usually not aware of. A patient of AIDS may be healthy for months or even for years. The patient gradually becomes a patient of AIDS. Other important symptoms include loss of body weight by more than 10% in a short time or diarrhea or fever lasting more than one month.
Source link