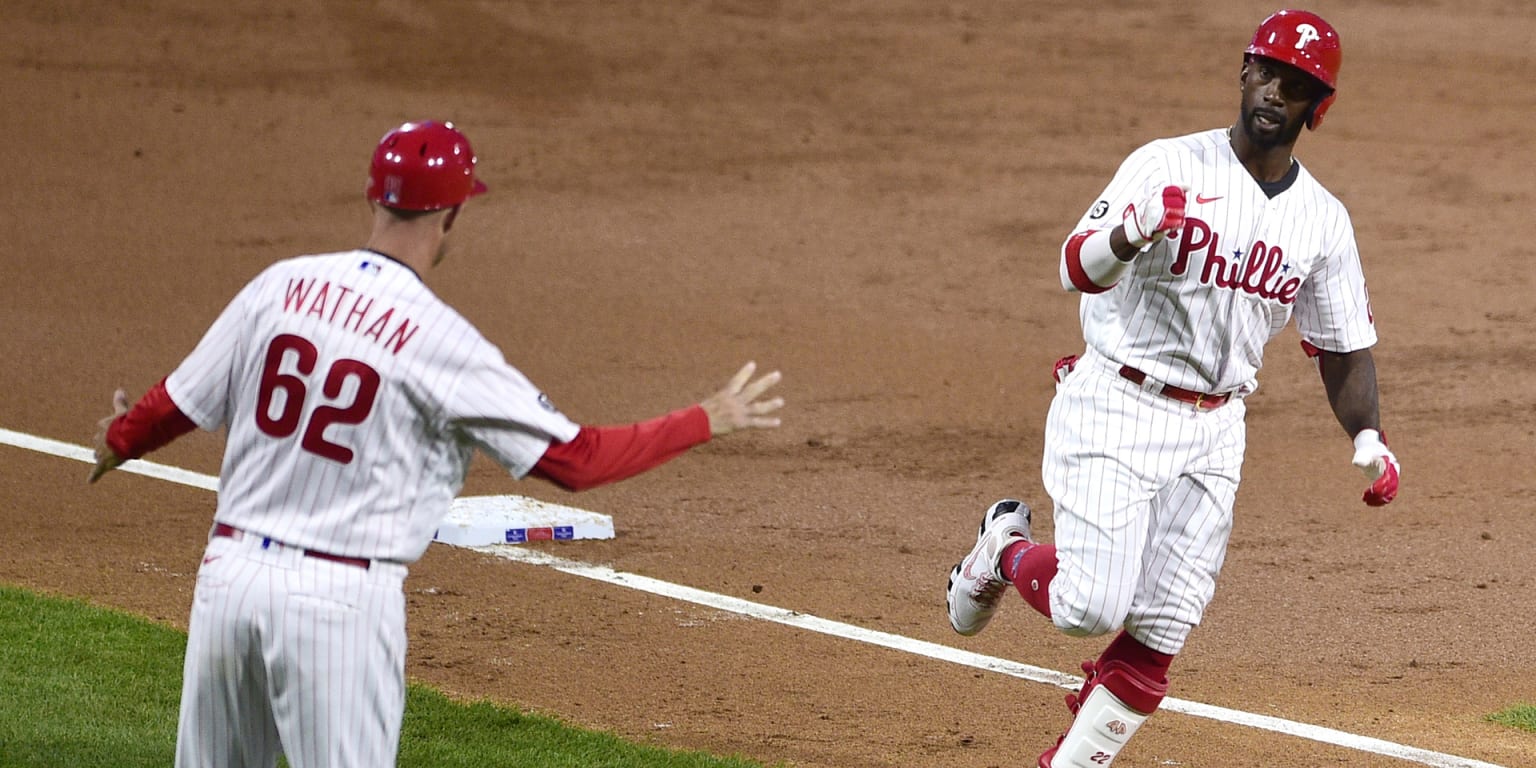 PHILADELPHIA – It could have been another loss that lived on in Phillies' disgrace.
But then they already have plenty of them.
The Phillies overcame a colossal lineup-short snafu that nearly cost them a 6-5 win over the Brewers at Citizens Bank Park on Tuesday night. They can thank Andrew McCutchen, Brad Miller, Aaron Nola and Sam Coonrod for helping them win consecutive games for the first time since their 4-0 start.
McCutchen hit two home runs, Miller hit a three-run home run, Nola threw 1
14 lanes on six innings, and Coonrod earned a five-out save on a night in which the Phillies had an exhausted bullpen before they could not add a new reliever to lineup short.
Well, they could not add a new reliever to the only lineup card that matters: the referees' card.
"I'm lively with myself," said Phillies manager Joe Girardi. "It's just stupid of me."
Phillies instead made the mistake of a bizarre footnote in an early May game.
"There's a lot of should have, would have, could'ke in this game," McCutchen said. "It did not happen, so I do not think about it."
McCutchen hit a leadoff homer in the first half and a solo homer in the third. It was his second leadoff homer in three games. It was his first multi-homer game since September 26, 2017. Miller hit a three-run homer onto the second deck in the right field in the third to make it 6-1.
Nola allowed a run of six innings. Girardi planned to let right-hander Enyel De Los Santos throw the seventh. Phillies announced his promotion from Triple-A Lehigh Valley at. 17:19 ET, a little less than two hours before the game. They informed him of the promotion about five hours before the first pitch.
They had plenty of time to do everything right. However, De Los Santos made a disastrous appearance. (Phillies still wore left-handed Cristopher Sánchez. He was demoted in the afternoon and threw two pointless innings Tuesday night to Lehigh Valley.)
"Every day we send the team, it goes to Major League Baseball, the list," Girardi said. "We made a list change and I just didn't catch it. In the end, it falls on me because I did not catch it. But then they reproduce and send the cards to us and we print them. I did not notice that De Los Santos was not in there. I tell you, I look at them all the time. I look at the cards and count the people. The starter jug ​​is there twice and you make sure you have 26 people. I missed it today. "
But here's the really crazy thing: The Los Santos were on the Brewers' lineup card Tuesday.
"Honestly, I kind of thought the system needed to be changed a bit because you know we actually had the right card, but somehow the judges didn't," Brewers manager Craig Counsell said. "So I'm not sure. It's all when it's printed and what time … when the judges' cards were printed and it looks like there's a better system that could probably stay in place. "
David Hale came into the game and ignited a four-run rally. Jackie Bradley Jr. hit a two-run homer from left-hander JoJo Romero to make it 6-5. (Odúbel Herrera got his foot stuck in the middle fence and tried to catch it. Matt Joyce pulled him loose.) Romero recorded the first out in the eighth and Coonrod hit the rest of the way.
"We just need to pick up our coaching staff when that happens," Coonrod said. "It was not so much. We just came in and picked each other up. "
Source link