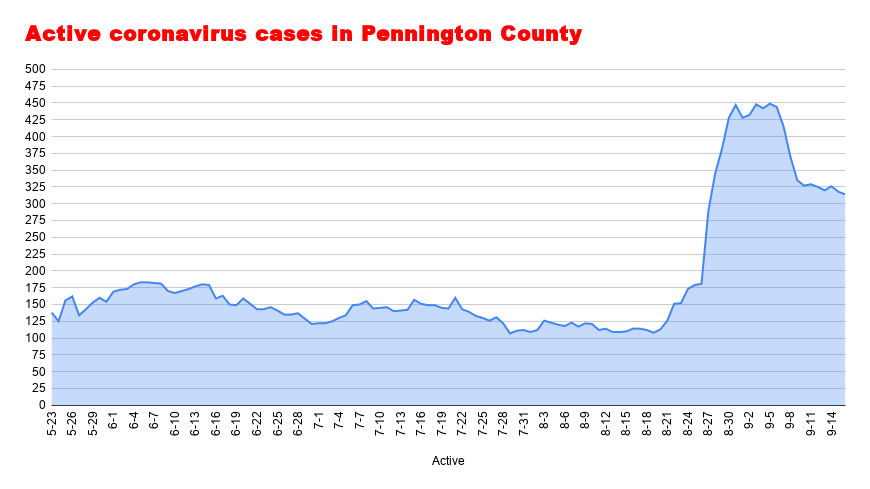 Meade and Lawrence counties each added 11 new cases Wednesday on a total of 772 tests. Custer County had eight new cases from 97 tests. Oglala-Lakota County reported seven new infections on 17 tests. Butte County reported four new cases, and Fall River County had two.
Minnehaha County led the state with 54 new cases, and Lincoln County followed with 34. Codington County added 15 cases, and Brown County reported 13. Yankton County reported 11 new infections and Hughes County 10 new cases.
Gregory County had nine new infections, and Beadle County reported eight. Brookings and Grant counties each added six cases, and Clay, Charles Mix and Todd counties reported five each. Douglas and Turner counties each added four new infections, and Edmunds, Haakon, Jerauld, Roberts, Tripp, and Walworth counties each reported three. The counties of Bon Homme, Brule, Campbell, Corson, Jackson, Lake, Mellette, and Perkins each added two cases, and Bennett, Deuel, Hutchinson, Kingsbury, Marshall, and McPherson counties each added.
Of the 297 new cases, eight were in children under 1
0 and 40 in patients between 10-19. People in their 20s were responsible for 54 new infections, and 39 more were in people over 70 years of age.
South Dakota's public universities have the following active counts from Wednesday morning:
Source link