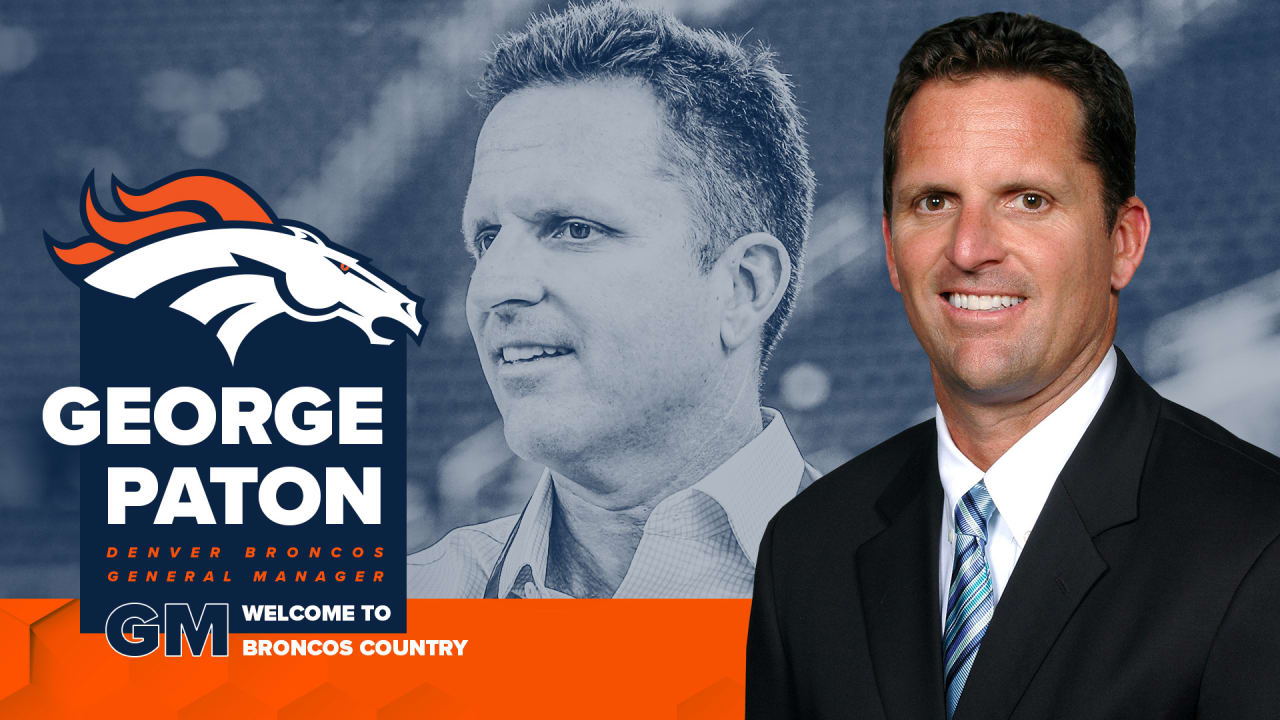 ENGLEWOOD, Colo. – The Broncos have elected the new head of their front office.
Denver has agreed to enter into agreements with George Paton to become the team's new general manager, the Broncos announced on Wednesday.
Paton, former Viking Vice President of Personnel / Assistant General Manager, becomes the 15th senior personnel manager in Broncos history.
"Early in this process, it became clear why George has been such a coveted GM candidate for so many years,"
; said President of Football Operations John Elway. "He is a proven evaluator who knows every detail of leading football operations. With his experience in all aspects of the job – college and pros, payroll, trades, working with head coaches and bringing staff together – George is more than ready to succeed. "This role. George has been waiting and working on the right opportunity, which shows that he is smart and serious about winning. We are excited to appoint George Paton as general manager of the Denver Broncos."
Paton spent 14 seasons in Minnesota, including the last nine as the team's assistant GM. He took over his most recent title as Vice President of Player Staff / Assistant General Manager in 2018.
"George is one of the most respected and experienced employees in the NFL," said President / CEO Joe Ellis. "He's a composite team leader with a clear vision to build a championship team. Getting to know George over the last week, his intelligence, work ethic and leadership skills impressed us all. He has worked nearly 25 years in the NFL to prepare. "We are very fortunate to have George as our new day-to-day manager. We are pleased to welcome George, his wife Barbara, and his children Bella and Beau to the Broncos family."
During his time with the Vikings, Paton worked closely with general manager Rick Spielman to help build a roster that has reached the playoffs in three of the last six seasons and won a few division titles since 2015.
"It's an honor to be named General Manager of an iconic franchise with a championship tradition like the Denver Broncos," Paton said. "This organization has great resources, huge people, a talented young core of players and an excellent coaching staff.
"In many ways, I feel like this team is a sleeping giant. For me, it's the right place and the right time for this opportunity.
"During this process, I felt a real connection with Joe, John and Vic. It feels like home. We share the same values ​​to win and do things the right way.
"While it's hard to leave the Vikings, the conditions I've had in Minnesota are lifelong. I'm really grateful to the Wilf family, Rick Spielman, Rob Brzezinski, Mike Zimmer and the entire Vikings organization. Thank you for treating us as a family.
"I believe in hard work, grinding and not taking any shortcuts to achieve our goals. Developing and developing players is the number one priority. We want to be aggressive – but not ruthless – in adding talent to our list.
"Our family has only heard great things about Colorado, especially the passionate fans of the Broncos Country. Together with my wife Barbara and children Bella and Beau, we are proud to now call Denver our home.
"I can't wait to get to work. Go Broncos!"
The Vikings played six playoff appearances – with six different quarterbacks at the start – and won four overall division titles during Paton's time in Minneapolis.
Source link