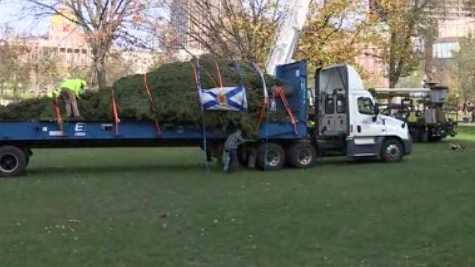 Nova Scotia's annual Christmas tree for Boston arrived at Boston Common on Friday morning. The tree left the Canadian province on Wednesday via shipping container due to COVID concerns. Nova Scotia has sent Boston a tree every year as a thank you for when Boston helped with a deadly ammunition explosion in Halifax back in 1917. This year's white spruce is 45 feet tall. Nova Scotia dedicated the tree to Boston to health professionals in honor of both Boston's response to the Halifax explosion and those working on the front lines during the COVID-19 pandemic. Nova Scotia is also sending four additional smaller trees for donation to local charities. WCVB broadcasts "Holiday Lights"
; annual tree lighting program on December 3 at. 19
BOSTON –
Nova Scotia's annual Christmas tree for Boston arrived at Boston Common Friday morning.
The tree departed from the Canadian province on Wednesday via container, due to COVID concerns.
Nova Scotia has sent Boston a tree every year as a thank you for when Boston helped with a deadly ammunition explosion in Halifax back in 1917.
This year's white spruce is 45 meters high.
Nova Scotia dedicated the tree to Boston to health workers to honor both Boston's response to the Halifax explosion and those working on the front lines during the COVID-19 pandemic.
Nova Scotia is also sending four additional smaller trees for donation to local charities.
WCVB broadcasts "Holiday Lights" annual tree lighting program on December 3 at. 19
Source link