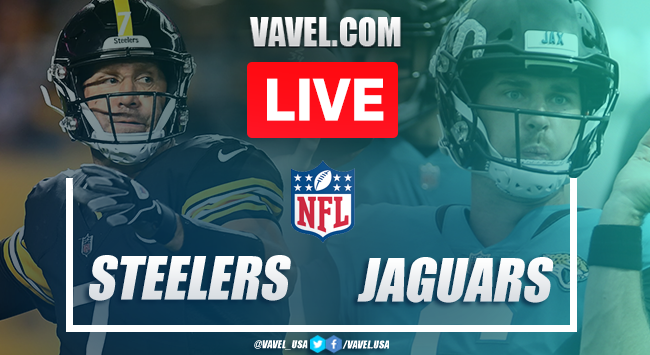 3Q 07:14
McClound stays a yard away from moving the chains. Steelers to clear
3Q 08:34
Snell gets two yards on the ground to move the chains
3Q 09:32
In the third down, the Steelers get their first catch of the day, and the Jaguars midfield clear
3Q 11:50
Luton with full passport to move the chains
3Q 13:34
Big Ben's pass stays away and the Steelers three and out to clear
3Q 15:00
The third quarter begins. Pittsburgh on the offensive
TD Steelers 17-3
Half time
Steelers 17-3 Jaguars
2K 00:00
Pass caught in Ben Roethlisberger's red zone and the Steelers leave without points
2Q 00:09
Passing interference against Claypool and Steelers who are already in field goal zone
2Q 00:15
Conner with the bearer to win yards and burn out in the second half
2Q 00:29
Luton throws too high and Edmonds catches the ball
2Q 00:36
Long passes from Luton and the Jaguars are already in rival territory
2Q 00:55
Johnson with two-stroke reception on the 1-yard line
2Q 01:08
Johnson with reception to put the Steelers already in the field goal zone
2Q 02:00
Two minute break
2Q 02:46
Conner with the race on the right side as the game seemed broken. He won 13 yards
2Q 02:57
Fitzpatrick catches in the red zone to Luton after a deflection and returns the ball near midfield
2Q 04:20
Cole with reception to enter the red zone
2Q 05:06
Chark with the reception in solitude to put the ball in the garden 25
2Q 06:12
Robinson surprises with the transport and combined with a 15-yard penalty, the Jaguars are already in rival territory
2Q 08:12
Washington with the painful reception to move the chains as they were loaded on Big Ben
2Q 09:38
Jaguars were punished with personal offense and given away 15 yards
2Q 09:57
Luton throws by force and could have either been caught or intercepted. The Jaguars three and out to clear
2Q 10:50
Again, Big Ben throws incomplete and they will have to settle for one goal
2Q 12:53
Conner screen pass that works with 12 yards
2Q 13:34
Despite the detour, Claypool takes the reception to move the chains
1Q 14:52
Johnson appears with the long reception for the first and ten
Last first quarter
Steelers 0-3 Jaguars
1Q 00:13
Again, they pushed Luton and launched in an imprecise way. Three and out to clear
1Q 01:12
Incomplete pass from Big Ben that was almost intercepted
1Q 03:06
Claypool with the valuable reception in the third down to move the chains and settle on enemy territory
1Q 05:03
Johnson with the front desk a yard in front of the mark to move the chains
1Q 06:15
Explosive Conner pulls around the corner and wins 20 yards to get out of the engagement zone
1Q 06:36
The pressure falls on Luton, who throws quickly and incompletely. In midfield, to clear
1Q 06:56
Robinson throws third down to move the chains, already near midfield
1Q 08:48
Boswell misses the 46-yard field goal and the Steelers cannot score
1Q 08:51
Jaguars use their first timeout
1Q 08:51
Johnson cannot receive the reception and the Steelers will have to settle for the field goal
1K 10:12
Conner cuts across the mark and moves the chains for the first time in the game
1Q 10:57
Jaguars surprise with a short kick, but the Steelers regain the ovoid
1Q 11:02
Luton launches incompletely and the Jaguars settle for 3 points
1K 12:20
Robinson to carry on the left side to get another 12 yards
1Q 12:53
Robinson with the reception in the third down to move the chains and get into rival territory
1Q 14:52
Luton complete with Cole in play to move the chains
1Q 15:00
The game begins. Jaguars on the offensive
Minutes away
We're a few minutes away from the start of the Steelers vs. Jaguars. Do not miss the game
Defensive of another level
The Steelers' defense is in the top 10 in the league by being the fifth best by plane, placing nine ashore and the third best in allowed points
The offensive has not been so good
Despite being undefeated, the Steelers' air strikes are ranked 18th in the league, while on the spot they are number 24, yet the score is the fourth best at an average of 30.1 per game. Match
Great season
Despite being 38 years old, Roethlisberger still has a great season with 2,267 yards, 22 touchdowns and just 4 interceptions
To break the losing streak
It looked like the Jaguars would have a much better season when they beat the Colts in Week 1, but since that occasion they add up to eight losses in a row and will try to cut the bad streak
With clear support
They are already hot
Cloudy, but in good condition
Several injured
That's how they arrived
We start
The Steelers want to maintain their unbeaten record against the Jaguars in Week 11 of the NFL. We start with coverage through VAVEL
Follow it here
Do not miss a detail of the match with VAVEL's live updates and comments. Follow with us all the details, comments, analyzes and lineups for this Pittsburgh Steelers vs. Jacksonville Jaguars match.

Recent meetings
The historic series favors the Jaguars 14-12, though the Steelers have won three of the last five games.
How to Watch Pittsburgh Steelers vs. Jacksonville Jaguars Live TV and Stream
Jaguars: Stopping the air attack
The key to the Jaguars will be to have long offensives to keep Big Ben on the bench, and when he's on the field, he has to keep pushing him for his little mobility.
Steelers: Keep generating pressure
The Steelers 'defense remains one of the best and will try to put pressure on the Jaguars' rookie quarterback, noting that they have played more than 65 games with at least one capture.
Betting against Jacksonville is complicated
Historically, the Steelers suffer when faced with the Jaguars, so Mike Tomlin acknowledged this week that the team will not be too confident.
Start time
The Pittsburgh Steelers vs. Jacksonville Jaguars match is played at EverBank Field in Charlotte, USA. Kick-off is scheduled at 13 ET.
Welcome to VAVEL.com LIVE coverage of NFL season games in 2020: PittsburghSteelers vs. Jacksonville Jaguars!
My name is Adrián Hernández and I'm your host of this game. We give you pre-game analyzes, list updates and news when it happens live here on VAVEL.
Source link