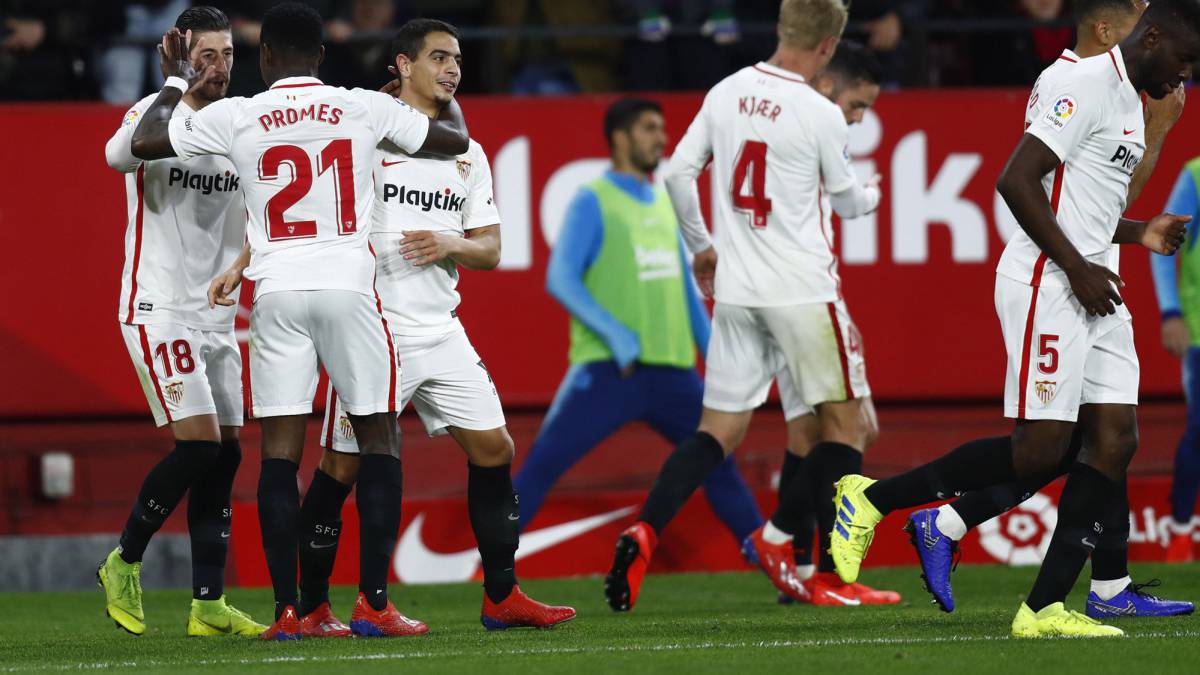 90 '+ 4' GAME OVER! Sevilla win 2-0.

90 '+ 4' Soriano gets the ball and stops it with his foot. And he takes his time before picking it up. GAME OVER!

90 '+ 3' Barcelona attack. This could be the last chance. Alba sends one to Coutinho and it's cut out.

90 '+ 3' Vidal fouls Mudo Vazquez. He's played for the free and won it.

90 '+ 3' It wasn't a free actually. A bit harsh on Alba.

90 '+ 2' Sevilla win it back and attack Barcelona on the break. Alba stands up Silva and the Portuguese grabs him around the neck. Free.

90 '+ 2' Free for Barcelona and they will drive this one in. Or not, they play it short.

90 '+ 1

' Four minutes added on.

90 ' Banega looking for a ball to Silva and Piqué cuts it out. Can Barcelona get that away goal?

88 ' Game management now from Seville. They're bringing on a sub.

87 ' Sergi Roberto catches Escudero and Sevilla win a free.

85 ' Promes with a shot now. He takes on Lenglet but strikes wide in the end. Well wide, if we are being honest.

84 ' Jordi Alba goes through the back of Mudo Vazquez and he gets booked.

84 ' Some decent pressure now from Seville. Promes and Silva come up with the ball comes in but Cillessen punches away unconvincingly.

82 ' Posted in Piqué at the back post and that's into the side netting. Not a bad effort at all.

82 ' Suárez with a shot now as Barcelona continue to push up the field. Takes a nick off someone, maybe Kjaer, and it's a corner.

80 ' Semedo off for Jordi Alba.

78 ' Sevilla have to shut up shop. The away goal kileld Levante in the last tie.

75 ' Ben Yedder! GOAL! GOAL! GOAL! Silva with the pass out to Banega and he sends it across. Ben Yedder taps it home

74 ' Sent right to the back post and it's out for a goal kick. Sevilla will slow this one down.

74 ' Chance for Barcelona to whip one in. That's a yellow card too for Escudero.

74 ' Escudero fouls Sergi Roberto.

73 ' Andre Silva on for Navas.

71 ' Barcelona piling on the pressure now. The home side under increasing pressure.

68 ' Navas down injured now and his hamstring looks to be hurt. He won't be able to continue.

68 ' Suarez offside. He gets the ball on the left. He might have a case as he jaws at the referee.

67 ' Navas with the strike and Semedo gets back to stop it. Corner.

66 ' Sevilla making a change now. They bring off Sarabia and bring and Mudo Vazquez on.

64 ' Suarez wins it back and Coutinho with a fine chance to equalize. He frives it over the bar.

62 ' Boateng off for Suárez. Coutinho off for Malcom. The double sub.

62 ' Escudeo with the shot. Promes inside but the defender goes it alone and blasts over.

61 ' Promes with the ball to Banega and he glances it over the bar.

60 ' Ball out for a goal kick as Promes plays it to Ben Yedder and kicks it too far ahead of him.

58 ' Sarabia! GOAL! Seville take the lead. Cross in from the left and it's Sarabia, who turns it home. Promes with the cross.

58 ' Navas wins a couple of throws. Seville fans get really loud. They can sense something is going to happen here.

56 ' Navas wins the ball back in the middle and sends it out to Sarabia. He squares to Amadou and his awakward hit nearly curls it in.

54 ' Sevilla attack with intent now. Promes are running a cross into the box. Cleared and Vidal fouls Escudero.

53 ' A string of corners for Barcelona as they improved now. They still haven't really tested Soriano though.

52 ' Luis Suárez out warming up.

52 ' Promes with a foul now on Arthur. Game heating up again now.

51 ' Boateng pulled back by Kjaer and wins a free. Late whistle but it arrives eventually.

50 ' Ball sent into the box and Boateng was bundled over but he was pushing him before hand. Lands at Soriano's feet. He grabs it and starts an attack.

49 ' Navas with a cross and the linesman says it's a goal kick. That should be a corner but the linesman says different.

48 ' Banega with a lovely ball through to Promes as Lenlget steps out. Really well done by the defender. Seville have to think again.

46 ' Prince header down to Malcom. He wins a throw when Barcelona starts out on the attack.

46 ' We are ready to get back underway as Sevilla kick us off!

45 ' That's it for the first half. It took a while to get going but a really good one in the end.

44 ' Ben Yedder with the chilena but it hits his shin.

44 ' Chance of the game. Banega on the left and he crosses. It falls to Ben Yedder before he strikes at Cillessen. Good save from the keeper to close down the angle. Wasted chance of Seville.

43 ' Sevilla pile the pressure on and win it back. Navas sends one through to Sarabia and it's too far ahead of the attack.

42 ' Same result. Arthur leaves too much for Sergi Roberto to do and it's a throw.

42 ' Another corner.

42 ' Really good chance as Arthur plays it through to Malcom and he rounds Soriano but blasts to the side netting.

41 ' Navas went down too easily and the referee got that one right. Semedo steals away with the ball.

40 ' Malcom to take again. Straight to a white jersey again.

38 ' He does and Kjaer goes flying. Looked like he had a case there. But referee says no. Then Escudero fouls Malcom as he throws him to the ground for a free.

38 ' Corner again as Sevilla continue to play the better football. Sarabia to take.

38 ' Navas fouled three times. Semedo eventually hauls him to the ground and Navas really not happy.

38 ' That would have been the goal of the season!

37 ' Ben Yedder. What a run that was. He turned four players before curling his shot wide.

37 ' Promes hauls down Piqué. Quick free.

36 ' Vidal launches one at goal. No chance with that one.

33 ' The pair link up again and that's out for a goal kick.

33 ' Malcom out to the advancing Semedo. He has Navas for company.

32 ' Barcelona win a corner.

31 ' Sarabia gets to the ball and he's taken out by Lenglet. He wants to have a home crowed. Ref tells him to get up and play on. Barcelona on attack attack whistles from home fans.

30 ' Corner comes to nothing yet again but Mercado wins it after good work at Promes. Mercado's cross beats everyone though.

29 ' Out to Navas, as always, and that's a corner.

29 ' Soraino clears his lines and goes through Promes to win the header.

28 ' KPB comes from deep and is offside as he gets the ball and holds it up.

27 ' Corner comes to nothing after that.

26 ' VAR. The referee gives the ….. penalty?!?!? It looked like Banega was headed to the penalty spot. Referring to being with Banega now for that play-acting.

25 ' Really good pressure now from Seville.

23 ' Promes with a lovely touch. He takes it down and kicks it off Pique as he tries to go around him. Wins the throw and it gets whipped out to Navas. Cross and he wins a corner.

23 ' Malcom to send it on and then headed straight back out by Promes.

22 ' Sergi Gomez with a fairly obvious push on the back of Malcom. He says he doesn't know what the whistle was blown but fairly obvious.

22 ' Kjaer in the Barcelona penalty area now as he tries to rise above Lenlget. He does but can't header it properly.

20 ' Navas with another cross. This time it's low and hard.

20 ' Malcom crosses one in and that's handy for Soriano. He's saying someone wanted to attack the ball but it floated into the keeper's hands.

20 ' Amadou sends one in from the right now too. It's cleared and Semedo breaks.

19 ' Really nice ball by Navas and it's headed out by Piqué.

18 ' Rakitic takes a shot from downtown but that's a mile over. He just took it maybe to take the pressure off and adjust where Barcelona set up. They push high up the field and win a throw, and then another one. Nice pressure from them.

17 ' Sergi Roberto cleaned out of it by Sergi Gomez. Malcom tried a rainbow flick and it nearly came off, well, child of. It landed at Sergi Roberto and he got upended.

16 ' Navas tries to take on Semedo but the right-back from Barca wins it. Seville pressing really high up the field now.

15 ' Banega with a dangerous ball to Amadou in the middle. He sends it forward but Barcelona wins it back.

14 ' Nice hold-up from Prince there as Vidal arrives but the ball is just behind him.

12' Well kept in by Promes. Really well kept in and he crosses. Cleared by Barcelona but that was a nice move by the visitors.

11 ' Corner sent in and Kjaer is down writhing in pain. Longline with an elbow into his forms partner in crime's ribs.

9 ' He sends it to a closer to goal but it's clared again. Arthur mills on Aleña and he sends it out wide to Sergi Roberto. Cross is dealt with awkwardly and Barcelona remain on the front foot.

9 ' Good attack for Seville down the left and it gets sent to Promes.

8 ' Really tame start to this. I would love if I had more to report but nothing of note has happened.

6 ' All happening around the middle of the field. Ball back to Kjaer and he plays it out very calmly.

5 ' Throw for Semedo and the ball is sent across to Vidal.

4 ' Barcelona fighting for and winning the ball. They have it now.

4 ' Ball in Prince Boateng and he collects and plays it back to Sergi Roberto.

3 ' It all gets a little too close for comfort and Barcelona win it back though.

2 ' All Seville to start here but no sign of any decent attacks.

1 ' We are underway!

Teams make their way onto the field and the Seville hymns around the stadium! What a tune.

"" Right now I don't know anything. I have not talked to the coach yet, but I know I will not start. , "said Prince yesterday. Or maybe he will.

Wöber, who is a recent signing for Seville, made the squad but is left on the bench for tonight's game.


Chances for all the lads today! Aleña in, Vidal in, Malcom with a weird start, Cillessen remains as the Copa goalkeeper.
SevillaXI: Soriano, Gómez, Kjaer, Amadou, Jesus Navas, Escudero, Mercado, Banega, Ben Yedder, Sarabia, Promes.
Barcelona XI: Cillesen, Semedo, Piqué, Lenglet, Roberto; Rakitic, Arturo Vidal, Arthur; Malcom, Prince, Aleñá.
Team news imminent!
Another recent arrival, Prince, is in the squad! He says he knows he won't start but there's no need to make an impact at the club.


No Busquets or Messi tonight. BUT Barcelona did just announce that Frenkie de Jong, a long-time target for them, will arrive in the summer and is a potential replacement for their legendary midfielder.


Hello and welcome to our live online coverage of Seville vs Barcelona in the Copa del Rey first leg. Kick-off is at 21:30 CET.