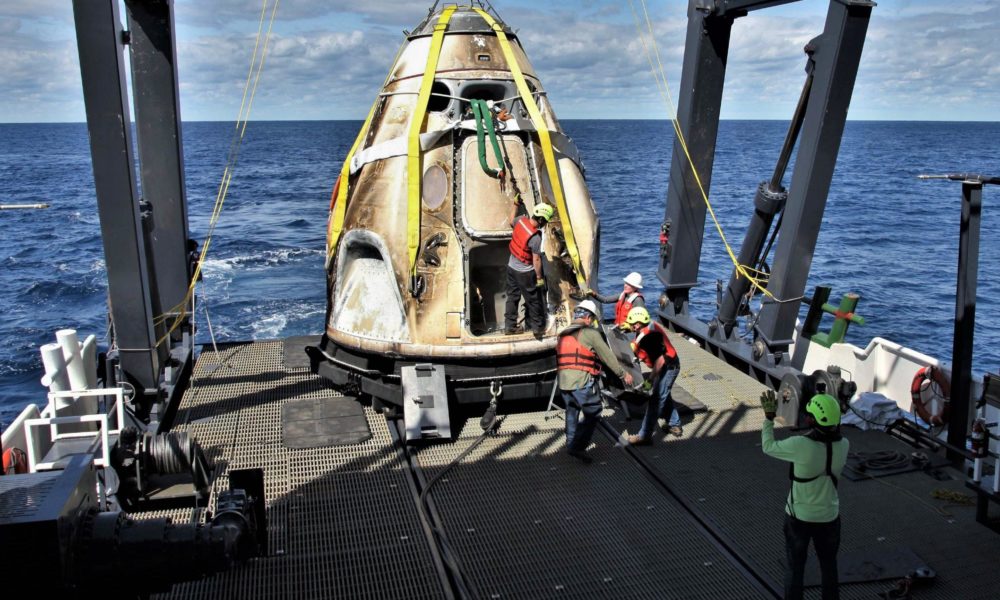 A source familiar with Russia's aerospace industry recently informed state newspaper RIA Novosti that NASA has provided Russian space agency Roscosmos with an updated schedule for International Space Station (ISS) operations, including a preliminary target for SpaceX's first Crew Dragon launch with astronauts aboard
According to RIA's source, NASA informed Roscosmos that the agency was tentatively planning for the launch of SpaceX's Demonstration Mission 2 (DM-2) as early as July 25th, with the spacecraft departing the ISS, recounting the atmosphere, and safely returning astronauts to Bob Behnken and Doug Hurley to Earth on August 5th. In a bizarre tower of events, Russian news agency TASS published a separate article barely 1
2 hours later, in which – once again – an anonymous space agency source: "The [DM-2] launch of Crew Dragon is likely to be postponed to November". For the time being, the reality likely stands somewhere in the middle.
the oddity of two wholly contradictory reports arising from similar sources just half a day apart, it's just as likely that the near-simultaneous publishing of both TASS and RIA stories is mainly a coincidence. At the same time, truth can be found in both comments made by the anonymous source (s), while they also offer a sort of best-case and worst-case scenario for the first crewed launch of SpaceX's Crew Dragon spacecraft.
RIA started the series on March 22nd with a brief news blurb featuring one substantive quote from the aforementioned space industry source.
"The American side informed the Russian side that the launch of the [first crewed launch of] Dragon-2… to the ISS… is scheduled for July 25. The docking with the station is scheduled [to occur around one day later]. The separation from the ISS and return to Earth is expected on August 5, "the agency's source said.
Put in a slightly different way, NASA informed Roscosmos that it had started to loosely plan for the launch of SpaceX's DM-2 no earlier than (NET) late July, much like NASA and SpaceX publicly announced that Crew Dragon's DM-1 launch debut was scheduled NET January 17th as of early December 2018. DM-1's actual debut wound up occurring on March 2nd, a delay of approximately six weeks. The cause (s) behind the discrepancy between NASA's first serious planning date and the actual launch remains unknown but it's safe to say that things took quite a bit longer than expected even after Crew Dragon and Falcon 9 were technically "go" for launch. 19659002] Although NASA and SpaceX now have the luxury of a fixed cache of flight data and the practical experience derived from conducting Crew Dragon's first and nearly flawless – orbital launch and ISS rendezvous, Crew Dragon's DM-2 mission remains an entirely different animal. Aside from requiring a number of significant hardware changes and introducing the visceral pressure of real human lives hanging in the balance, DM-2 will be a major first for the NASA after having spent the better part of eight years unable to launch its own astronauts into orbit.
A 'race' no more
Meanwhile, Boeing's Starliner spacecraft – a companion to Crew Dragon during NASA's Commercial Crew Program – has suffered multiple setbacks in 2019, reportedly pushing the vehicle's uncrewed launch debut from April to NET August, a delay or at least four months. As a result, nothing short of severe anomalies during Crew Dragon hardware preparation and / or NASA's reviews of DM-1 performance and DM-2 flight readiness could prevent SpaceX from becoming the first commercial entity to build, launch, and operate a crewed spacecraft in the history of spaceflight.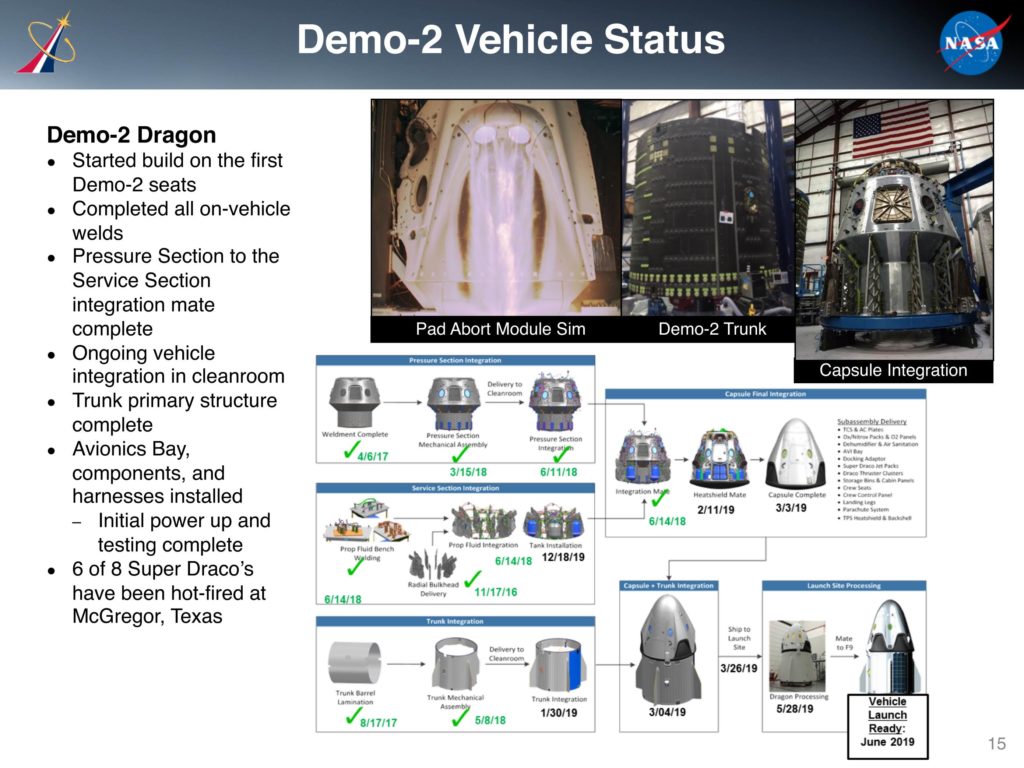 According to December 2018 update provided during NASA's quarterly Advisory Council meetings, the entirety of Crew Dragon DM-2's manufacturing and integration may already be complete, with the capsule potentially heading to SpaceX's Florida payload processing facilities later this week. NAC's December 2018 dates, however, account for the DM-1 launch delays that followed shortly, plausibly impacting the completion of DM-2 integration and path delivery to ensure that any potentially experienced during Crew Dragon's test flight could be resolved in Hawthorne , CA.
According to NASA and SpaceX, DM-2's Crew Dragon will need to be retrofitted with thermal regulation of hardware to prevent draco thruster plumbing from freezing under orbit, as well as potential modifications to the craft's parachute system and the installation of four windows instead of two. SpaceX will also need to install Crew Dragon's first orbit-ready display and control hardware. Finally, SpaceX has tested to conduct an in-flight abortion (IFA) test of Crew to verify that the spacecraft can safely carry astronauts to safety from the moment of launch to orbital insertion, a test that will have been completed successfully and reviewed at NASA, SpaceX to proceed with DM-2.

All of the above tasks – including major agency-wide reviews of Crew Dragon's performance during its DM-1 debut – must be completed before SpaceX will be allowed to launch astronauts to the ISS, all of which inherently add some level of uncertainty to DM-2's practical launch schedule. If all reviews and modifications proceed flawlessly, including a perfect in-flight abort test as early as late June, it is possible that SpaceX and NASA could be prepared to launch Crew Dragon once more by the end of July.
In reality, it's extremely unlikely that everything will proceed perfectly, as evidenced by the drawn-out process required for NASA and SpaceX to eventually reach flight readiness prior to DM-1. If a significant number of challenges arise over the next few months of reviews and work, it's not out of the question for DM-2's launch to slip to Q4 2019 or Q1 2020. Splitting the difference, it would be safest to bet that Crew Dragon will lift off with astronauts aboard no earlier than August or September. Regardless, a great many exciting milestones are soon to come for SpaceX's first human spaceflight program. Stay tuned as SpaceX prepares to ship the second flightworthy Crew Dragon to Florida.
Check out Teslarati's newsletters for prompt updates, on-the-ground perspectives, and unique glimpses of SpaceX's rocket launch and recovery processes