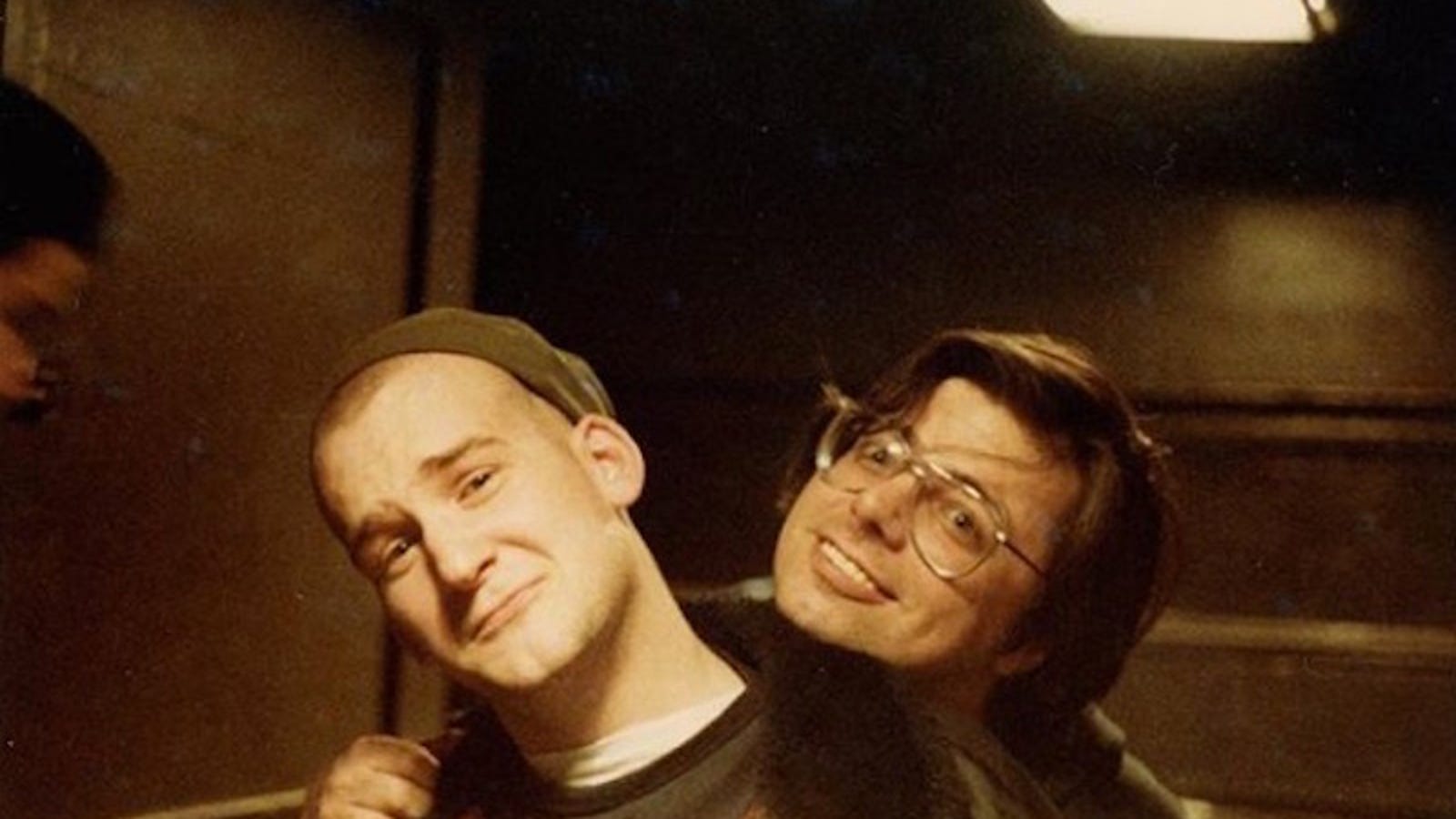 Skip Groff has gone in the way of the neighborhood's record store. He is dead.
According to his family, Groff died after suffering a seizure earlier in the week. He was 70 years old. If you didn't grow up in the DC area in the 70's and 1990's desperate to get it imported 7 inches before anyone else, Groff wouldn't matter to you.
But his shop, yesterday and today Records in Rockville, MD, meant the world to generations of cool kids. He left a career as a big label and pop radio guy to open a store that steered children away from both in 1977, just as punk took off on US shores. He beat an otherwise worn suburban trimmer outside Beltway into a cool-kids hangout for the next decades, allowing customers to get the rarest vinyl that he would bring back from his record safari in England.
In a 1
997 interview for
Washington City Paper
to mark the store's 20th anniversary, the former Y&T clerk punk icon Ian MacKaye was reminded of a tragicomic moment in the history of the outlet, the time Groff brought influential British macabre rockers The Damned to the store to make a registration signature. Groff was expecting an attack on the first generation goths and sweating everything about the look, had moved record boxes around and warned everyone about an imminent mob scene.
But Groff, who had produced the 1981 debut album from MacKaye's band, Minor Threat, scheduled the event on a Tuesday and was unaware of the influence the school week would have on participation. "Maybe 10 or 15" people were on site when the band's tour bus picked up.
The condemned were peeved-until they went into the shop and saw Groff's operation. "NCE they went into the record company, they were pretty astounded," MacKaye said. "If you're going to be stranded somewhere for an hour or so, yesterday and today is not the worst place."
Back to me: Groff's record store will always be specially personal because it was here that I went in to report as a memorable one story I've ever worked on. I received a call from an editor of Washington Post in the spring of 1994 and was told that they had just found Kurt Cobain's body. The editor wanted me to get reactions from young people about the news. She figured the coolest record store would be the best place. She sent me to Y & T Records.
This was also a school day and I left my house in D.C. a little before the schools would leave. The store was empty than on Damned's record-signing debacle when I arrived, but a steady stream of young punks started to appear soon.
This was before the internet or mobile phones so I would break the bad news for the kids. Cobain's death made me sad, but no more boring than any fact suicide would. I had really bought Nevermind the day I first heard "Smell like Teen Spirit" (really!), But soon after I had given it and my punk and cool records away to my Danish cousin because I felt too old for the young anxiety. So when he died, I listened to new, more adult-friendly land acts such as Dwight Yoakam, Steve Earle and Mavericks.
But I quickly learned that nobody was more important to the children I met in Groff's store than Cobain. They responded as if I had told them that the JFK had been murdered. The first child I approached was dressed in a Vietnam-era army fatigues jacket with punk slogans over it, a way cooler outfit than anything I had ever put on, and looked about 14 years old.
"What do you think of what happened to Kurt?" I asked.
"He deserved it!" Says the child. So I'm thinking Wow, it's a little hard, but a nice punk pose. "He deserved it?" I ask. "Yes, he smashes with drugs and he overdoses. He has to stop." I realized then that the child thought I asked about Cobain's OD in Rome a month earlier, which still was talk about the rock world. "No, he's dead," I said. "They found their body."
And the blood straightened from the child's face as he stared at me and began to cry. He asked me if I told him the truth, and when I said yes, he ran to the phone outside the Groff store to make some calls. Every other child I talked to over the next few minutes reacted with similar shocks. And soon enough, there is a line on the same answering machine in about five children, all in punk regalia, all crying, all waiting to make the same call. I had to wait until they had finished calling in my quote for the early edition. Pearl Jam played a show on the D.C. market that night, and the next day's Cobain story Post used quotes from that show and scrubbed my out. The only record I have that I myself worked on that story is the wage stub.
A picture of the line of young punks waiting for the phone outside yesterday and today Records of the Day Kurt Cobain Died would have been a great artifact, especially this week. But back when Skip Groff's record store was the place to hang out, there were no cell phone cameras to take that shot. It was another time.
RIP, Skip.
Source link