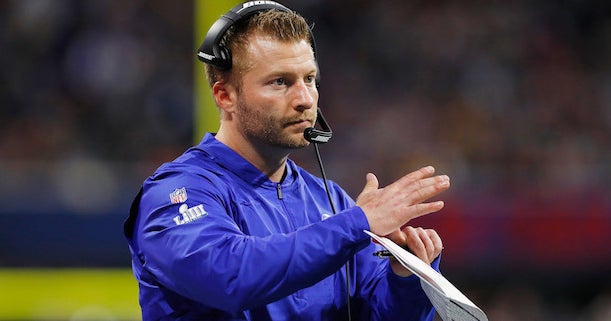 Jared Goff struggled mightily during Sunday's Super Bowl matchup with the New England Patriots, completing 1
9-of-38 passes for 229 yards with no touchdowns and one costly fourth-quarter interception.
Rams coach Sean McVay blamed himself for the loss after the game, saying he was out-coached by six-time Super Bowl Champion coach Bill Belichick .
"I never really enabled us to get into a rhythm offensively, "McVay said. "We didn't really have any third-down conversions through the whole first half. They did a good job, then it seemed like every time we got a little bit of a positive play then we'd end up having a penalty or getting we moved back. I think a lot of it was the result of some of the things they did, but also the play selection I was not pleased at all with my feel for the flow of the game and making some adjustments as the game unfolded to give us a chance to have some success and some points on the board.
"No other way to say it, but I got out-coached tonight," he added.
McVay said that blame extended to Goff's lack of production throughout the game, including the interception that took place on the Patriots' 27-yard-line with 4:17 left on the clock.
"I think he's just got such high expectations for himself that he wanted to make a play there, "McVay said of Goff's pick." And I thought some great throws to get us down into that position one. And it ended up zeroing us in the high red (zone) and that was something that they had done. But his play clock was ticking down, his child of his back foot and (Stephon) Gilmore ended up making a nice play there. But what are you where you say, 'What you love about Jared is the first thing he does is he looks inwardly , "McVay continued. "And he is a great competitor and I loved that he continued to compete until the end." Function load_vendor_fbpixel () {if (typeof fbq === 'undefined ") {! Function (f, b, e, v, n, t, p) {if (f.fbq) return; n = f.fbq = function () {n.callMethod? n.callMethod.apply (n, arguments): n.queue.push (argument)}; if (! f._fbq) f._fbq = N; n.push = n; n.loaded =! 0; n.version = '2.0'; n.queue = []; t = b.createElement (e); t.defer = 1; t.src = v; s = b.getElementsByTagName (e) [0]; s.parentNode.insertBefore (t, s)} (window, document, 'script', 'https: //connect.facebook.net/en_US /fbevents.js');
fbq ('init', '320233411816140'); fbq ('init', '1575186632756631'); fbq ('track', 'pageview'); }}
Source link