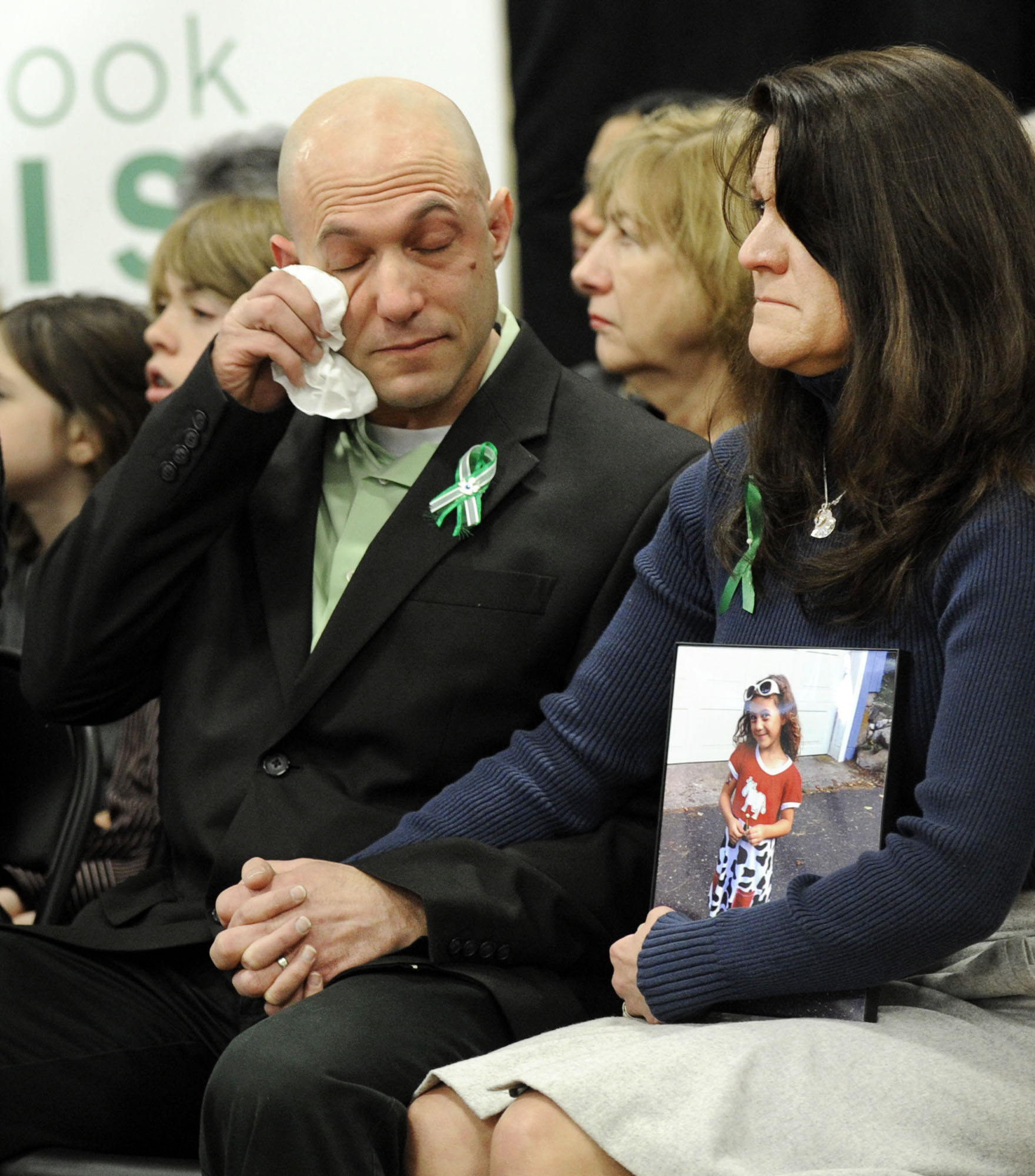 Photo: Carol Kaliff / Hearst Connecticut Media
                                                    
NEWTOWN – The father of a Sandy Hook victim was found dead in Edmond Town Hall from an apparent suicide Monday morning. found by police and paramedics around 7 am He was the father of Avielle Richman, a first-grader killed in the 2012 Sandy Hook tragedy.
Richman had an office at the 45 Main St.
Richman was found in a stage area undergoing renovations, according to The Newtown Bee.
Building where his body was discovered. After his daughter's death, Richman co-founded the Avielle Foundation to advance brain research into the roots of violence. The foundation uses community engagement, education and brain research to prevent violence and build compassion.
Richman strives to teach young people how to better manage their emotions and empathy with others, aiming to create a culture that rewarded children for being good people.
"We put such emphasis on practical academic learning, which is so critical for life skills that we forget that being human means being able to recognize our own strengths and weaknesses, and being able to advocate for ourselves and for our peers," "He told Hearst Connecticut Media in 2015.
Richman was a neuropharmacologist with more than 20 years of experience in research and drug discovery. He studied neuroscience, as well as researching various ailments, such as diabetes and kidney disease. He enjoyed rock climbing and teaching martial arts, according to the Avielle Foundation's website
"Jeremy is passionate about helping people live happier and healthier lives and is dedicated to engaging and educating youth, believing that our future relies on their imaginations,"
The cause of Richman's death is under investigation. Police said it appears to be a suicide, but it will not disclose the method or any other details about the death. They did, however, say that it does not appear to be suspicious. "Richman's death comes in the wake of suicides of two teenagers who survived the school shooting in Parkland, Fla.
Last week, 19-year -old Sandy Aiello, who was a senior during the massacre at Marjory Stoneman Douglas High School, died by suicide. Her mother said she struggled with post-traumatic stress disorder and survivor's guilt. Then, another Parkland teen was reported dead over the weekend in an "apparent suicide."
Richman's body was transported to the State of Connecticut Medical Examiner's Office for an autopsy that is expected to be done today.
a heart-breaking event for the Richman family and the Newtown community as a whole, "Lt. Aaron Bahamonde said in a press release. "The police department's prayers are with the Richman family right now, and we ask that the family be given privacy in this most difficult time."
No one at the Avielle Foundation's office answered the phone Monday morning.
Officials were Shocked Monday morning to learn about Richman's suicide.
Jeremy Richman was a loving husband, father and friend to many. I am proud to say he was my friend, "said Newtown First Selectman Daniel Rosenthal.
" I don't want to speculate as to why Jeremy took his life, except to say none of us can handle the enormity of loss. With his death of his beautiful daughter, Avielle. Please keep Jeremy's family in your hearts and pray that they will find some measure of peace that is now with Avielle. I respectfully ask that they be given space to grieve without media intrusion. "
" My God, " U.S. Late. Chris Murphy tweeted . "This is awful, horrible, devastating news. Jeremy was a good friend and an unceasing advocate for better research into the brain's violence triggers. He was with me in my office two weeks ago, excited as could be about the Avielle Foundation's latest amazing work. "
team "are not providing comment on the devastating news of Jeremy Richman" at this time and ask that people "please respect their privacy during this time."
Gov. Ned Lamont tweeted that he and his wife, Annie, are "heartbroken for the Richman family." "Words cannot even begin to express our sorrow."
Edmond Town Hall is open today, but "no events are being held," said Rosenthal.
or someone you know is contemplating suicide or needs emotional support, help is available 24/7 through the National Suicide Prevention Lifeline.
www.suicidepreventionlifeline.org.