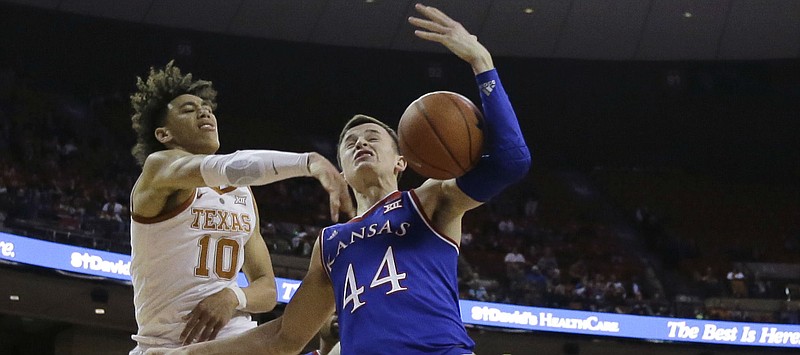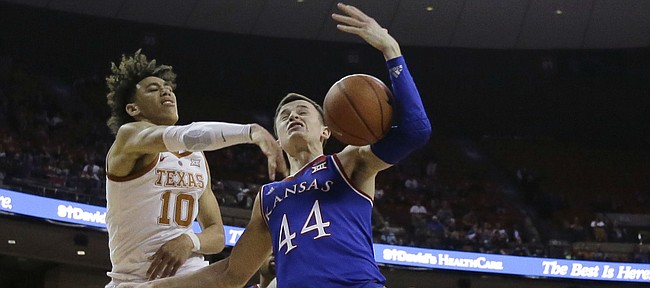 Associated Press
        
      
9. (AP Photo / Eric Gay)
The streak is over.
Not KU's streak of Big 12 regular-season titles, of course, as that remains intact for the moment. But Kansas's dominating run against Texas came to an end on Tuesday night at Frank Erwin Center.
The Longhorns suffered a total of nine hundred and sixty-second win over the Jayhawks
Kansas won the previous 10 meetings with Texas, including an 80-78 victory on Jan. 14 in Allen Fieldhouse. It is the Longhorns first win over the Jayhawks since Feb. 1, 2014.
With the loss, KU (16-5, 5-3 Big 12) has now lost three of its four road games to start the league slate. Meanwhile, Texas (12-9, 4-4 Big 12) snapped a two-game skid, which included a 98-88 loss to Georgia in the SEC / Big 12 Challenge this past weekend.
A 2-0 advantage out The gate was KU's only lead for the night. In a release effort, freshman Ochai Agbaji led the way with 24 points. Dedric Lawson scored 13 points, while Lagerald Vick added 10. UT had four different players scored in double figures.
Here's a quick look back at some of the action:
• The game turned when:
• Offensive highlight: On a night where the Jayhawks struggled on the offensive end, freshman Ochai Agabji was the lone bright spot.
Agbaji scored 14 of the first 30 points produced by the visitors. He finished off a pair of dunks in transition, including the team's highlight play at the 1:41 mark in the first half. Marcus Garrett blocked a shot from behind, leading to a transition slam for Agbaji to trim the deficit to just one point at the time.
• Defensive highlight: It was a sloppy game for both teams during Tuesday's tilt.
Kansas took advantage of some miscues by Texas to help manufacture some points on a night where the struggled to score. In fact, the Jayhawks scored 10 of their first 27 points off to stay within striking distance.
Early in the second half, freshman Quentin Grimes forced a turnover and it went to an all-open to Agbaji in transition. [19659017] • Next: Kansas plays host to Texas Tech at 3 pm Saturday.