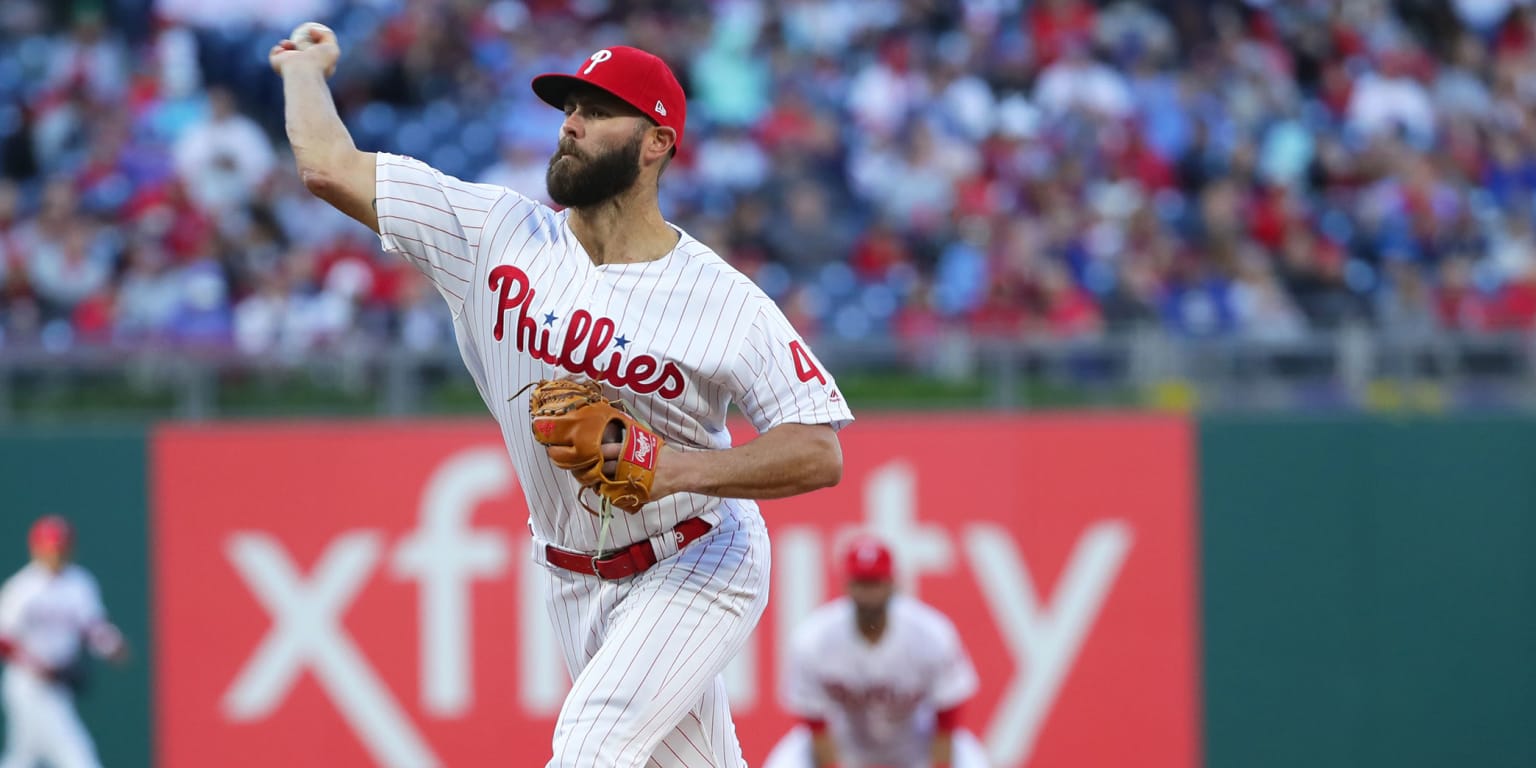 PHILADELPHIA – Jake Arrieta had strong words for his teammates following a bad loss Monday night to the Mets at Citi Field.
                        He said they were not ready to play. He called the team flat.
                        He offered a four-word assessment of his own performance following Saturday night's 12-9 victory over
PHILADELPHIA – Jake Arrieta had strong words for his teammates following a bad loss Monday night to the Mets at Citi Field
He said they were not ready to play. He called the team flat
He offered a four-word assessment of his own performance following Saturday night's 1
2-9 victory over the Marlins at Citizens Bank Park.
Rhys Hoskins
Andrew McCutchen
and
Nick Williams
homered. Hoskins,
Bryce Harper
Maikel Franco
and
Sean Rodríguez
each had two RBIs. But an easy victory that moved the Phillies to 15-12 turned into a nail-bitter because of a momentum-shifting sixth.
"Thank God that's over," Arrieta said.
The Phillies spotted Arrieta a nine-run lead in the fifth, when he reached base on an infield single and scored the team's 10th run. Maybe because he ran the bases, or maybe because he had 85 pitches, the Phillies started to warm up right-hander Enyel De Los Santos . Phillies manager Gabe Kapler downplayed the idea that he wanted to pull Arrieta, but Arrieta said Kapler indeed told him that he wanted De Los Santos to pitch the sixth.
Arrieta said he talked him out of it. He started the inning and allowed four consecutive singles to cut the Phillies' lead to eight.
Kapler pulled Arrieta at that point.
"He told me that he wanted to take me out," Arrieta said. "I wanted to stay in. The four singles, I had a lot of weak contact. I think I gave up eight singles tonight. Some infield hits. You know, they were able to find some holes in the sixth inning and make it interesting.
"I think I could have gone out and gotten three outs quickly. It just didn't work out that way. "
After left-hander Jose Alvarez allowed his three inherited runners to score, Los Santos allowed two runs in the seventh and Seranthony Dominguez allowed two in the eighth to cut the Phillies' once comfortable lead to 10-9. Hoskins hit a two-run homer to left field in the eighth inning to give the Phillies some breathing room. They needed it. The Marlins had the record running in the ninth, but Hector Neris struck out Chad Wallach on a 2-2 split to the game.
Arrieta improved to 4-2, but his ERA jumped almost an entire run from the fifth inning (2.54 ERA) to the sixth (3.46 ERA).
"I let it get too close," he said. "I am a little frustrated with that, that I was able to get up to clean sixth inning where The Lo could come in and hopefully finish out the game with a 10-1 lead. It didn't work out that way. It happens. "
Nick takes advantage
Williams started a field in the second consecutive game. He didn't start in any of the Phillies first 25 games. He crushed a solo homer into the Phillies' bullpen in right-center field in the second inning for a 1-0 lead. He left unseen to start Sunday against Marlin's left-hander Pablo Lopez
. Williams had 448 plate appearances last season. He is on pace for this season.
"It's really tough, I can't lie," Williams said about his lack of playing time. "It's one of the biggest challenges I've been through in my career. But I just try to remain positive. One thing I want to get out of it is good at-bats. I think this last road trip, I was having some good at-bats but some bad luck. Just missing some pitches. "
Tonight's National League game…
Longtime Phillies public address announces Dan Baker missed the game because of an illness. It was the first game he had missed since Citizens Bank Park opened in 2004. Baker has been the PA man for the Phillies since 1972.
"I want to send a quick get-well message to Dan Baker," Kapler said. "It wasn't the same hearing his voice out there."
Phillies public affairs director Scott Palmer supervised Baker's duties.
Todd Zolecki has covered the Phillies since 2003, and for MLB.com since 2009. Follow him on Twitter and Facebook.