Buyers at a large outdoor mall in Sydney, Australia were shocked by a demonstration led by animal rights group PETA on Saturday, where they grilled a prop dog in an attempt to turn others into veganism.
"If you don't want to eat a dog, why eat a lamb?" a sign during the lively charred dog read on Pitt Street Mall. The stunt was supposed to cause offense when a man wearing the chef's hat surrounded the dog with vegetables on Thursday. It happened as the Australians nationwide prepare for annual barbecue festivals for the Australia Day on Saturday.
The group hopes to be aware of what they think is wrongful differentiation between farm animals and those we eat.
PETA CRITICIZED TO USE ANTI-ANIMALS WITH RACISM AND HOMOPHOBIA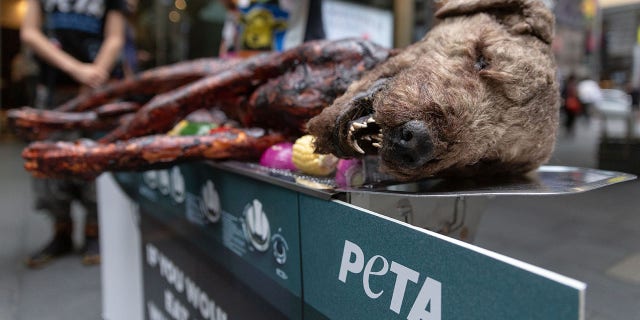 PETA CONDEMNS & EMOTIONAL SUPPORT CHICKEN & # 39; OBJECTIVES
"Anyone who is rejected by the prospect of chow down on dog meat should question their compassion toward other animal" group in a statement.
"This is called speciesism – a form of discrimination based on nothing but species – and like all forms of discrimination it cannot be justified. As humans, we feel instinctively compassion and empathy for animals, but we are taught that it is OK to enslave and eat some of them without another mindset about who they are as individuals, "it continued.
Whatever their intention, the stunt was disturbed by some Sydney residents who said there were schoolchildren enjoying the summer vacation that was present in the mall that was visibly confused.
CLICK HERE TO GET FOX NEWS APP
PETA remained unsteady and hopes that the display will allow the Australians to think twice before firing to the grill for the upcoming holiday.
"to worry about animals – as most Australians claim to have – must be concerned about all animals," said the group. "Many animal-free options (which are also better for your health and the environment) are available for your Australian Barbecue."
Source link