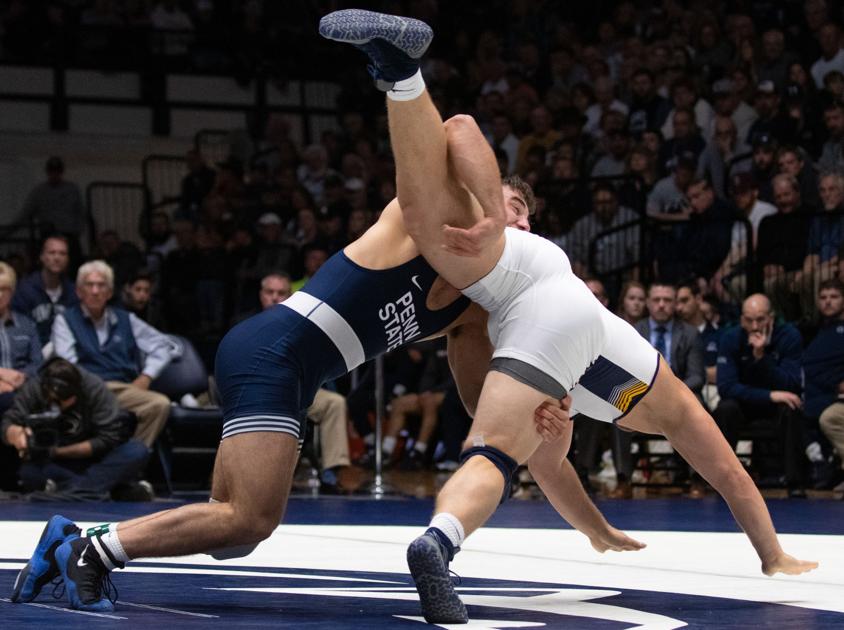 It wasn't easy, and it probably wasn't nice, but Penn State got the victory over No. 19 Wisconsin.

5-0 The Nittany lions got their first Big Ten victory on Friday against No. 11 northwest and held the moment in the way against 6-2 Badgers and took the 24-13 winner.

That's how it happened:

At 125 pounds, Devin Schnupp was against No. 15 Connor Brown of Wisconsin to start the fight. Schnupp lost the 18-9 major to put the Nittany lions down to an early four-point deficit.

No. 1

4 Roman Bravo-Young and Jens Lantz took the food at 133 pounds. Bravo-Young helped bring Penn State back by earning a 12-4 major and tying the point to four for both teams.

The next two battles are where Wisconsin began to get disturbed at 141 pounds and 149 pounds.

None. 4 Nick Lee went up against pristine Tristan Moran from Wisconsin at 141 pounds. It was a back and forth struggle to the end of the third period, when Lee was able to tie the score of nine from the riding time. The result was nine to sudden victory 1, but Moran got the first thanks to sudden victory 2 to win the decision 12-10 and put Wisconsin up 7-4.

Next up at 149 pounds was No. 9 Brady Berge and unranked Cole Martin of Wisconsin. After coming to a 6-3 lead with over a one-minute riding time to finish the first period, Martin could come back and tie it at six o'clock to finish the second period. After a last second takterown from Martin to finish the third period, Martin earned 8-7 disorder over Berge to expand Wiscon's lead to 10-4.

Hope to stop back-to-back upsets from Badgers was No. 1 Jason Nolf at 157 pounds. Up against Devin Bahr in Wisconsin, Nolf needed to get bonus points to help Penn State back before pausing. Nolf did just that and got the 25-10 tech drop at 6:37 to bring Nittany Lions within a point into the second half of the match.

For the second game in a row no. 1 Vincenzo Joseph not be in the starting line for Penn State. Mason Manville would make his 165-pound Rec Hall debut, having had an impressive run on Southern Scuffle. Going up against No. 3 Evan Wick from Wisconsin, one would think it would be a great job to win. While Manville did not win, he held Wick for a 5-1 decision and a 13-9 lead for Wisconsin.

No. 1 Mark Hall and Patrick Spray from Wisconsin took the food at 174 pounds. Hall got two four-point close-ups in the first period to give him a 12-1 lead by 2:05 in riding time to finish the first period. With another four-point presence in the third quarter, Hall gets the 24-5 tech drop on the 6: 13 mark to put Penn State in their first leg in the match with a 14-13 score.

No. 3 Shakur Rasheed and Mason Reinhardt from Wisconsin struck off with £ 184. While Rasheed seemed to dominate most of the match, he only got the 5-0 decision with a bonus point for riding time. Penn State leads 17-13.

No. 1 Bo Nickal would look to keep the momentum on the way to Nittany Lions in a faceoff against Beau British from Wisconsin. Although Nickal got the 14-4 major, Breske didn't give it to him easily. By making the big decision Nickal was up with Penn State winner with a fight.

With Penn State leading 21-13, No. 4 Anthony Cassar and No. 9 Trent Hillger from Wisconsin would complete the double. Cassar got 11-5 decision by 1:05 in riding time to give Penn State 24-13 victory.