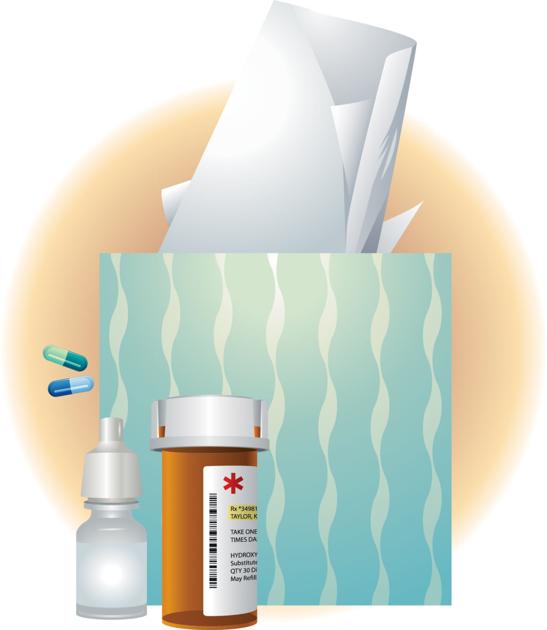 As bad as it may seem, this year's flu season is not as bad as last year – and the worst can soon be behind us.
Cases of influenza are elevated over most of the continental US, according to the Centers for Disease Control (CDC). On January 11, the CDC estimated that 6-7 million people have been ill with the flu this season, about half of these people have gone to the doctor; and between 69,000 and 84,000 people have been hospitalized for influenza.
Influenza problems jump yearly from December to February, leaving us largely off the influenza season.
A measure of the severity of each flu season is the level of "flu-like disease" (ILI) observed. Based on the current level, the CDC last month concluded that this year's influenza season, but not over yet, is less severe than the 201
7-2018 influenza season.
In the week ending January 11, the latest statistics available show ILI nationwide was 3.5 percent; The total hospitalization was 9.1 per day. 100,000; and death attacks in pneumonia and influenza (P & I) have not exceeded the epidemic threshold.
"ILI data helps us identify which populations are experiencing the greatest burden associated with influenza," said the South Dakota Health Department epidemiologist Joshua Clayton. Press & Dakotan.
Currently, ILI in South Dakota is more than 2 percent, he said. "It's a little difficult to compare precisely at this time last year, but what I can say is that we had flu activity that was so high that 5 percent of the people of their doctor were ill with the flu."
During the 2017-2018 influenza season, the flu was widespread and also high in severity. The number of flu-like cases was the highest since the 2009 H1N1 pandemic, as an estimated 60 million people were ill with the flu, according to the CDC.
Last year, ILI increased by 7.5 percent; estimated 48.8 million people contracted influenza 22.7 million people went to the doctor; 959,000 were hospitalized; and 79,400 died of influenza. P & I was on or over the epidemic threshold for 16 consecutive weeks.
So far, this influenza season has made 6.2 million to 7.3 million people flu; 2.9 to 3.5 million saw a doctor; and 69,300 to 83,500 people were hospitalized for the flu. Influenza death rates at present are not estimated, but 16 pediatric deaths have so far been reported.
Cheryl Havermann, Marketing Director of Yankton Medical Clinic, shared some information from the latest weekly flu summary of the South Dakota Department of Health.
Although the flu activity is widespread, its severity is moderate for South Dakota during the week ending January 26.
"There were 590 influenza news cases confirmed last week everywhere in a total of 1,562 confirmed cases so far this season," the gardener said. "There were 19 new influenza-related hospital admissions across the country and a total of 122 hospital admissions so far this season, statewide; a flu-like death reported last week and two so far this season."
Currently, Nebraska is also experiencing extensive influenza activity. There have been 1,548 confirmed cases of influenza; 430 admission institutions and 36 deaths since 30 September.
Nebraska is experiencing several of the virus's influenza A H3N2 strain, while South Dakota mainly sees cases of the influenza A H1N1 strain.
For those who are not ill, Clayton warns that although the influenza season is peaking, many more cases of influenza are expected to be diagnosed before it is over.
"We still recommend people go out and get the flu vaccine because it's the most important thing they can do to prevent disease," Clayton said. "From the time the flu vaccine is available at the end of September to April, you can get your flu vaccine because there is a chance that you will be one of the season and you can still be ill; you can still stay hospitalized, and you can still die wherever (we are) in the flu (season). "
For anyone who avoids the flu shot, Live Attenuated Influenza Vaccine (LAIV4), also known as FluMist, has been returned as a opportunity this year, and is back on the CDC list of recommended vaccinations to prevent the flu, Clayton said.
Although this year's flu is not as bad as last year, local health professionals are trying to stop the spread of the virus.
"We have seen an increase typical of this season, but we encourage people to wear masks if they have some of the symptoms when they enter, wash their hands and use sanitizer," says Jill Mitzel. nurses at Yankton Medical Clinic. "If you have the typical symptoms, stay home. Do not go to the store if you have a fever, try to cut yourself as much as you can so that you do not spread to anyone."
Follow @CoraVanOlson at Twitter.
Source link