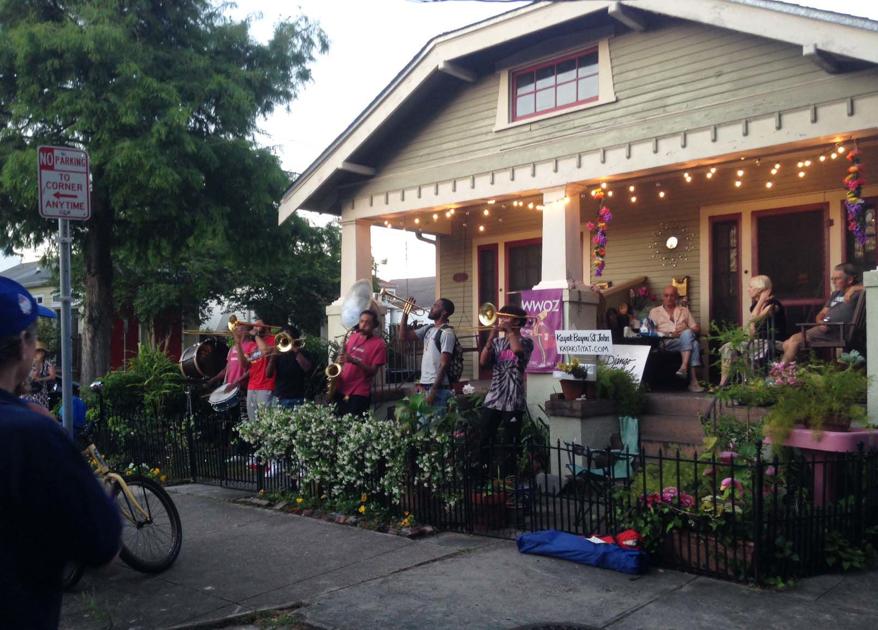 Many years ago, attending Festival International in Lafayette, I walked away from the urban area and came across a group of five young musicians who played in the street and just killed it. A crowd had formed to listen. When they took a break, I dropped some bills in the hat and asked their name. "We are Pine Leaf Boys," I was told.
Today, the Pine Leaf Boys tour the world, heading festivals and is a staple at the New Orleans Jazz & Heritage Festival, but then they played on the sidewalk outside a donation festival.
I was thinking about the last night when words came down that the New Orleans Police Department closed 1
00 Brass Band, a group of local musicians, near Jazz Fest:
NOPD shuts down live music outside Jazz Fest, corner of N Lopez and Maurepas. Never seen this before. pic.twitter.com/OrbJwVaOPq

– Tim Ruppert 🌻 (@tmruppert) April 26, 2019
If there is one place street musicians will not bother anyone, it is outside the Jazz Fest gates . Anyone who has gone to Jazz Fest knows that the street party outside, the music, the neighbors who sell water and beer and home-made food are all part of the experience.
Is there an ordinance against some or all of it? Probably. Should anyone break? Not really.
Back in the day my friends and I once paid a stranger on the corner of N. Rampart and Esplanade Avenue $ 1 piece to ferry us to the Jazz Fest in a hooptie reeking of weed. I bought beer and "ice cream … cold … waaaater!" outside jazz party, from people who treated it out of ice coffins. I have eaten homemade jambalaya out of Styrofoam bowls, cooked by people who live close to Fair Grounds.
Much, if not all, is contrary to city ordinances to some extent. It is also not worth worrying about.
In a discussion this morning, the city said NOPD had closed the band because of "resident complaints" (fortunately, a neighbor invited the musicians into her yard where they played on private property):
. @NOPDnews responded to resident complaints. We support #NOPD decision to work with both the musicians and the residents to let the musicians continue in a new location. #NewOrleans will always continue to support our culture and seek ways to balance our traditions and neighbors.

– City of New Orleans (@CityOfNOLA) April 27, 2019
Was street band contrary to any ordinance? Maybe. But does the city have nothing better to do than try to shut down the next generation of musicians trying to make a buck – and make many people happy in the process?
New Orleans music culture is not limited to symphony halls, nightclubs or festivals sponsored by Acura and Miller Lite. It's more organic than that, or it should be. And it is a bad look for a city that pays for "cultural carriers" to close down the actual cultural carriers outside a multi-million dollar festival, where Pitbull and Katy Perry draw huge salaries.
You would think the tourism industry would care about. After all, it's not Pitbull and Katy Perry who draw visitors all year round; It is Doreen Ketchens and Grandfather Elliott and the TBC Brass Band that set the streets up and make the tourists feel like they have discovered something magical.
NOPD gathered across the street to watch the festivities. They told me that brass bands are allowed on private property, but reinforced bands are closed. pic.twitter.com/Tq6PS4kahH

– Tim Ruppert 🌻 (@tmruppert) April 27, 2019
Of course, there is much more to unpack about haves and garden nots in the city, as well as politicians using musicians and Mardi Gras Indians in electoral and tourism campaigns while doing little to help them the rest of the time.
The Pine Leaf Boys went from playing on the street in Lafayette to getting stuck on the Jazz Fest Fais-Do-Do scene. Perhaps the young men who were closed by the streets of N. Lopez and Maurepas will continue to do the same.
Meanwhile – let the music play and let our home musicians play. Please.
Follow Kevin Allman on Twitter: @kevinallman