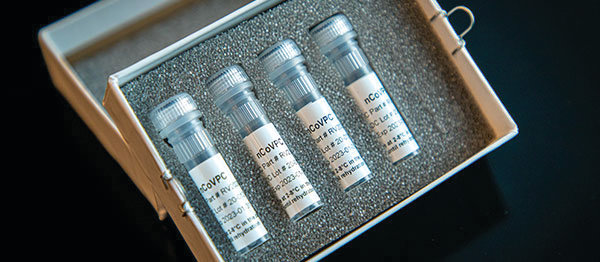 A new case of COVID-19 was discovered in Jefferson County late Friday.
The newly confirmed test of a person with coronavirus pushed the number of COVID-19 infections in Jefferson County to 71.
The latest case involves a woman from Port Townsend.
As of Tuesday, September 14, a total of 7,499 people in Jefferson County have been tested for coronavirus.
A total of 7,357 people have tested negative for COVID-19.
The percentage of people in Jefferson County who have tested positive for the disease is
0.96 percent.
Test results are still pending for 71 patients.
Of the confirmed cases, 37 of those infected were women and 34 were men.
A majority of those who have been shown to have COVID-1
9 are from Port Townsend.
According to Jefferson County Public Health, 37 COVID cases are from Port Townsend. A total of 27 residents were found in the center of the county, and the remaining seven are from the southern county (Quilcene, Brinnon and West Jefferson).
Jefferson County Public Health Director Vicki Kirkpatrick said no new cases were reported over the weekend.
"The number of cases is still low and trending is low," Kirkpatrick told Jefferson County commissioners at their weekly COVID-19 update meeting Monday.
Many of those who have tested positive have come out of isolation, and others who were quarantined due to potential COVID-19 exposure are also no longer quarantined, she said.
The county remains somewhat calm from new cases, Kirkpatrick said.
Local schools reopened recently, and Kirkpatrick said Jefferson County Public Health has offered help getting questions answered.
"All in all, it went well from a COVID-19 perspective," she said of starting school.
"The schools have their plans in place and were prepared and ready to go. So far, so good. "
Kirkpatrick also noted that public health officer Dr. Tom Locke has put together a protocol for school districts on what to do if a student or staff member has COVID-like symptoms.
Students and school staff will also have increased access to tests, she said.
Jefferson Healthcare has taken steps to have tests available in Quilcene at the South County Clinic.
Kirkpatrick said tests at the Port Ludlow Clinic will follow.
"Quilcene is ready," she said. "It's probably a matter of days, maybe a week or so for Port Ludlow."
As of Monday, the two-week COVID-19 rate (per 100,000 people) was 3.13 percent.
No deaths in Jefferson County have been linked to COVID-19.