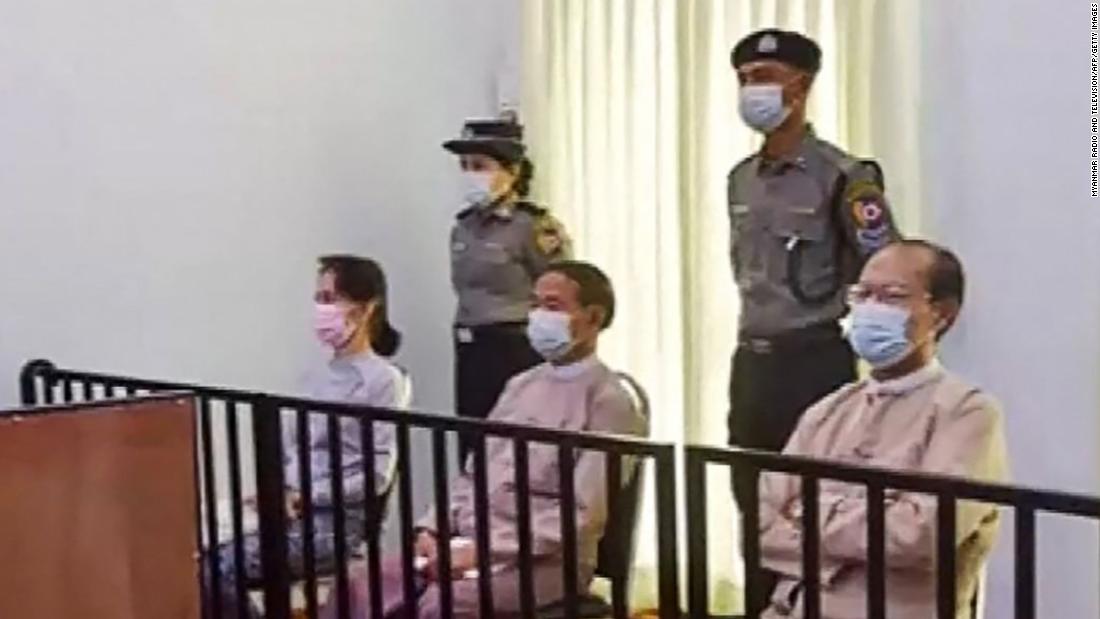 The new indictment follows an investigation conducted by the Anti-Corruption Commission into several charges against Suu Kyi. It found her "guilty of committing corruption using her rank," the state-run Global New Light of Myanmar said. She was charged under the Anti-Corruption Act 55 and if convicted, she could face up to 15 years in prison.
Suu Kyi was ousted from her position as state adviser and de facto leader of the country when the military seized power in a February 1 coup. She has been detained since then and charged with a number of crimes that her lawyers and supporters consider to be politically motivated.
The commission said Suu Kyi "abused her authority"
; to rent land and a building to open the Daw Khin Kyi Foundation headquarters, where she chaired. It said an application for land to establish a Horticulture Vocational School as part of the foundation of the capital, Naypyidaw, was not carried out "in accordance with procedures but with her power and authority."
Suu Kyi's lawyer Khin Maung Zaw called cases of bribery and corruption "absurd" and "baseless".
"I have never met any statesman who is more honest and imperishable like Daw Aung San Suu Kyi. She may have flaws, but personal greed and corruption are not her traits. Those who accuse her of greed and corruption are spitting in the sky, " he said. .
Three other former officials were also charged with corruption, Global New Light said. The case files were opened against them at police stations on Wednesday, the paper added.
Suu Kyi has been charged with a number of crimes, including illegal possession of walkie-talkies and violation of coronavirus restrictions during last year's election campaign. Her trial for these charges starts on June 14 and is expected to end on July 26, according to her legal team.
Separately, Suu Kyi is accused of violating the law on official secrets, and if convicted, faces up to 14 years in prison.
The military, led by General Min Aung Hlaing, seized power after claiming widespread electoral fraud during the November 2020 election, in which Suu Kyi's National League for Democracy (NLD) party won a landslide and another term in government. The previous election commission denied that any discrepancies had been found between the votes.
The four months since the coup have been marked by widespread bloodshed and violence as the junta cracked down on nationwide pro-democracy protests, a long-running civil disobedience movement and the recent emergence of "people resistance" fighters taking up arms against junta forces.
More than 850 people have been killed by junta-led security forces, and 5,941 have been arrested since the coup, according to the law firm Assistance Association for Politic Prisoners. Among them are protesters, activists, journalists, celebrities, officials as well as children and spectators.
CNN's Sarita Harilela contributed reporting.
Source link