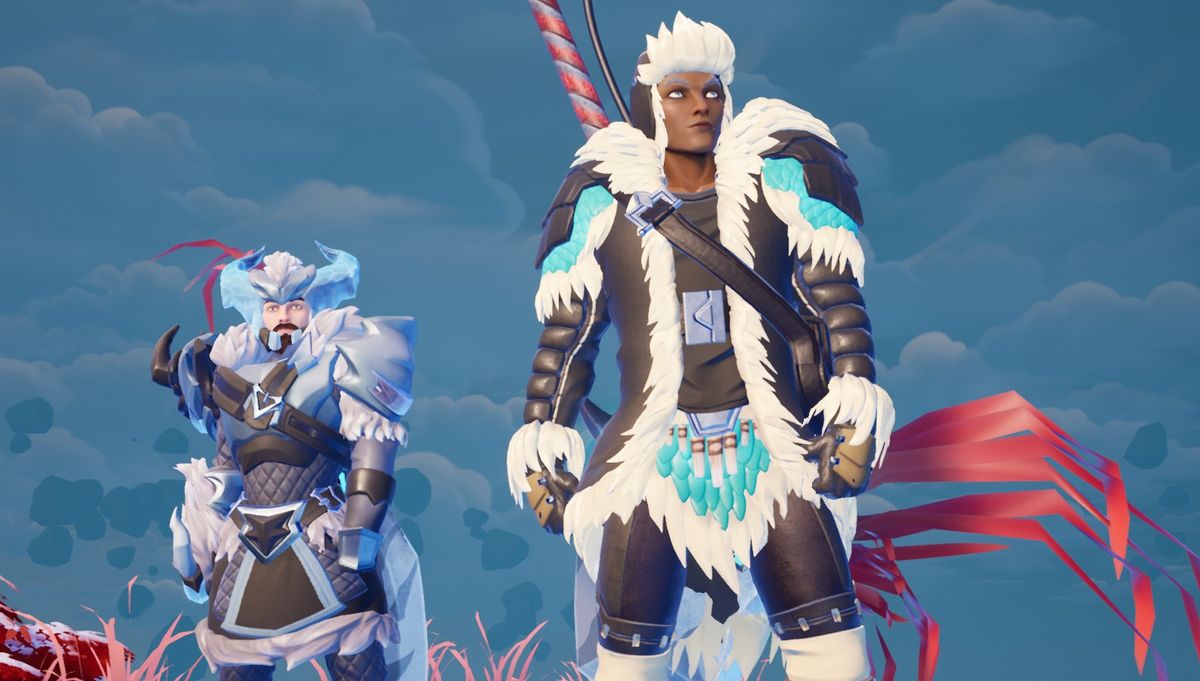 Dauntless didn't make a good first impression – in fact it was more like it made a good first impression and then forgot my name when we met again the next day. I first started this free-to-play alternative to Monster Hunter Monday, using his surprisingly deep character creators to create a cartoon avatar, I had a great time and enjoyed his opening few moments. I went on a super basic initial hunt, looked at a couple of cutscenes, and fought through a couple of server connection errors before I could make it the city's hub. I made some armor, talked to a few suppliers, and finished in the afternoon.
The next time I started the game, my character and progress were mysteriously gone. I liked the character, dammit!
It has been a tough launch week for Dauntless on the server front, with downtime and login queues across both PC and console. I think my character deletion was a fluke, from playing before launch to especially crashy servers. I haven't had that problem again, but I had to wait in line just to get past the title screen. As Dauntless is a free game game, you need to log in and connect to a server to play alone. That's one of many reasons I find it hard to recommend Dauntless over Monster Hunter: World, a game you could play for hundreds of hours at a cost of $ 60 (or less on sales) without running out of new weapons to master.
I almost wrote Dauntless in the first hour or two, but there is some real monster hunting to be here when you get past the server problems and its first few quests. The first few monsters I hunted were so boring and so easy to kill, especially in a group that the fight wasn't that fun. I felt mindlessly on the left and right mice, changing lights and heavy attacks and dodging every so often. With a group of three other hunters, I was thrown into matchmaking with the fact that it was easy to kill one of these animals in about five minutes, hardly worrying about hurting.
But it gets better. When the training wheels came out, I took on the Scream and Skarnet, two monsters that were actually challenging with my low-level gear and had designs for rival Monster Hunter: the world's impressive enemies. Shrike is an owl bear thing that flirts tornadoes across the field with its wings, jumps into the air to come down with a heavy ground pound and honestly looks just as hell with these bright yellow eyes and glowing feathers. This is a being, I will not come face to face in a forest, dark alley or, really anywhere. But beating his ass with a flaming sword I had made from another monster was a good time.
Weapons in Dauntless feel good at running. They are not as animation-heavy as weapons in Monster Hunter, even with the slower weapons like hammer and ax. You move fast, dodge with a satisfying snap and can pound the mouse to quickly perform flashy combinations. Some weapons allow you to stop attacking attacks, and each weapon has its own special mechanic to learn.
None of it feels as deep as Monster Hunter given, I only played a few hours with Dauntless so it could change some. But it's hard to see any of these weapons that require timing or positioning masters of Monster Hunter's insect glass or lance or transformation charge sheet (they have some distinct and creative charge / ammunition systems, but it's more interesting than Monster Hunters simpler weapons).
It's a fun alternative taste, easier to download and play. The first few monsters don't require anything from you, but I actually started studying my moving list and combo timing when I fought for Shrike and then Skarn.
Skarn, which I now call Magic Rock Lizard, is visually different from All I have fought in Monster Hunter: World, and it's really exciting. Magic Rock Lizard outer shell can float into the air and reconfigure itself around its body, which is both a cool effect and a great combat mechanic. When the rocks change into position on the right side, I know it is performing a parallel rolling attack. When the rocks snatch their body to reveal a vibrant charge of energy downstairs, I learned (the hard way) that it's about making a super powerful whirlwind attack that will take half of my living space if I'm close enough to be sucked in.
It was a fun fight and actually challenging. I'm sure with a few equipment upgrades and a little more experience Magic Rock Lizard will be a push-over, but it is the drawing of these kinds of games: learning in and out of a closet's abilities and how to counter them, so flow so much that they eventually become push-overs.
Dauntless can clearly offer it. But still Monster Hunter: World is simply the deeper, bigger and richer game. And I'd rather pay for that depth than dealing with the concessions in a free game game.
Once when I started Dauntless, and once when I simply returned from a hunt, it threw up its "ELITE TRACK BUNDLE." On the screen at the end of each hunt, it shows me how I don't get a bonus because I don't have the Fortnite-inspired Elite Hunt Pass. There is, of course, a prize money that you can use to shorten through some of the craft system.
Monster Hunter has cats that cook me giant steaks; Dauntless has this guy who wants me to spend $ 9.99 on Platinum. Yes, it is an unfair comparison, but only one of them fills me with joy.
And there are the little things that may only be the first week's problems, but dampened my experience anyway. Sometimes when I go up to an NPC and hold down the E key to talk to them (an annoying controller over the first-interface interface design), nothing happens. I keep holding it, and the small circular meter that indicates that I have held the button down enough remains full, but the conversation never penetrates. I have to let go and print it again and then it works mysteriously.
At one point, I went into matchmaking to hunt a fire animal called a smaller emberlane. One minute passed. So two. Then three. When I hit five minutes, it was quite obvious that there was something wrong with matchmaking; It never came to match me with anyone. Adding damage to an injury made it impossible for me to back out and start matchmaking again or do the hunt alone. So I hit alt-F4, restarted the game and waited for another login queue.
The Quest dialogue is short and boring, as if it were designed to be ignored by 90 percent of the players. That was enough, but if it was more interesting, I could actually read it. Everything in Dauntless feels designed for players who want to get in and out, from their streamlined matchmaking to spawning monsters within the sight of a spawning hunt. I think one of Monster Hunter: The world's most undercooked systems is the experience of finding a monster and launching your attack ̵
1; it's really much more a game of monster games than monster hunting. It could have been an opportunity for Dauntless to do something bold and intricate with the hunting experience, but instead it is even more straightforward. There is not much reason to explore.
Dauntless grew on me when I passed her most basic hunts, but it feels a little too simple and a little too free to thrive in a post-Monster Hunter: World World. However, I will give it great props to support platform games between PC, Xbox and PlayStation. I can imagine that it has been a complicating factor in launch server problems, but getting cool with players across all three platforms is cool and I haven't had any layers or performance issues. Capcom must take note.
Source link