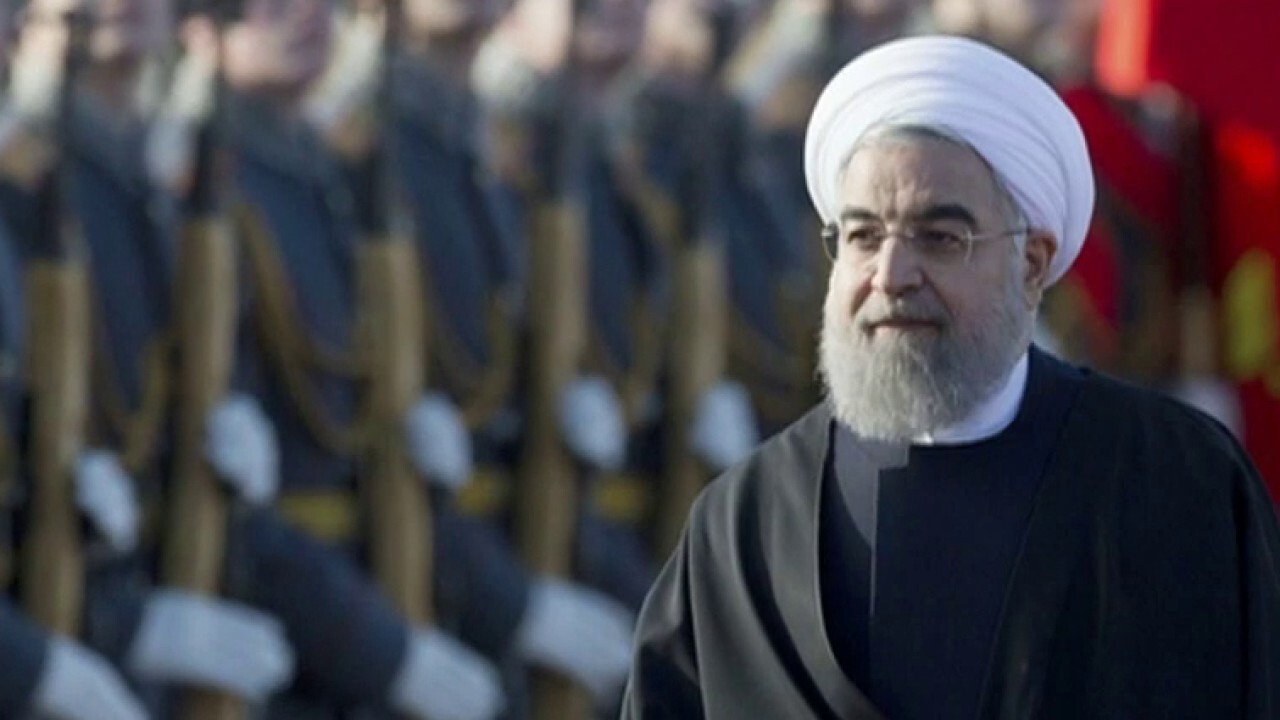 Iranian dissidents are urging the Biden administration to maintain pressure on the country's leaders, arguing that the regime is at its "weakest point in history" – although the administration appears to be in touch with Tehran again.
A report by The Organization of Iranian-American Communities (OIAC), which opposes the regime and calls for a democratic, secular government, warns that US policy based on isolation or commitment "depends on blind belief that the regime a today will change his behavior, a presumption that is logically unfounded and obviously not convincing. "
HOUSEHOLD REPUBLICANS HAVE BITED TO ASSESS LIFE SANCTIONS ON IRAN, WARNING OF A ̵

6;HISTORICAL ERROR'
It is claimed that the regime's human rights record has deteriorated in recent years and has pointed to cases where it supports terrorism – both in the region through its support for groups such as Hezbollah and in Europe with the plot against dissidents in Paris in 2018.
"Those who want to deal with the Iranian regime must understand that the Iranian regime is desperate, weak and strongly isolated among its own people," said OIAC's political director, Dr. Majid Sadeghpour, in a statement accompanying the report.
The Trump administration launched a "maximum pressure" campaign against the regime, which withdrew from the 2015 Iran deal and imposed waves of sanctions on exports and top officials.
The report says a series of mass protests since 2019 have shown the fragility of the government: "The regime is clearly at its weakest point in history," it says, arguing that Tehran's attention is now focused on controlling insurgency at home.
But the Biden administration has tried to take a different approach. It has backed a Trump-era effort to reintroduce UN sanctions, including an arms embargo on Tehran, while stating that it wants to re-enter Iran's nuclear deal. It has also ended support for the Saudi offensive operations in Yemen, where the Saudis are fighting Iran-backed Houthi rebels.
At the same time, Foreign Minister Antony Blinken has said that re-involvement is conditional on Iran changing its behavior.
BIPARTISAN HOUSE DECISION BACK PRESSES FOR A DEMOCRATIC IRAN, CONDEMNS THE REGIME'S TERROR PLOTS
"The road to diplomacy is open right now. Iran is still a way away from being consistent [with the deal], "he said recently, according to Reuters." So we'll have to see what it does, "he said.
Dissidents warn that involvement diplomatically "could risk spreading the significant U.S. leverage achieved through the maximum press campaign, something the administration seems to understand."
It calls on the administration to rally European allies and dissidents to put pressure on Iran to change its behavior and link any commitment to "controllable measures to curb its exaggeration at home" and to investigating past human rights violations.
"Tehran should also help with responsibility for taking foreign nationals hostage, rather than being rewarded for their release, which only leads to more hostages," the report said, calling for the release of political prisoners.
REPUBLICANS SLUDGE OFFER MOVES TO FALL IRAN SANCTIONS SHIFT
Moreover, it says the administration should avoid easing or removing sanctions unless there is what it calls "significant shifts" in the regime's policies.
"Tehran's withdrawal must be meaningful and lasting, not half-hearted or transient. The regime's regional predations, extortion and espionage tactics must be confronted effectively through a firm policy of the White House," it said.
CLICK HERE TO GET THE FOX NEWS APP
Dissident calls for a democratic and secular Iran were strengthened earlier this month with the introduction of a resolution co-signed by more than 100 MPs from both sides supporting a democratic, secular Iran and condemnation of the regime's terrorist plans.
Meanwhile, Republicans expressed concern that the Biden administration dropped the sanctions. On Tuesday, House Homeland Security Republicans warned it would be a "historic mistake."
Source link