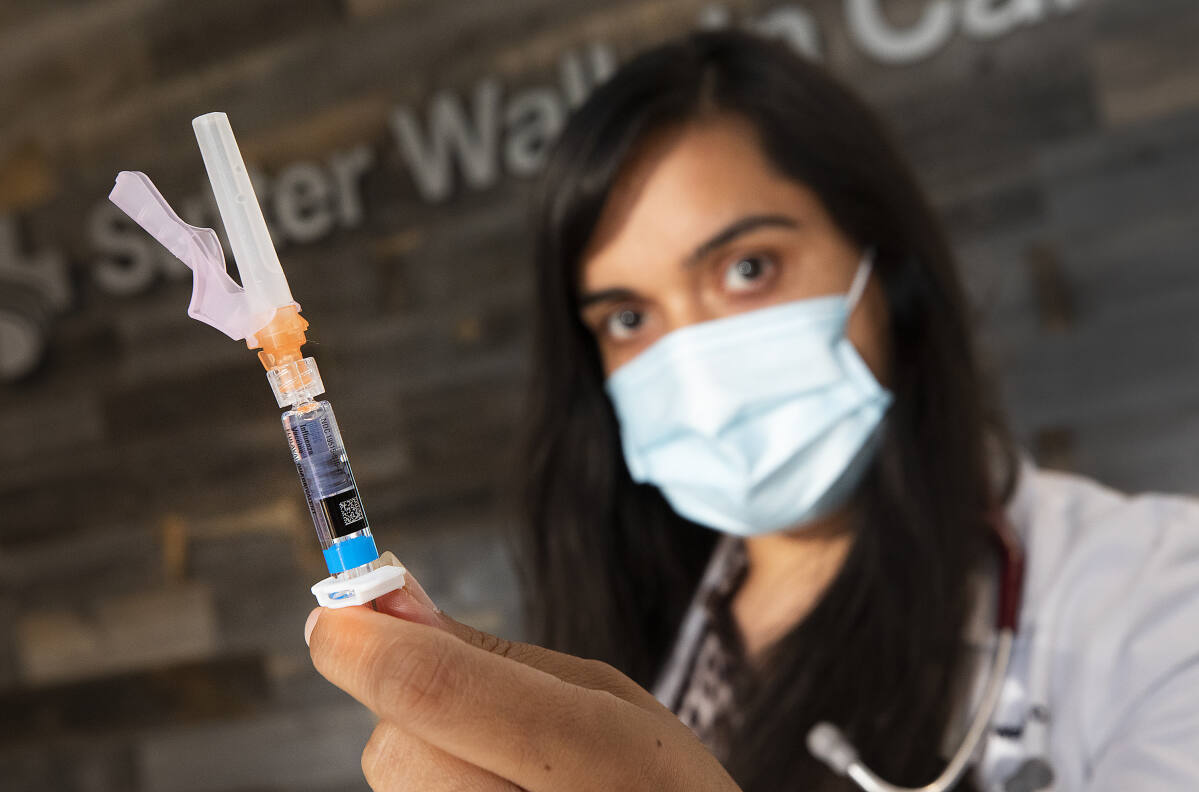 Clinicians across the North Coast have already begun administering the latest flu vaccine to patients in what health experts say is being designed to be a critical period of immunization.
A bad flu season could increase the burden on hospitals and clinics already taxed by the COVID-19 pandemic, speeding up annual public health campaigns that remind people to get their flu shots – and lure the reluctant or skeptical to get vaccinated.
Dr. Sonoma County Health Officer Sundari Mase said the county is preparing plans for drive-thru flu outpatient clinics to increase the likelihood of more people being vaccinated. In March and April, some local residents got both COVID-1
9 and flu, which exacerbated their illnesses, according to Mase.
"We strongly urge everyone to get the flu vaccine," Mase said.
The flu vaccine is widely known to be safe and effective by health experts in curbing what can be devastating effects of the flu, especially for the elderly and adolescents.
Influenza is a contagious respiratory disease that is completely different from the common cold, and although it can result in mild illness, the flu can also cause almost severe body aches and fevers, among other symptoms such as cough, sore throat and congestion.
Between 24,000 and 62,000 people died of the flu between October and April, according to the Centers for Disease Control and Prevention.
The data are presented as a range because health surveillance systems do not capture all cases of influenza, and the disease is therefore thought to be far more prevalent than test and hospitalization reports suggest. The CDC estimates between 39 million and 56 million people in the country who got the flu in the same time period between last fall and spring.
"The vaccine this year will be very important, because when you put out the flu and coronavirus pandemic – it can lead to a wave," said Dr. Gary Green, Medical Director of Infection Control at Sutter Santa Rosa Regional Hospital.
Influenza and COVID-19 are caused by completely different viruses, but the diseases often occur suddenly with fever and chills.
And for those who get the flu, it has "a huge inflammatory effect on the body", which according to Green can make it difficult for that person to fight COVID-19.
Green cited research from Brazil, which is just coming from the flu season, suggesting that people who had received the flu vaccine were more likely to survive if they were given COVID-19.
This year, the flu vaccine contains four strains, two for flu A and two for flu B. Green said previous years had contained only two or three strains, and this year's vaccine should provide extra protection.
There is also a stronger dose that is often given to people aged 65 or over or to those with additional vulnerability.
Influenza typically hits the east coast first around September and then makes its way to the west coast.
Green called the end of September or the beginning of October "the sweet spot" for getting vaccinated, although he has already given high doses of flu vaccines to elderly patients.
"We know that the protection of the flu vaccine will decrease for several months," Green said, adding that the Food and Drug Administration, which approves vaccines, has not provided data on how long the vaccine provides the body with protection. The FDA has never asked, "Will the antibodies last for six months?" ""
While some people who get flu shots can still get the flu, that means being vaccinated means the disease is likely to be far less serious, says Kathleen Sarmento, director of nursing at Santa Rosa Community Health.
Sarmento said patients often claim to have the flu after being vaccinated – and healthcare providers are constantly trying to remove the notion that is unfounded.
As with face masks worn in the midst of the pandemic, the flu shot is a critical public health protection that helps prevent the individual from getting sick or spreading disease to others, she said.
"Staying healthy can help keep others healthy," Sarmento said. "Go in here, get your flu shot. It will be so worth doing this. "
You can reach Staff Writer Julie Johnson at 707-521-5220 or julie.johnson@pressdemocrat.com. On Twitter @jjpressdem.
Source link