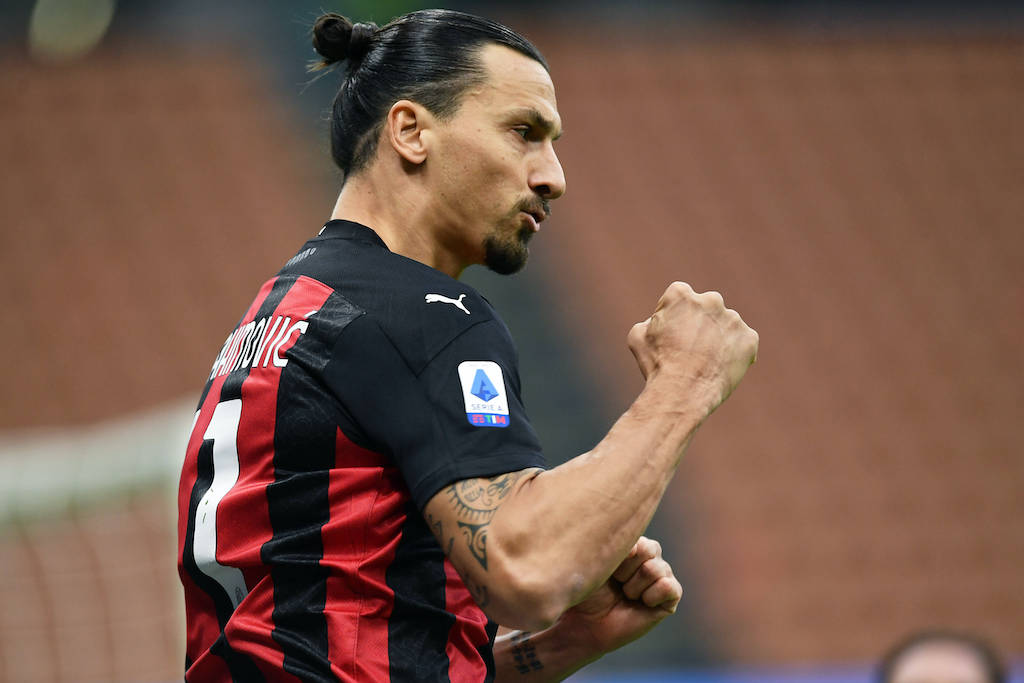 Zlatan Ibrahimovic played it cool when asked if the current AC Milan team is capable of winning Scudetto this season.
Ibrahimovic once again showed his determination as Milan continued their perfect start to the Serie A season with a 2-1 win over Inter at the San Siro on Saturday.
All action would be in the first half as the Swede scored twice in the first 16 minutes, the first a penalty kick converted on the second attempt.
However, Romelu Lukaku made it 2-1 before the break and there were visions of last season's capitulation, but in the end it would be the last goal.
The result means Milan are at the top of the Serie A table, with the only other ̵
6;perfect' side of Atalanta being beaten by Napoli earlier in the day.
Ibrahimovic was interviewed by Sky Italia at the end of the game and his comments were transcribed by MilanNews.
"A very important match against Inter. AC Milan had not won the derby in 4 years, I was locked at home for two weeks. I was so hungry and today I proved it with these two goals. I'm disappointed with the penalty, but the important thing is to have won. This adventure continues. "
On Scudetto: "We are in the beginning, since I arrived, the team has done great things, especially after the lockdown. The team grows a lot, the mentality is different, the young people take more responsibility. They all train well.
"I feel a great responsibility, I am the oldest in the team. A situation that I really like, everyone follows me and everyone is hungry to win. "
Are you amazed at yourself? "I am not surprised by myself. I know what my level is. After the injury, I went to America to feel alive. In Manchester, I told Mourinho that I was not ready and would not disappoint him, so I went to America. Then Mino asked me to go back to Europe, then they told me I was going back to Milan. "
About quarantine: "I just lost a taste, I took samples every 3 days. I would have played the derby no matter what, no one would have stopped me. "
Do you think you are better off at the age of 30-40? "I feel more complete, I have more experience. When you are young, you are still growing. Now I feel complete, if I had a condition 10 years ago, no one would stop me, but even now they do not stop me. "
At the celebration: "There was someone shouting from the crowd, this cheer is only for him."
About why he is so effective in 39: "In my opinion a bit of everything. Physically I feel good, I train a lot. I play with a lot of experience and play with teammates who are willing to do many things.
"They are fine, they are listening, I put intensity on everyone. I do not accept that they relax, on training and in fights. You need to train 200%. "
On Leao: "He is very strong, he has an almost better body than mine. He has speed, technique. He just needs to focus on football the way he does. He plays for Milan, there is not much patience here. "
Again on Scudetto: "We think one game at a time, each game is like a final. When I arrived, the destination was Europe and we got there. The goal of the club is to arrive again in Europe, my personal goals are different but I keep them to myself (laughs).
"Scudetto? In my opinion, there is a safe option someone who thinks can do anything. We believe in it, so in the end we will see how it goes. It's still a long way to go. "
Were you targeted at a particular defender? "Yes, but I can not tell you that (laughs). The coach prepared the game very well, he decided how we were going to attack. In the first half we went immediately, in the second half we were more in control. "
Source link