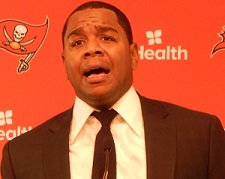 "I Know What He's Thinking"
January 18th, 2019
Former Bucs QB Byron Leftwich will now play for what Tampa Bay GM Jason Light calls one the great offenses in NFL history.
Leftwich has a season of experience at the craft, plus preseason games. But as Leftwich emphasized today at his One Buc Palace news conference, he knows what his mentor Bruce Arians wants to do. It's already instinctive.
Joe asked Leftwich about how he'll be different from Arians.
JoeBucsFan.com: What do you think your subtle differences are to Bruce Arians the playcaller? ] Byron Leftwich: I think each individual playcaller is different. I mean, I learned a lot from Bruce; I know what he is thinking. Like I said, I've been shoulder-to-shoulder with him since I became a coach. Even when I was a player when I was a backup quarterback in Pittsburgh, I was sitting next to Bruce and we would talk to lot. I'm quite sure there'll be difference. It's still No Risk It, No Biscuit, (laughs) just Part 2. But the good thing is I always have him there. I always have him there if something is catching me by surprise or anything like that. I always got Bruce right there for me if I ever need him. It's going to be exciting, man. You guys have no clue how excited we are as coaches to here.
Well, Joe hops the coaches are half as excited as the fans. Because this is exciting
Arians says Leftwich is head coach material. Joe asked Leftwich today if he wants to be a head coach, and Leftwich said he thinks all coaches do. Translation: Yes.
The way the NFL is going with young playcallers getting head coaching gigs, if Leftwich has a great year with the Bucs offense in 2019, he is going to a hot head coaching candidate. And that will be enhanced if another Arian's disciple, Freddie Kitchens, builds on the Browns' revival.