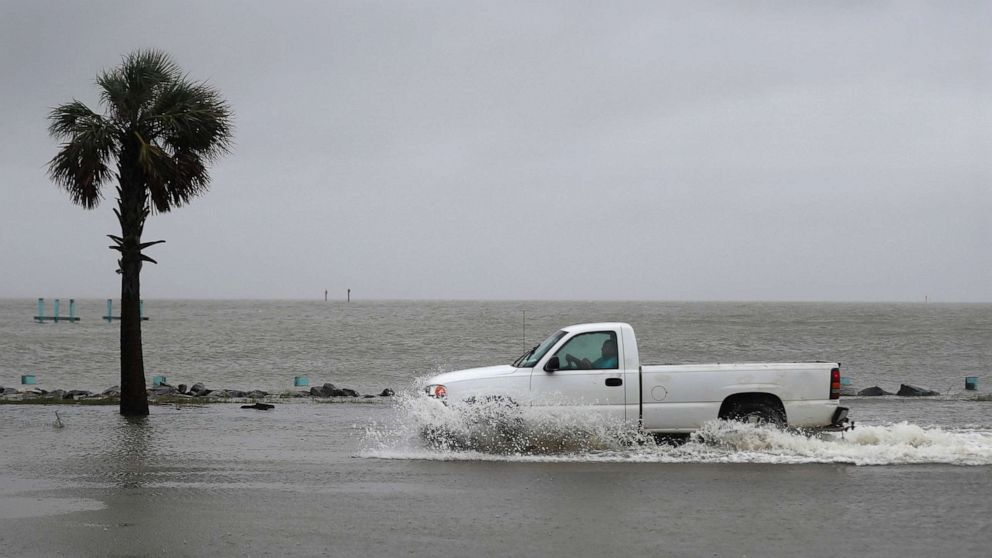 Gusts of wind have already exceeded 90 km / h off the Louisiana coast.
Hurricane Sally is targeting the Gulf Coast, where it is expected to bring dangerous storm surge and historic and life-threatening flooding this week.
Sally is expected to climb very slowly over the northern Gulf of Mexico over the next 24 hours, landing Wednesday morning near Dauphin Island, Alabama.
Gusts have already exceeded 90 km / h on oil rigs off Louisiana and the Alabama coast.
The highest storm surge is likely to be in eastern Louisiana and near Mobile Bay, Alabama, where the wave can reach 4 to 7 feet.
Storm surges of up to 4 feet are possible even in Florida and parts of Louisiana's Pontchartrain Lake, which is located on the north side of New Orleans.
Total rainfall can reach 30 inches in the Alabama and Florida Panhandle.
Sally will then crawl into the country across Alabama and Georgia.
Atlanta could see 6 to 12 inches of rain at the end of the week.
Florida police on Tuesday began closing the Pensacola Bay Bridge, which connects Pensacola with Pensacola Beach.
"We encourage you to stay home and off the roads if you can," Pensacola police said.
Alabama Gov. Kay Ivey ordered beaches closed Monday afternoon, saying she "recommended an evacuation, especially of non-residents and those living in flood-prone areas south of I-10."
"Sally is shaping up to be a very dangerous and historic flood event," Brian Hastings, director of the Alabama Emergency Management Agency, said Tuesday. "If you are in a low-lying area or a flood-prone area, get to a safer place."
New Orleans Mayor LaToya Cantrell said residents outside the protection system need to be evacuated.
In Hancock County, Mississippi, officials ordered a mandatory evacuation for low-lying areas.
In Biloxi, Mississippi, casino resorts were ordered to close.
"We have two concerns," Biloxi Mayor Andrew Gilich said Monday. "Firstly that our residents take this seriously and have made preparations, and secondly that this is a slow storm, which means we will see heavy flooding along the front beach and in low-lying areas, especially along the rivers and Bay. "
"Residents need to have a plan and follow that plan," he said.
Sally is the seventh hurricane so far this season; the average at this time is six.
Sally becomes the third hurricane to land along the Gulf Coast this season.
The storm will also be the fourth hurricane to land in the United States this season. The last time the nation had more than four hurricanes to land was in 2005, when there were five, including Hurricane Katrina.
This report was shown on Tuesday, September 15, 2020, the episode of "Start Here", ABC News' daily news podcast.
"Start Here" offers a straightforward look at today's top stories in 20 minutes. Listen for free every weekday to Apple Podcasts, Google Podcasts, Spotify, the ABC News app or wherever you get your podcasts.
Source link