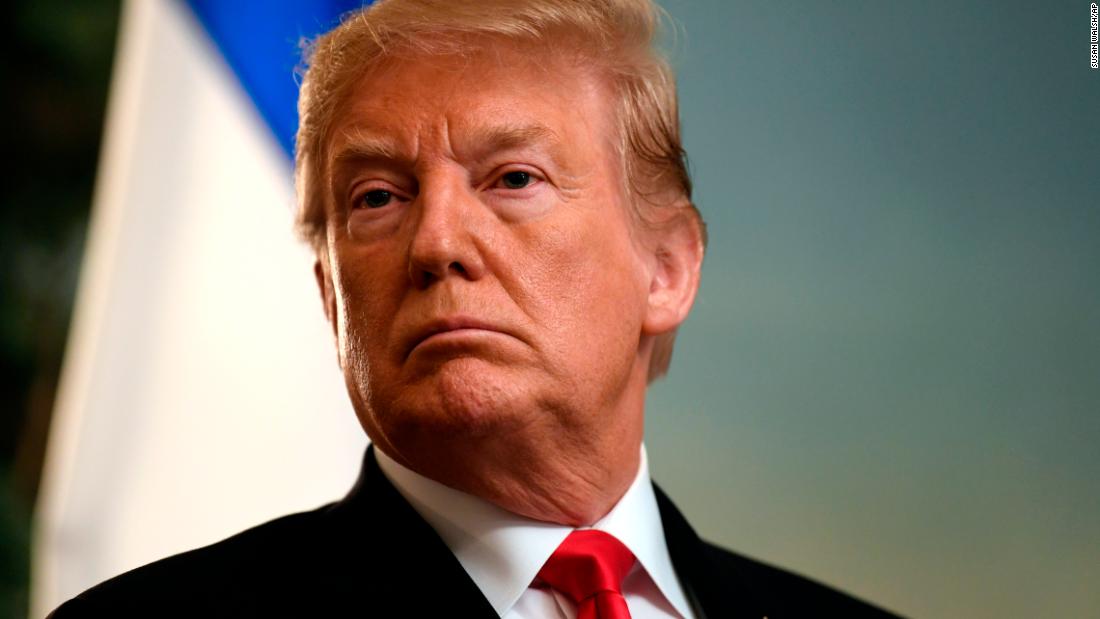 Merge these two developments and Trump should enjoy one of the most positive periods in his presidency. Except he is not. Because of that, well him.
The last 10 days must serve as a decisive proof of one thing: Donald Trump doesn't play three-dimensional chess with his presidency. He does not have any kind of grand plan that he has been and continues to perform. There is no method for this madness, he makes it up while he goes on.
Every day is an empty slate to Trump. What he said yesterday does not matter to him – nor is it a sign of what he will say and do today or tomorrow. He takes in events and responds to them in real time. Then he reacts to the reaction his actions create. That is it. Any attempt to attribute his actions to a deeper, more textured strategic gambit is looking for something that just isn't there. And never been.
Take health care. In the wake of the decision to withhold the complete elimination of the ACA, Trump told everyone who would hear that a) Obamacare was terrible b) the prizes were too high c) Republicans had a plan and d) GOP would be the party care, just you look! The Congress Republicans recognized all-but-publicly that there was no plan and that if Trump wanted a plan, he had better done it himself.
Then came this presidency statement made in a
"Everyone agrees that ObamaCare does not work. Prizes and deductions are all Too High – Really Bad HealthCare Even the Dems want to replace it but with Medicare for everyone, which would make 180 million Americans lose their beloved private health insurance. The Republicans are developing a really good HealthCare plan with much lower premiums (cost) deductible than ObamaCare, in other words, it will be much cheaper and much more useful than ObamaCare, the vote will be taken shortly after the elections, when the Republicans hold the Senate and win back to the house, it will be really good HealthCare who will work for America Republicans will Also known as the Party of Great HealtCare. Meanwhile, the United States has better than ever and is respected again! "
Remarkably! Not only is Trump from his assertion last week that the Republicans would have a plan ready to go, if / when the courts invalidate the ACA, he also wraps his arms around the idea of ​​the 2020 election as a referendum on health care!
That's a very bad idea – for both Trump and Republicans. Why? Look at the 2018 election. Democrats' entire campaign to return to Parliament was marked by the GOP majority vote in favor of a plan to lift and replace Obamacare. (The plan was in Parliament, but died in the Republican-controlled Senate.) Democrats ran thousands and thousands of ads that paint Republicans as the feast, which tried to get rid of popular elements in the ACA & # 39; as no discrimination based on existing conditions and children are allowed to stay on parent's insurance until 26 years. And it worked. More than four out of 10 voters said health care was the most important issue for the country; the group voted for democratic candidate over the GOP a 75% -23%. "The health service was in the vote and health care won," said speaker Nancy Pelosi (Calif.) In the election's election.
They say that the definition of insanity does the same thing over and over and expects another result. What kind of thing seems like Trump is doing here. We lost badly in a referendum on the health service in 2018. Let's openly resume that fight in 2020!
Then there is Trump's cleanup of his rhetoric regarding the ongoing immigrant crises at the border. Over the past few days, he has flopped the utterly impractical idea of ​​completely closing the southern border and floating as the sheet-conservative Kris Kobach and Ken Cuccinelli to serve as a possible immigration troupe.
These moves come just a few weeks after Trump declared a national emergency at the border to take money previously approved for other purposes and redistribute it to build its border wall. Trump made it move despite a majority of Americans who consistently tell pollists that a) they don't believe building a wall will solve the immigration crises, and b) they opposed their national emergency declaration. So unpopular, Trump's national security statement was that the Republican majority vote approved a disapproval decision on the go and forced Trump to issue its first veto for his presidency.
Choosing a fight for immigration is – and stopping me if you have heard this – a bad idea, politically speaking. In a CNN SSRS poll last month, only 39% said they approved how Trump handled immigration while 58% declined. And it is a consistent finding. Trump's immigration approval has not been higher than 41% in CNN voting since March 2017.
Politics is the art of fighting on the ground, which is beneficial to you because it increases the chance of winning. And winning is the name of the game. Trump does the exact opposite of it right now. Acted two issues that seemed to be ready to run for weeks, if not months, Trump inexplicably turned over two other issues where the rules of the game are already against him.
If this doesn't make sense to you, that's because it doesn't make sense. Trump is not a great political strategist, a puppeteer who pulls the media's strings and the democrats based on any script he can only see. Instead, he just picks up another puppet every day and makes it talk. There is no rhyme or reason. No secret sauce. Just Donald Trump does and says what he is warming in that second.