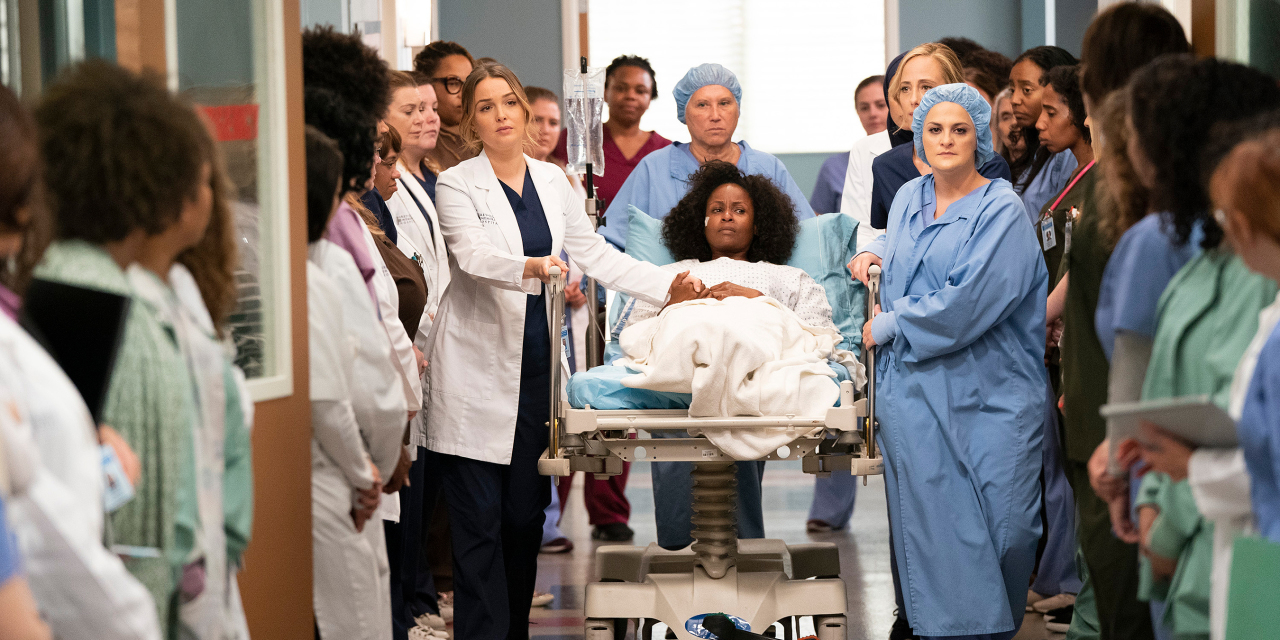 On Thursday, "Grey's Anatomy" premiered its latest episode, "Silent All These Years." Inspired by the current conversation on sexual violence and Christine Blasey Ford's testimony during Brett Kavanaugh's confirmation hearings in 2018, the hit medical TV show put rape survivors and consent front and center
The story follows Abby (Khalilah Joi), who arrives at the hospital after being sexually assaulted outside of a bar. When she arrives at the hospital, resident doctor Teddy (Kim Raver) must administer a rape kit, which includes taking photos, swabs and collecting other samples from the survivor.
Initially, the extensive details of the rape kit were with pushback from ABC's Standards and Practices department, according to the episode's writer Elisabeth Finch and "Grey's" showrunner Krista Vernoff. After a rebuttal from Shonda Rhimes, ABC changed its stance. Vernoff explained in a Hollywood Reporter interview:
They give these standard notes: "Don't be too gory"; "Don't be too explicit in your language"; 'no side boob.' But they have been included in this script, 'Please don't show any fluid on the Q-tips' and 'Please don't show any body fluids under the blue lights.' Shonda wrote back a pretty passionate response of the myriad ways that are willing to show actual violence but what we were doing here was the medical process that happens in the wake of violence and they were trying to tell us we couldn't show it. She said, 'Respectfully, I decline these notes.' Ultimately, ABC understood that she was right.
According to The Hollywood Reporter, the episode is one of the most comprehensive depictions of what it's like to get a rape kit ever shown. on TV. Following legal protocol, Teddy gets Abby's affirmative consent before each step in the process, asking "Are you ready?" As Abby is wheeled off to surgery to repair a diaphragm, the result of her assault, women of Gray Sloan Memorial Hospital line the walls of the hallway in a silent salute to Abby and her experience.
Finch said she titled the episode after a Tori Amos song that reminded her of a friend's experience with sexual violence.
"I named this episode" Silent All These Years 'When my friend was raped in college I didn't know how to help,' Finch said. "But days before I went to a concert and took a @ bnn bumper sticker they were handing out. Thank you RAINN and Ms. Amos for helping my friend. "
I named this episode" Silent All These Years "bc when my friend was raped in college I didn't know how to help. But days before I went to a @toriamos concert and took a @RAINN bumper sticker they were handing out. Thank you RAINN and Ms.Amos for helping my friend. #GreysAnatomy https://t.co/aolkZKbPm6

— Elisabeth R. Finch (@erfinchie) March 29, 2019
From there, Finch reflected on her experience watching Blasey Ford testify about her alleged assault. "In the field that was the most damaging thing that happened in all that is that young women and men were everywhere that was consent was irrelevant," Finch told The Hollywood Reporter. She then wrote the episode and its ground-breaking rape kit scene.
Finch also revealed that the hallway scene was inspired by what she had seen doctors when an organ was wheeled through the hospitals – the doctors line the hallways in their honor. She wanted to do something similar in this episode to Abby's experience and by extension, all sexual assault survivors. Vernoff said the female staff members of the "Gray's Anatomy" production team and production company Shondaland wanted to be involved.
"That hallway contains nearly the entire female writing staff [of "Grey's"]. It contains exec producers on the show, exec producers in Shondaland, most of our female crew members, "Vernoff said. "That entire hallway is Shondaland women and that is because they wanted to do it. So many women came to us… and asked if they could be in that scene. "
The episode wove the theme of sexual assault and its many impacts throughout the rest of the episode as well. "Gray's" doctor Jo Wilson (Camilla Luddington) learns her mother abandoned here because she was raped. Jo had an abortion while in an abusive relationship. Dr. Ben Warren (Jason Winston George) teaches his stepson about consent. Creators also made it clear that people of all genders are assaulted.
According to Vernoff and Finch, the goal was to illustrate the impact of trauma on survivors, their loved ones and the importance of consent in relationships. "What do you think is important and how it can affect people for years, decades and generations," said Vernoff. "I hope viewers walk away with a greater understanding of what consent means."
If you loved one is affected by sexual abuse or need help, call the National Sexual Assault Telephone Hotline at 1-800-656- 4673 to be connected with a trained staff member from a sexual assault service provider in your area. [Function(){var_fbq=window_fbq||(window_fbq=[]); jQuery (function () {setTimeout (function () {if (! _ fbq.loaded) {var fbds = document.createElement ("script"); fbds.async = true; fbds.src = "http://connect.facebook.net/en_US/ fbds.js "; var s = document.getElementsByTagName ('script') [0]; s.parentNode.insertBefore (fbds, s); _ fbq.loaded = true;} _ fbq.push (['addPixelId','444287545732365′]);}, 2000 );});}) (); window._fbq window._fbq || = []; window._fbq.push (['track','PixelInitialized',{}]); [19659018] window.tmFBAppId = '452322301560633'; window.tmFBAsyncInit = Window .tmFBAsyncInit || []; window.tmFBAsyncInit.push (function () {FB.Event.subscribe (edge.create ', function (url, element) {jQuery.cookie ( "hasLiked", 1, { 'Expires': 60});});}); window.fbAsyncInit = function () {FB.init ({AppID: '452322301560633', cookie: true, Xfbml: true, Version: 'v2.9'}) ; FB.AppEvents.logPageView (); if (window.tmFBAsyncInit.push) {var i; for (in window.tmFBAsyncInit) window.tmFBAsyncInit [i] ();} FB.Event.subscribe ('comment.create' , function (response) {var api_host = ''; api_host = 'https: //api.themighty.com'; var post_id = $ (". article-item: eq (0)"). data ("mail id response ['post_id'] = post_id; response ['item'] = 'fb_comment_plugin'; response ['action'] = 'add_comment'; response ['channel'] = 'Facebook Comment'; response ['post_url'] = $ (". article item : eq (0) "). data (" url "); var context = {" path ":" post_feed.null.story_card_full.comment_module "," view ": {" name ":" post_feed ",}," section ": {" name ":" recommended_stories "}," card ": {" name ":" story_card_full "}," module ": {" name ":" comment_module "}}; Response ['context'] = context; Response ['object'] = { 'name', 'comment', 'type', 'textarea', 'purpose': 'commitment'}; track_to_smyte (add_comment ', response);});}; (function (d, s , id) {var js, fjs = d.getEl ementsByTagName (s) [0]; if (d.getElementById (id)) {return;} js = d.createElement (s); js.id = id; js.src = "http://connect.facebook.net /en_US/sdk.js";fjs.parentNode.insertBefore(js,fjs);}(document,'script','facebook-jssdk'));
Source link