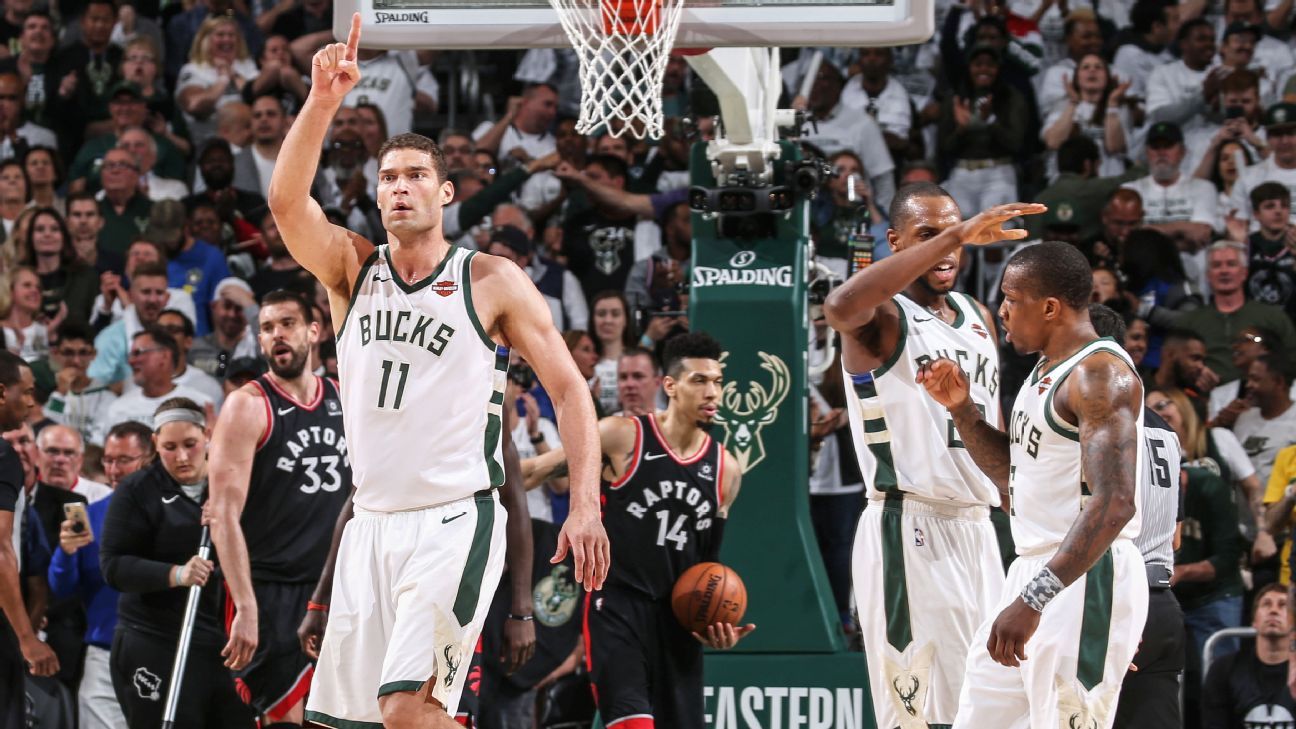 MILWAUKEE – Giannis Antetokounmpo hasn't dragged well since the Bucks' Game to the Toronto Raptors. Neither has Khris Middleton or George Hill. There is too much to replay for their whirring minds to stand still: the missed shots; the lack of late defensive hustle; the turnovers
Milwaukee's disappointment wasn't immediately replaced by reflection. When Middleton took his seat at the news conference podium less than an hour after their season ended, he wasn't thinking about what they achieved. He wasn't thinking about the strides they made or they had gotten out of the first round of the playoffs for the first time in 1
8 years. "" I did think, "How did we get here?" as in, "How did we lose so fast?" "Middleton said. "You reflect first on the series, then the game, then the season." Related
One by one on Monday afternoon, the Bucks players walked over to the corner of their practice facility to ruminate on their season. Many of them talked about being disappointed. The Bucks fell short of the finals they so desperately wanted – losing to the Raptors in the Eastern Conference finals – but this was a special season for a team that only won 15 games just a few years ago.
Still, this is a team that won a league-best 60 games. Antetokounmpo played his way to being a favorite for this year's Most Valuable Player award. The bitterest moment of Milwaukee's season took place in Toronto's Scotiabank Arena, but it was also the arena where Middleton found out he would be named an All-Star for the first time.
"It's tough the way we went out," Middleton said. "But I'm still proud of the season we had as a whole."
The Bucks' front office has decisions to make this summer. Three starters – Brogdon, Middleton and Brook Lopez – are all either unrestricted or restricted free agents. The team will also have to decide whether or not to bring back Nikola Mirotic and Hill.
Brogdon said that he will wait and see when it comes to his restricted free agency this summer. Hill, whose contract is only partially guaranteed, said that money has never been the most important thing for him. Middleton, who is a restricted free agent, said, "It's family first and fit second." Lopez said he would "love to be back." Antocounmpo was adamant that it wants to remain intact.
"I want everyone back," Antetokounmpo said. "Great fricking team – unselfish players that play basketball the right way. They're winners. We had a great atmosphere. We didn't have any – I want to be polite. I want to say the A-word – we didn't have any buttheads. Obviously, I want everyone back. I am going to let my teammates know that. "Realistically, though, he knows that the chances of that happening are slim. For now, the players will take a break. Hill said he probably won't watch the finals. Mike Budenholzer said he likely won't either. Antetokounmpo said he will stay out of the gym for a week, or maybe two if he doesn't get restless. Middleton said he will take a month off. Brogdon said his summer goal is to trim down and be a better shape at the beginning of next season.
For the first time in a year-and-a-half, Antetokounmpo walked around Milwaukee on Monday. He saw the buses that flashed "Go Bucks" on the site and the skyways that had his face plastered on to them. The city, he realized, had truly embraced this team.
"I don't promise we're gonna get 61 next year," Antetokounmpo said. "But we're gonna put ourselves in a place to be a championship contending team for many more years to come. And there's no lot of teams that can say that in the league – there's one, two, three, four teams that can say that – but we're gonna put ourselves in that situation for many more years to come. "
Source link