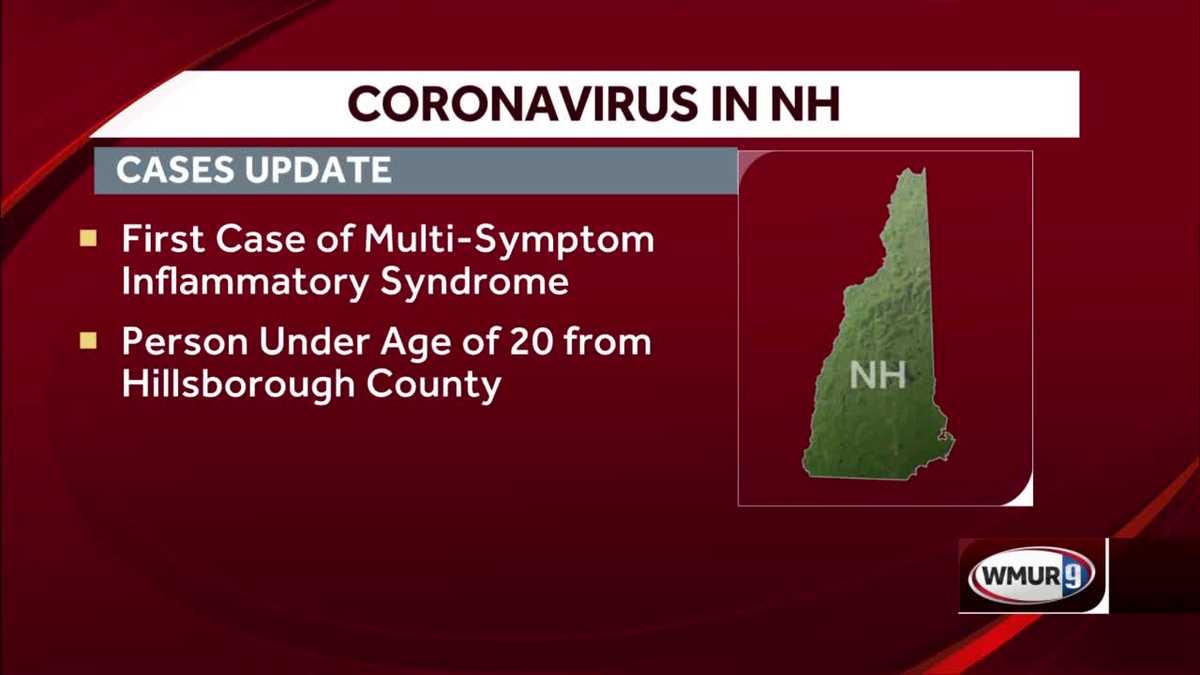 The first case of an inflammatory syndrome affecting children associated with the new coronavirus has been detected in a New Hampshire patient, officials announced Friday. >> Download the FREE WMUR appMulti-system inflammatory syndrome in children, also known as MIS-C, is identified in a Hillsborough County patient who is under 19 years of age and of "pediatric age," Dr. Benjamin Chan, the state epidemiologist. >> CDC Information: What to Know | What parents should doChan said the patient is hospitalized with symptoms in accordance with the national case criteria presented by the Centers for Disease Control and Prevention. The patient is recovering. >> Recent coverage of coronavirus from WMUR "We will work with the CDC to investigate patients with this multisystem inflammatory syndrome in children,"
; Chan said. MIS-C appears to be a heterogeneous syndrome, which means that different infected patients may have different symptoms. Symptoms include inflammation of the entire body, fever, skin rash, gastrointestinal problems, low blood pressure, systemic inflammation and / or respiratory problems. In some cases, patients did not have respiratory symptoms. >> COVID-19 in New Hampshire: Important information "It's not just a mild disease. It's a fever combined with several different organ systems involved, evidence of inflammation throughout the body, usually people are pretty sick that require hospitalization," Chan said The syndrome is similar to other types of childhood disorders and has been compared to Kawasaki syndrome, for MIS-C one of the criteria for diagnosis is that there must be either a diagnosis of new COVID-19 infection, a previous infection or another epidemiologic connection to the new coronavirus. "We sent a health alert network message a week ago to health care providers asking for increased vigilance and public health reporting so we can more quickly identify and work with the CDC to investigate these types of cases so we can learn more about , what causes it and what the underlying risk factors are, "said Chan. About 200 children under 20, or 5% of all cases, have been diagnosed with COVID-19 in New Ha mpshire, said Chan. Three percent of infected children required hospitalization and none of them died. Chan called severe illness in children who test positive for COVID-19 "unusual." MIS-C appears to be uncommon, he said. He also announced five new deaths attributed to COVID-19 in the state, bringing the state's total to 204. There are 81 new COVID-19 cases, resulting in a total of 4,014. Four of the victims were residents of long-term care severely affected by coronavirus -sygdommen. New Hampshire Department of Health and Human Services Commissioner Lori Shibinette announced new COVID-19 outbreaks at the Bedford Nursing & Rehabilitation Center and at Greystone Farm at Salem. In total, 15 new hospitalizations were reported for COVID-19, leading to a total of 408. Approximately 10% of all patients have at one time or another required hospitalization during their illnesses. ** City-by-city COVID-19 Case Data: Interactive Map | Text-only list ** PGRpdiBjbGFzcz0iaW5mb2dyYW0tZW1iZWQiIGRhdGEtaWQ9Il8va2I1OW5tSmpubGlPTUt4M1lpd1YiIGRhdGEtdHlwZT0iaW50ZXJhY3RpdmUiIGRhdGEtdGl0bGU9Ik5IIENvcm9uYXZpcnVzIENPVklELTE5Ij48L2Rpdj48c2NyaXB0PiFmdW5jdGlvbihlLGksbixzKXt2YXIgdD0iSW5mb2dyYW1FbWJlZHMiLGQ9ZS5nZXRFbGVtZW50c0J5VGFnTmFtZSgic2NyaXB0IilbMF07aWYod2luZG93W3RdJiZ3aW5kb3dbdF0uaW5pdGlhbGl6ZWQpd2luZG93W3RdLnByb2Nlc3MmJndpbmRvd1t0XS5wcm9jZXNzKCk7ZWxzZSBpZighZS5nZXRFbGVtZW50QnlJZChuKSl7dmFyIG89ZS5jcmVhdGVFbGVtZW50KCJzY3JpcHQiKTtvLmFzeW5jPTEsby5pZD1uLG8uc3JjPSJodHRwczovL2UuaW5mb2dyYW0uY29tL2pzL2Rpc3QvZW1iZWQtbG9hZGVyLW1pbi5qcyIsZC5wYXJlbnROb2RlLmluc2VydEJlZm9yZShvLGQpfX0oZG9jdW1lbnQsMCwiaW5mb2dyYW0tYXN5bmMiKTs8L3NjcmlwdD4 =
CONCORD, N.H.
The first case of an inflammatory syndrome affecting children associated with the new coronavirus has been detected in a New Hampshire patient, officials said Friday.
>> Download the FREE WMUR app
Multisystem inflammatory syndrome in children, also known as MIS-C, has been identified in a Hillsborough County patient who is under 19 years of age and of "pediatric age," Dr. Benjamin Chan, the state epidemiologist.

>> CDC Information: What to Know | What parents should do
Chan said the patient is hospitalized with symptoms in accordance with the national case criteria presented by the Centers for Disease Control and Prevention. The patient is recovering.
>> Latest coronavirus coverage from WMUR
"We will work with the CDC to investigate patients with this multi-system inflammatory syndrome in children," Chan said.
MIS-C appears to be a heterogeneous syndrome, which means that different infected patients may have different symptoms. Symptoms include inflammation of the entire body, fever, skin rash, gastrointestinal problems, low blood pressure, systemic inflammation and / or respiratory problems. In some cases, patients did not have respiratory symptoms.
>> COVID-19 in New Hampshire: Important information
"It's not just a mild disease. It's a fever combined with several different organ systems involved, evidence of inflammation throughout the body. Usually, people are pretty sick and require hospitalization," Chan said.
The syndrome is similar to other types of childhood disorders and has been compared to Kawasaki syndrome. For MIS-C, one of the criteria for diagnosis is that there must be either a diagnosis of new infection by COVID-19, detection of previous infection, or another epidemiological link to the new coronavirus.
"We sent out a health alert network message a week ago to healthcare providers asking for increased vigilance and public health reporting so we can more quickly identify and work with the CDC to investigate these types of cases so we can learn more about what causes it , and what the underlying risk factors are, "Chan said.
About 200 children under the age of 20, or 5% of all cases, have been diagnosed with COVID-19 in New Hampshire, Chan said. Three percent of infected children required hospitalization and none of them died.
Chan called severe illness in children who test positive for COVID-19 "unusual." MIS-C appears to be uncommon, he said.
Chan also announced five new deaths attributed to COVID-19 in the state, bringing the state's total to 204. There are 81 new COVID-19 cases, resulting in a total of 4,014.
Four of the victims were residents of long-term care who are severely affected by the coronavirus disease. New Hampshire Department of Health and Human Services Commissioner Lori Shibinette announced new COVID-19 outbreaks at the Bedford Nursing & Rehabilitation Center and at Greystone Farm in Salem.
In total, 15 new hospital admissions were reported for COVID-19, leading to a total of 408. About 10% of all patients have required hospitalization at some point during their illness.
** City-by-City COVID-19 Case Data: Interactive Map | Text Only **
Source link