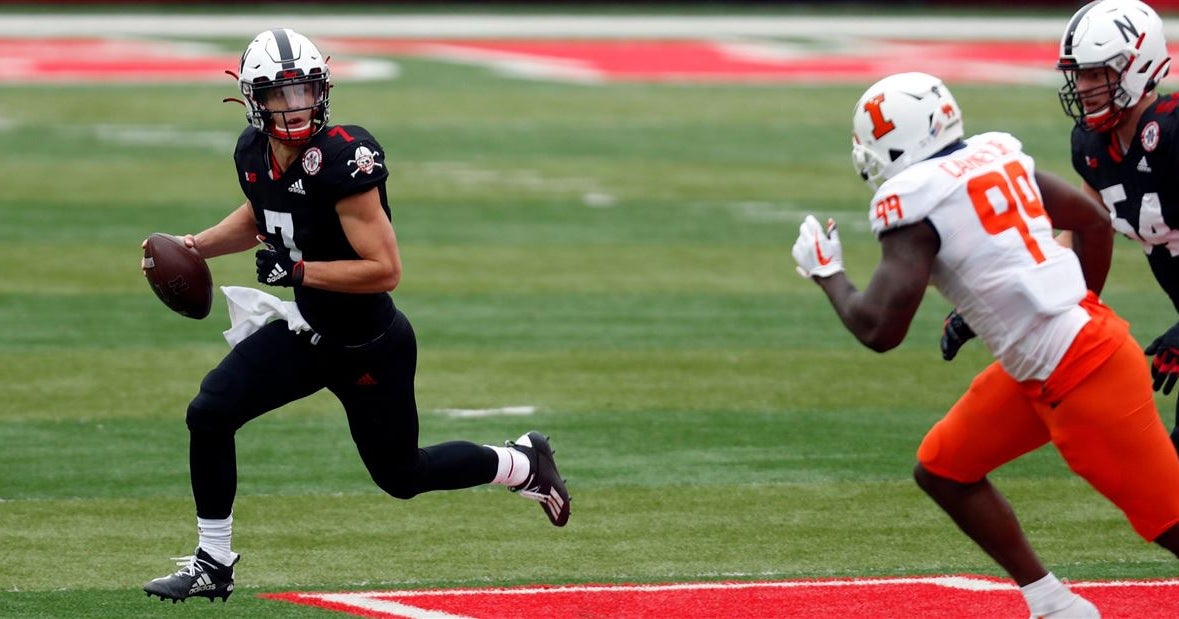 A week after a victory, the rememberers thought they were going to catapult them, maybe started a series of successes heading into December, Nebraska football played a game that belongs in a dumpster in a back street you will never go down. But we went down this alley on Saturday and it was quite stinking.
Wearing all black uniforms in a largely empty Memorial Stadium, the one thing the Huskers did consistently was to turn it around while being tossed over and over again by an Illinois team that has struggled to get some of its own momentum in recent years. Nebraska were a thoroughly defeated bunch as we even got to the fourth quarter in a 41-23 Illini victory.
Some quick takes.
The first half belongs right there on the wall of shame next to the other bad halves of Husker football and sets the story for the day. The second half was no different in its penalty for Nebraska fans.
You hardly know where to start or which side of the ball to harp on. OK, the offense gets whipped first. Among accidents in the first half:
– An unanswered block on your runback when you have a QB run otherwise you are ready for a conversion on the third down, so a bad snap on the fourth down that throws that game into disarray before it ends in a bout.
– A team call at the center when Marvin Scott III went in for a touchdown on fourth and goal from 1. Instead of cutting it to 21-14, you are still down in more goals and giving a moral victory to Illinois.
– Nothing feels synchronized in the passing game. McCaffrey did not see the field for good. On the last run in the first half, on the third and long, he had Austin Allen run wide open, but the ball never came out. There were other accidents there, and then recipients also dropped passports.
– Luke McCaffrey had 93 rushing yards at the break, which sounds good, but it's on 20 attempts! Of Nebraska's 46 games in the first half, QB ran it so many times. This was after a promising first touchdown drive where Marvin Scott III had 20 yards on four carries. Half he had just 22 yards on eight carries.
– On the first game of the game, yes, it was a forward pass about half a yard from Luke McCaffrey. Why it was not reviewed, I have no idea. And it was a big call. But it was also a ruthless game that only had bad chances when McCaffrey threw it across the field to begin with. It set a bad tone on the game from the start.
Nebraska's defense did not come in statistically well, but I was like many who thought they saw steps being taken. And then Saturday's match appeared …
Huskers looked really bad towards the race, giving up 7.9 yards per. Rush before half. Illini encountered the Huskers for a 35-yard on one possession and a 58-yard on another, with Illinois covering 89 yards on just four games for a touchdown. They ran to the right, ran to the left between the tackles. They drove it better than I had ever imagined getting in. They drove Nebraska into the ground in the fourth quarter.
That 89-yard drive was just as discouraging as any for Nebraska – even though it certainly had company. It came after the rememberers forced a fumble towards kickoff and dang almost restored it in the air. But they did not. And Nebraska's inability to exploit a sloping field was a killer. Huskers never had a grip on Illini's urgent attack. Whether it was running back or Brandon Peters pulling it and doing his own damage here and there, it was a reality check for some of us who thought Nebraska was making a move with the rushing D.
Illinois had two 100-yard rushers that day. It will hurt a defense to look at a state sheet. So will have to watch all this back on film for everyone involved.
Luke McCaffrey is certainly a ball of dynamite when he has a path to run, but the distance to travel in the passing game is still considerable.
It's not just on him at all, but he's definitely still figuring out where to go with his reader, and I was wondering if they would go to Adrian Martinez to start the second half. He was just 7 of 16 in the first half in 70 yards. Again, recipients did not help with a few drops here and there. But the Nebraska offense is still just a nickel-and-dime thing. Huskers need to keep that QB competition in full tilt. Not that it wasn't already, but this result will bring the conversation back more this week than it was last week after a win.
My feeling is that Nebraska might have turned to Martinez if the Huskers did not score on the first run in the second half with McCaffrey in, but they did. And then Illinois chewed the clock, NOW had a bad series and the game was gone. Martinez came in with 4:10 left. He was directing a scoring drive when he came in, which could be helpful for him personally just for getting back out there, with things seemingly wide open at the position.
Two plays that were absolute killers for Nebraska if there was to be any kind of comeback.
– One was early as the match was still 14-7. The Huskers had just filled a pair that ran pieces and it was about to become third and 17. But on the second game, an official called Casey Rogers for the hands in the face. First down. That put Illini on the drive and they eventually scored a touchdown. Really great game.
– The second was a bizarre-looking fake punt at the start of the third quarter. It was more the Illini player who decided he might as well run, except that a Husker player had saved out to put back. He worked his way slowly and strangely for a 14-yard run and first down to fourth-and-8. The conversion followed what had been Nebraska's best defensive series of the day. A 3-and-out, which gave some hope of starting the half. Instead, the Illini drive continued for nearly five more precious minutes, ending in a field goal
Nebraska had a third-down problem that got into this game and it got worse.
The Huskers were ranked 114th in defense from third side, allowing teams to convert 50 percent of the time. And when the chips were down on Saturday, Nebraska was even worse.
Illinois converted its first four third attempts to jump to a 21-7 lead and was 8-of-12 by the end of the third quarter. After the strange false point that Illini performed, Nebraska gave up two more third downs on this drive. The clock just kept ticking. Illinois just kept leaning on the Huskers and getting more. Illini ran 27 games in the third quarter. They owned the football for nearly nine minutes more than Nebraska on their way into the final frame.
Remember O-line was supposed to be a strength, but has lots of its own miseries.
Illinois did not lack to get pressure, even without having to call up heat on occasions. Remember QBs were fired three times and pressed a lot, although there were probably also cases where the ball should have come out faster.
Meanwhile, Nebraska has a decision to take the interior of its top five. Cameron Jurgens has been beaten up and had a tough snapping swing last week and something tough this week with a bad snap on a key fourth down and a team call that negated a touchdown from the 1 yard line. Nebraska went with Matt Farniok in the center to end the second half.
The revenue just kept coming to Nebraska, and the mares continued straight to Illinois.
Huskers ended up with minus five on the day in turnovers, though two came on desperation fourth down enemies who anyway would have been drive killers. And when Wan'Dale Robinson fumbled late in the third quarter after converting a fourth-and-1, it was kind of the final touches on Nebraska's misery.
On the other hand, Illinois fumbled the ball four times and did not lose one all day.
You pray and hope for the absolute best for Collin Miller.
The Nebraska senior linebacker was down the field long early in the fourth quarter and delivered. These are the worst scenes in this game.
Luke Reimer also came chopped out of the same series with Garrett Snodgrass in there next to Will Honas to end the game.
What now?
A disappointing day on all fronts for Husker football. This felt like three steps back after a step forward a week ago. Illinois played good football, but Nebraska was a favorite with two touchdowns in this game. No way not to mark the paper with red ink in all parts of this Husker achievement. As much as last week felt like one of the best wins of the Frost era, this hears right up there with the worst.
And now it's a short week before we play a team that has defeated Nebraska five years in a row.