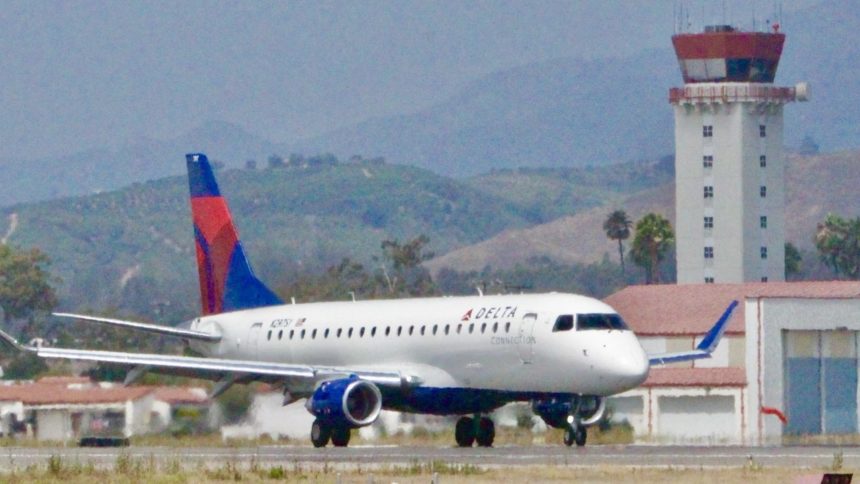 SANTA BARBARA, Calif. – Delta Air Lines announced they will stop services at Santa Barbara Airport and 10 others from July 8 because there are not enough people flying.
Delta said they are stopping planes to cut costs as they work to mitigate and recover from economic impacts due to the COVID-19 pandemic.
While many cities, states and businesses are starting to reopen, summer travel plans for many Santa Barbara residents remain in the air.
"As the world responds to the COVID-19 pandemic, Delta continues to have an unprecedented impact on our business and that suspending operations at these airports will reduce costs where customer demand is low," said Sandy Gordon, Senior Vice President ̵
1; Domestic Airport Operations. "We will soon be working with affected customers whose patience we sincerely appreciate as we navigate this unprecedented time together."
This suspension has been made possible by the U.S. Department of Transportation, which allows airlines to adjust service where it is "reasonable and practicable."
The full list of US airports where flights will be suspended this summer includes:
Aspen, CO (ASE)
Bangor, ME (BGR)
Erie, PA (ERI)
Flint, MI (FNT)
Fort Smith, AR (FSM)
Lincoln, NE (LNK)
New Bern / Morehead / Beaufort, NC (EWN)
Peoria, IL (PIA)
Santa Barbara, CA (SBA)
Scranton / Wilkes-Barre, PA (AVP)
Williston, ND (XWA)
Delta said these 11 airports make up about five percent of the domestic airports served by Delta. The airline also suspended the service to Ottawa International Airport with effect from June 21.
All these airports will continue to receive service from at least one other carrier after Delta stops its operation.
Delta also said they plan to accommodate customers whose travels are affected as a result of these suspensions. Delta employees will have salary protection options through September 30, 2020.
Delta explained that it has had, "an 85 percent reduction in [their] Q2 plan, which includes 80 percent reductions in US domestic capacity and 90 percent internationally. "
This suspension comes almost a year after Delta brought a new nonstop service to Santa Barbara Airport, round-trip flights to Salt Lake City, Utah. In August of 2019, a crowd of people and firefighters welcomed back to the first Delta flight of almost 10 years at the airport.
Source link