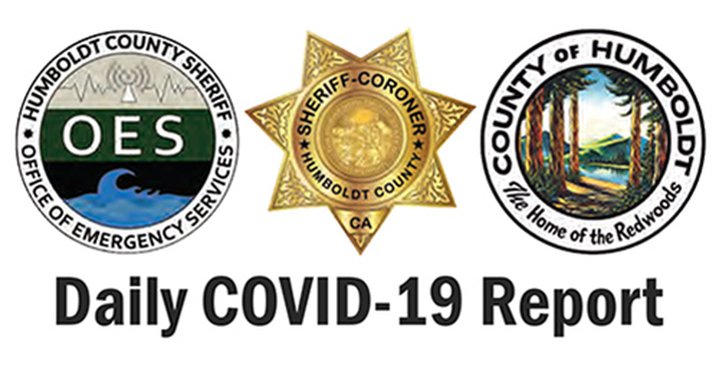 Press Release from Humboldt County Joint Information Center:
A sixth Humboldt County resident diagnosed with COVID-19 has died.

This person in the 70s had been hospitalized due to COVID-19 symptoms. Dr. Humboldt County Health Officer Teresa Frankovich expressed her sympathy and said that her heart goes out to this person's loved ones and everyone who is grieving over this loss.

26 new cases of COVID-19 have been reported since Friday, bringing to 473 the total number of county residents who have tested positive for the virus.

"The recent increase in the number of cases is very worrying,"

; said Dr. Frankovich. "If we continue at this pace, we risk moving to the 'essential' or red level within the new state framework. This increase not only has consequences for the health of our community, it can also affect our local businesses, many of which will have to cut back on operations or in some cases shut down operations. "

Dr. Frankovich stressed the importance of complying with preventive measures to reduce the risk of COVID-19 transmission. "There are tools available to all of us to limit the spread of this virus. Wearing face masks, practicing frequent and thorough hand washing and avoiding gatherings with those outside your household are still the best ways to protect yourself and your family, "she said.

Today's alarm level is at two or level yellow. Visit humboldtgov.org/dashboard to see the county's level assessment tool.

For the latest COVID-19 information, visit cdc.gov or cdph.ca.gov. Local information is available at humboldtgov.org or during opening hours by contacting covidinfo@co.humboldt.ca.us or calling 707-441-5000.

Humboldt County COVID-19 Data Dashboard: humboldtgov.org/dashboard,
Follow us on Facebook: @ HumCoCOVID19,
Instagram: @ HumCoCOVID19,
Twitter: @ HumCoCOVID19 and
Humboldt Health Alert: humboldtgov.org/HumboldtHealthAlert

###
= historical data. All data from Humboldt County Joint Information Center.