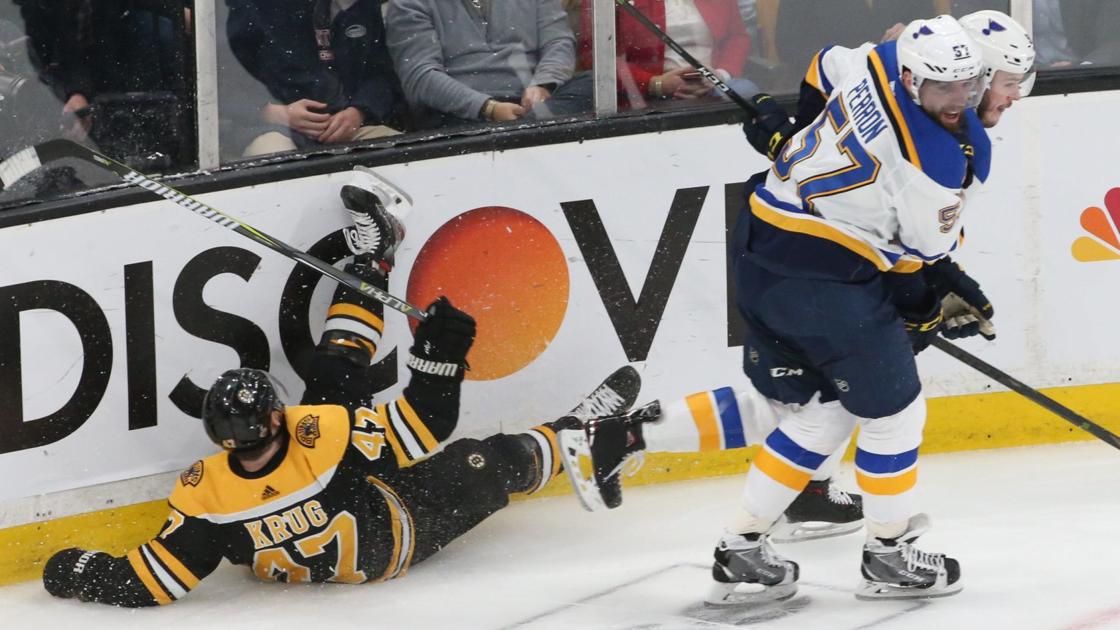 BOSTON – After Bruin's defense master Torey Krug, Blues rookie Robert Thomas entered the TD Garden press book, Boston made it more than clear that the Stanley Cup final could be as physical punishment as Blues wanted.
"If you want to hit us in the mouth, see us in the eye, we're also willing to do it too," said Krug, when Beantown Media hit his flying hit in Bobby Orr's Leap 2.0.
Keeping from this area tends to struggle with proper inflation.
Bruins may have put a little too much air in their breasts before Wednesday night.
Carl Gunnarsson, the defender they call "Boom Boom & # 39;" landed the knockout stamp in a Game 2, which demanded a mouthguard just to see. Down goes Boston. Everything is possible now.
Gunnarson's first goal for the off-season, an hour counter torn just inside the blue line, came 3:51
in overtime, the blues swam until they won 3-2. They shot Bruin's four o'clock in the OT. St. Louis had left more late, and it turned out to be obvious to the Bruins tab, which chucked a water bottle from the upper deck, as it was for the thousands at home partied in a sold-out Enterprise Center. A fan base that has been waiting for 18,858 days for not only a Stanley Cup, but a single victory in the Stanley Cup final, did not care how that win arrived. But this one deserved its place on eternal shelf. It had a little bit of everything and it was drawn throughout the Blues' penalty game.
Massive hits? Check. The blues were broken by 45, a total of 14 more than Bruins in a devastating screen. No one was bigger than Oskar Sundqvist's second-period smashes by Matt Grzelcyk. Boston's defender, like Thomas, is now a question mark. Could he be punished by the league? "No comment," said Sundqvist about the game. His hit made his statement. It said this series is not too squeamish.
Extracurricular smack talk and love taps? You can believe that. Pat Maroon vs Brad Marchand was a master class in trash can. After another period that left the body back on the ice, Marchand sat when Maroon complained to an official. He waved? No, look closer. Marchand mimicked a crying motion to Maroon.
Mind-bending goals? Yes. See Vladimir Tarasenko, who thrusts the laws of physics as he backed home a return of his own shot, somehow lifted the puck over the stunned Bruin's goalkeeper Tuukka Rask when Tarasenko's momentum bore him in the opposite direction of his shot.
But more than anything, this victory, remembered because of its place in history, became a tribute to the history of the hockey. It was a throwback. It had grown man's hockey, played as hard as the end of May ice at TD Garden is soft. It deserved an encore, and it became one, being the first Stanley Cup Final game to reach overtime since 2016.
Importance? It is immense. If you thought the projections were bad for teams losing the first game in a Stanley Cup final, check the record of teams behind 0-2. Since 1939, these teams have rallied to winning five out of 51 times. Now forget about these teams. Wipe them off your brain as Tyler Bozak's blood was wiped from the ice. Blues have won their first Stanley Cup Final game. This series is tied for two games on the road. St. Louis is welcoming Bruins to a wall of noise.
Blues was not perfect here on Wednesday. There were some stupid penalties, and a four-minute power-play cut in half, because Jaden Schwartz couldn't stop skating into Rask. But compared to Blues 4-2 loss in Game 1, this was a big step in the right direction. Blues went better, played sharper and did a much better job of controlling the puck. They gave Boston more physical character than Boston thought it would. They refused to make questionable calls become a stick in their spokes.
Thanks to the help of a graphic that was flashed (oh so briefly) on the television show, the on-ice officials found another or two of the Bruins to have too many men on the ice when they moved against their first-period power-play goals. No sweat. Blues killed the four Boston Power plays that followed. They have now nixed eight of Boston's 10 in this series. Not bad, considering Boston's power play has been the best of the postseason.
There are written odes about Bruin's depth. Breaking news: Blues are far from superficial. Before Gunnarsson became the 19th Blues player who scored this after-season, Robert Bortuzzo made the first surprise shot him the 13th Blue to score more than once.
The closest thing Blues looked to lose on Wednesday came moments after Joakim Nordstrom kicked Sean Kuraly's passport to himself and beat Blues goalkeeper Jordan Binnington less than a minute after Bortuzzo's game-binding goal. Boston led 2-1. Binnington had been beaten twice between legs. Defensive breakdowns led to both. Blues coach Craig Berube tore in his team. How would they react?
Binnington stopped every shot that followed and saved 21 of the 23 he was facing. The defense in front of him tightened. Blues star Vladimir Tarasenko played as a man obsessed, playing with blood rendered over his chest, burning up the boards, finding Schwartz and then attacking a rebound until TD Garden silenced. In the biggest games of his life, No. 91 is increasing. It took all this just to tie. Two tense, pointless periods passed. Nails were chewed. How would they react?
At each stage, the Blues game had Bruins. They worked harder, hit heavier and looked more deserving of a victory. It doesn't mean you win. Then "Boom Boom" was beaten and fulfilled the promise he made to Berube while standing next to him at a urinal during a break. You can't do these things.
This trip to Boston has not been inviting to the Blues. Berube was stopped on the way to the series opening press conference and asked to present an ID. Blues alum Barret Jackman was pulled by a lift to make room for Patriots coach Bill Belichick. Blues staffers, who were flown into Game 1, had popcorn thrown at them in the stands. Heck, one of the cameramen from a St. Louis news station was welcomed to his hotel room with a rat in his toilet, and we are not talking about the nickname that belongs to the ankle-biting Bruins super pest Marchand.
In hostile territory, these remarkable blues made history.
Everything is possible now.