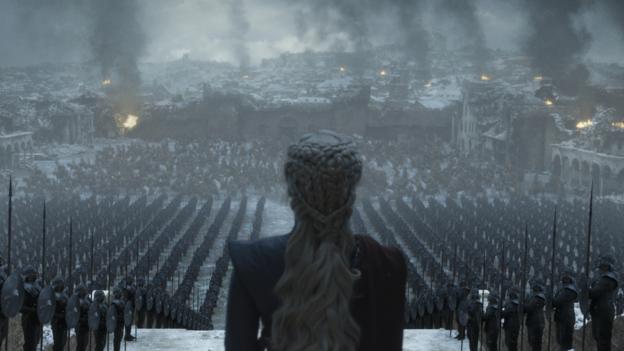 Warning: contains spoilers of the last episode in series 8.
One day, a prestige HBO drama is likely to be made out of the immediate outcome of last week's penultimate Game of Thrones episode. After fans had expressed growing dissatisfaction with the show, the decision to get Daenerys to burn the entire King's Landing and its citizens with drag-burns eventually blew the roof of the whole company – just for others to fire back that these grumblers were deliberate killjoys should accept what in their eyes was a sensible plot twist. Since last Sunday, the argument about social media has not given up.
More like this:
– Thrones Game, The Bells, review
̵
1; The mines in the near future
– Eight TV shows to see in May
Because it's worth it, I think that the events of last week were devastating in more ways than one – and it is also worth emphasizing that most of us who moaned about Daenery's wholesale in Mad Queen never thought of her as "good" or expected her to be an upright ruler of the seven kingdoms – far from it. It was just pushing her into committing untried mass genocide seemed both an extreme and right for overtly – a clunking privilege of plot of character. But I accept that there is a point where one's complaint also becomes excessive, even as a critic.
Therefore, I have promised to try to be as good as possible by reviewing this week's final. To swallow my objections, take what has happened as read, and see if the end can satisfy the conditions that the creators have now set. And largely doing so – begins with a remarkable, wordless opening order, where Tyrion walks through the paved remains of the citadel, monitors the wreck and the charred bodies. Satisfied in crying, the scene frankly evokes a nuclear holocaust – and it is, of course, a terrible and strong irony that after eight series of fears about the Night King bring winter to Westeros finally with ash falling like snow, human-falsified, which should create the seasonal effect in the sunny king's landing so far.
It seemed likely that for all the cynicism sought in the worldview of the show, it would ultimately not allow such a disaster to strike unpunished – and so it proves. In a Nuremberg rally-like address for her armies, our self-righteous tyrant Dany suggests that her whiffy & # 39; be liberating & # 39; Mission is far from over, while it is kitted out in a fetching but clearly fascist black leather ensemble. Then she gets what comes to her.
Do we expect to believe that dragons have a fine-tuned understanding of the symbols of autocratic power?
In the midst of what is left of the story, her nephew-cum-lover-cum-dopey wingman Jon Snow thrusts her through the heart as she snatches her and declares her "my queen now and then". The play, fortunately, landing properly – perhaps burned by the sheer torture of their difficulties, Kit Harington and Emilia Clarke suddenly find a chemistry that has been extremely absent between them so far. It is a moment that is only slightly faint from the clinging absurdity that follows when Drogon looks. Clearly more than the cattle at the time of his mum's death, he nevertheless refrains from flaming his treacherous girlfriend and deciding instead to melt the iron throne. Which works well for pounding the home message's central message of the monarchical government's inherent corruption, but asks the question: are we expected to believe that dragons have a fine-tuned understanding of the symbols of autocratic power?
People's voice?
Fortunately, the story resumes in the next scene when a committee of all the show's surviving protagonists calls to determine the fate of the seven kingdoms now that two queens have been lost in rapid succession. I am particularly pleased that for all that the performance has condemned the despotic rule, does not undermine the possibility of getting the characters to create a democracy in place. In fact, when Samwell Tarly (with an aqueous bottle next to his leg, another continuity clanger who already has the internet foam) suggests that they might consider getting the people to vote for their king or queen in the future, he laughs at his companions – a knowledgeable awakening of expectations that somehow expresses exactly what has made the series at best so refreshing.
Instead, what we get is a compromise, both of the characters trying to create a safe future for Westeros and the show's creators David Benioff and DB Weiss, and are looking for a way to end the story, which is neither imaginatively idealistic nor impossible gloomy. A new head of state is appointed, but one who has little interest in power for his own sake and cannot bear children and thus paves the way for a new system of non-hereditary rule with leaders elected by an oligarchy. This leader, not quite unpredictable, is Bran, the viewer Stark, who finally has something useful to do after many series of slightly redundant and unclear visions.
He is a choice that gives narrative feeling, although it has to be said that there is something completely humorous about Tyrion's justification for choosing him to have the greatest "story" – since many writers have at least had their story , he has been the worst. In any case, it is true for the show's real political feeling that it is only an unforgettable end. When Jon asks Tyrion if he did the right thing to kill Daenery's, he simply replied, "Ask me again in ten years." [19659003] In fact, however, there is not only one, but two new rules. Those of us who have found us in an ever-expanding Sansa Stark – one of the few characters with a truly well-constructed arch – can rejoice in seeing her declare the North independently of the other six kingdoms and crowned her queen. In other plot bindings, Jon is returned to The Night's Watch as a way of appealing to Daenery's supporters as he rescues him from the death sentence, while the only ranger Arya promises to continue his adventure by traveling west of Westeros into the great unknown. A final scene intersects between the three of them who take up their new destiny and provide an effective, if disappointing, uncontroversial end.
I think the complaints about the show over the last few series have been most justified. It is easy to snow on the Game of Thrones & # 39; so-called & # 39; titled fans that some critics have done, especially when signing petitions asking for the last season to be restored – but at the same time, it seems to me sensible to be sad to see something you've invested so much time being persecuted by clean and simple bad writing.
However, it is also true that a bursting epic like this with chaos built into its very narrative DNA was always likely to have errors. In fact, the built-in imperfection seems to have been heavily referred to in one of the final scenes where George RR Martin proxy Samwell reveals that he holds a book describing the history of everything we've seen in the last eight series. And its title? & # 39; A song of ice and fire & # 39; – The same, of course, as for Martin's series of novels. But when Tyrion asks how he is portrayed in it, he discovers, humbly, that he doesn't even mention. Eventually, some characters were also better served than others by Benioff and Weiss – saving a thought for example. The poor Brienne of Tarth who once wasted gender norms whose character was eventually sacrificed to a free romantic plotline.
Let us finally remember the good times the show gave us – the shocks it gave, the gasp it induced, the caustic quippery it reveled in (Olenna Tyrell 4 Eva) and the great amount of conversation it inspired, something which in itself is evidence of its cultural power. And hopefully you look back here in the next year or two to pore over Westero's affair again when the upcoming Thrones prequel series starts.
★★★★ ☆
Love TV? Join BBC Culture's TV fans on Facebook, a community of TV fanatics worldwide.
If you would like to comment on this story or anything else you have seen on BBC Culture, go to our Facebook page or email us at Twitter .
And if you liked this story, sign up for the weekly bbc.com features newsletter called the Essential List. A hand-picked selection of stories from BBC Future, Culture, Capital and Travel, delivered to your inbox every Friday.