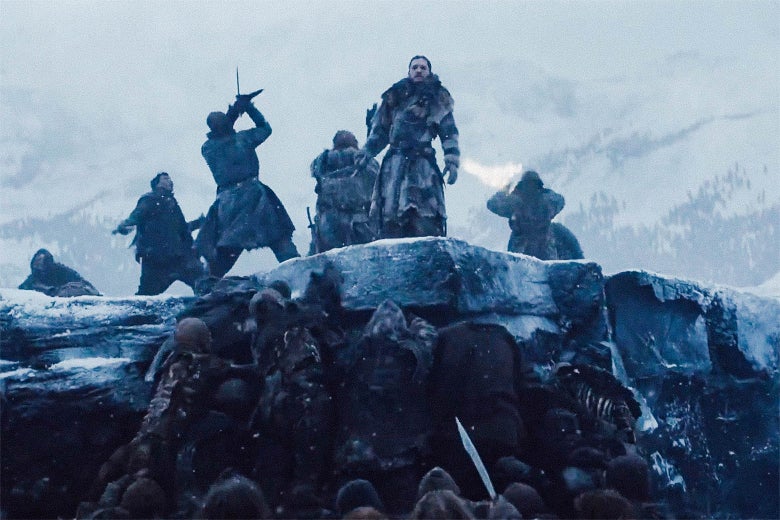 I can't tell you how Game of Thrones ends, but I'm pretty sure I can tell you how it doesn't. From the beginning, the series has depicted a world where attempts to appeal to others' sense of a higher purpose are the fastest way to kill you. (Just ask Ned Stark's cut head.) Viewers have known from the beginning that humanity is facing an existential threat from the army of the undead, known as White Walkers, but the characters of the show have only discovered the threatening crisis gradually, and they have been slowly count on the little one they know. Now, with Night King's masses marching south from the battered wall, there is no doubt that the threat is genuine. And yet, with only five episodes of Game of Thrones left, humanity has determinedly failed to rise to the occasion. Jon Snow's attempt to form an alliance with Daenery's Targary has created dissension rather than unity where some northern houses leave the cause, and others, like poor little Lord Umber, left unprepared and implied. Despite having promised his troops, Cersei is just waiting and hopes that the rival armies will weaken each other enough to conquer everything left.
There is only one plausible conclusion to this saga, and that is that humanity does not survive. Westeros & # 39; s different factions never get it together, or they recognize too late that even the divisions between those who have lasted for centuries bleached next to the gap between the living and the dead. In the first season, Cersei explained the struggle for power to Ned Stark – who at that time still had his head as "where you win or you die" and the subsequent years have uncovered some evidence of a third option. No one negotiates peace with Night King.
Facts on Earth in Westeros are different from those in our world, but human nature is constantly across universes and what we have seen of Game of Thrones & # 39; assume it is exceptionally pessimistic – and quite justified. The applicability of the series as an allegorium of climate change can be overlaid, but to the extent that it reflects our ability to bind together in the face of threatening disaster, it is far too precise. Last year, a report by the Intergovernmental Panel on Climate Change warned that irreversible changes could be started as early as 2030 and preventing them would require massive and unprecedented transformation of the world economy. Faced with a clear deadline and overwhelming scientific consensus, we have done … "nothing" does not seem to be too strong a word. There is nothing far away approaching the kind of inaudible public decisions that would move politicians and industry to rapid, decisive actions. Some of us are pretty upset about everything, but others are either flush with fossil fuel boxes or too busy drinking from liberal tears mugs to admit the problem exists. (As I currently write about a popular television program rather than linking myself to the doors of the Danish Environmental Protection Agency, on a global level, I can't do much more.)
What little we know about Game of Thrones – last season suggests the series will at least flirt with the possibility of mass extinction. The episode-length battle of winter trap is likely to fall in the third episode of the season, directed by miguel sapochnik directed to the series' previous blowouts. (Given that the troops are already assembled, it seems unlikely that the show will wait until the fifth episode, also directed by Sapochnik, to play it briefly.) That means that the human armies will make a do-or-die stand at Winterfell, and unless the series plans to spend three full episodes on the relatively insignificant question of who rises to the Iron Throne after Night King's defeat, my guess is that humanity will lose the battle. And since all people killed are not just a loss for one side, but an undone addition to the other, it should be ballgame. As a viewer, I commend Jon Snow and co. But if I was an Essos player who made a bet, I know who I would put my money on.
There is only one problem. The show, which became famous for its willingness to kill off seemingly significant numbers, has become smaller and less likely to do so. Even before Jon Snow came back from the dead, the viewers had begun to develop a sense of what characters were crucial to the series' final play and thus impossible to kill. You didn't need Ramsay Bolton or even Littlefinger to tie the loose ends of history, but it is impossible to imagine Dany or Jon being run for shock. There was no chance that High Sparrow would ruin Cersei for good, or that Arya would fail Faceless Men's tests. The show's characters had acquired what fans call "plot armor," which meant that any time the odds seemed really hopeless when supported against a wall and there seemed no way out, we knew the question was not if they & # 39, escape, but only how.
Now that the series is almost over, the individual characters finally lose their invulnerability. (For all we know, some of the key figures could buy it in episode 2.) But there is still a pack plot plot left, and it is the largest and most wise of all. I do not know which people will survive to the end of Thronespil but I feel that certain people will – that the series will end in a Westeros, where the Night King has at least been beaten back if not completely defeated. The logical end to the prizes Thronespil has assumed that the night king laughs at the iron throne, surrounded by his death army, but HBO has not invested close to one billion dollars to tell a story whose morality is that humanity is screwed . The victory comes at a price, but the price will be paid; life of some kind will continue. Unfortunately, there are no such guarantees in our world. We can lose our fight and there will be no one to appreciate plot twist.
See Game of Thrones on Sunday evenings. So listen to recaps with June Thomas, Sam Adams, Dan Kois and other Slatesters every Monday.
Join the Slate Plus
Source link