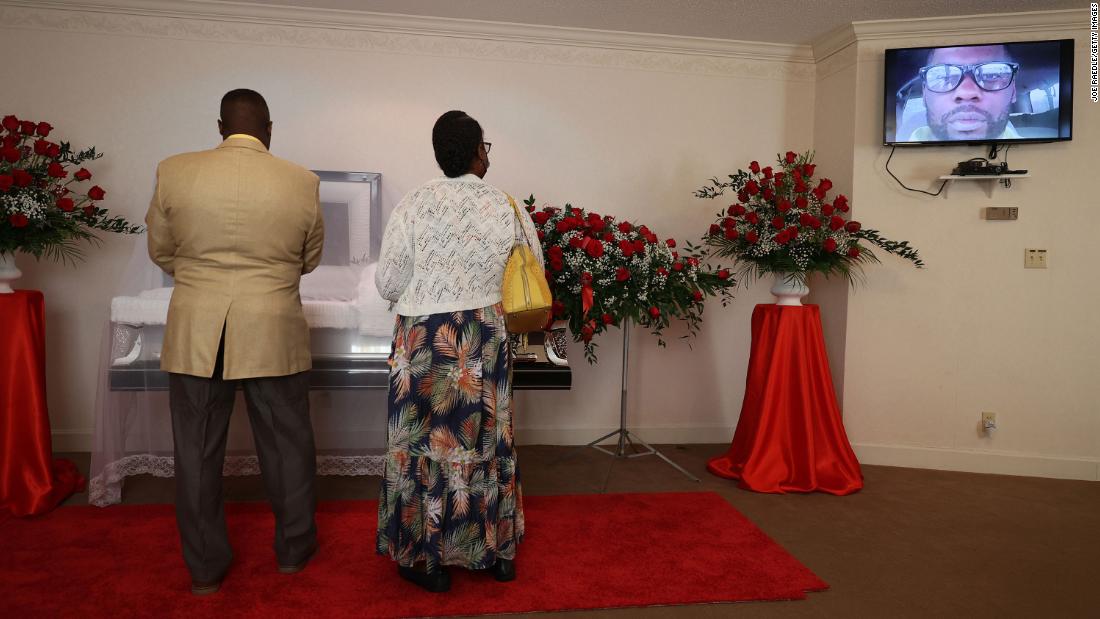 "He was a caring person, and everything he did was for his children," Brown's son, Khalil Ferebee, told CNN last week. "He loved us all. It's just sad that my baby brothers, my sisters, had to grow up without him now."
Brown's funeral will be held at a Fountain of Life Church in Elizabeth City, said Benjamin Crump, a civil rights lawyer and attorney for the Brown family. Members of the Brown family and Crump are expected to speak with Pastor Al Sharpton, the civil rights leader, to hold the praise.
Members of the families of George Floyd and Eric Garner – other black men killed in law enforcement meetings – are expected to attend, Crump said.
Protests continued Sunday with a demonstration of a criminal justice reform held in Brown's honor. Brown's family, community leaders and activists marched through Elizabeth City, singing his name and holding flags that read "Black Lives Matter".
Authorities have released few details on what led to the April 21 shooting, when Brown was fatally shot by Pasquotank County deputies trying to carry out an order. An independent autopsy ordered by the Brown family and their lawyers said Brown suffered five gunshot wounds – four in the right arm and one in the back of the head.
State law requires a court order to release footage from body cameras. A judge in North Carolina ruled last Wednesday that Brown's family would be allowed to watch footage from the camera of the recording, but the videos were not released for 30 days.
Earlier in the week, Brown's family was able to see a short piece of material, about 20 seconds long, which a family lawyer said depicted an "execution."
"Let go of the bands," marchers shouted Sunday. "The whole bands. The right bands."
"20 seconds!"
"Not enough!"
Only two family members, including Ferebee, could watch the footage along with legal representatives, Harry Daniels, one of the family's attorneys, told CNN on Sunday.
"I just do not understand what they're trying to achieve," Brown's aunt Lillie Brown Clark told CNN. "What is the point of the video and the taxpayers paying for body scams if they are not seen?"
Jadine Hampton, Brown's cousin, told CNN that even if the family mourns, they can not stop demanding justice.
"I think we mourn, but we do what we have to do," she said. "Because the way things happened, we have to be here, we have to support, we have to protest. We have a long way to go."
"The first order is the release of the bands, the whole bands, all of them, every angle, every body that was on," Hampton said. "We have to see it."
'This is pain'
The family and the district attorney have given different accounts of what happened, with the latter saying at a court hearing last week that deputies fired when the car Brown was driving contacted law enforcement. But the family and their lawyers said Brown drove away to save his life.
The shooting is under investigation by the North Carolina State Bureau of Investigation. The FBI has also launched a federal civil rights investigation into the shooting, according to the agency's Charlotte field office.
"I want you all to hear the pain in this society. The pain, the cries that you hear, the pain that you hear – this is pain," Family Lawyer Chantel Cherry-Lassiter said at a news conference last Tuesday. "And a lot of time pain is interpreted as rebellion or whatever people want to interpret it as. Call it what it is. It's painful for this family. It's painful for this community."
Brown's funeral service follows at least two other black people killed in law enforcement meetings in recent weeks: Daunte Wright and Ma'Khia Bryant.
In delivering the praise, Sharpton will reproduce a role he had at the funeral of Wright, a black man who was shot dead by a police officer last month in the Minneapolis suburb of Brooklyn Center.
Brown's funeral also comes just three days after one in Columbus, Ohio, for Ma'Khia, a black 16-year-old who was also shot by a police officer there.
"I'm tired," Bakari Sellers, a lawyer for the Brown family, told a news conference last month.
"I'm tired of mourning and crying. I'm tired of watching the videos, then we protest, then we have a funeral," he said. "Then we have another shooting. We mourn, we cry, we protest."
CNN's Nicquel Terry Ellis, Natasha Chen, Eric Levenson and Gregory Lemos contributed to this report.
Source link