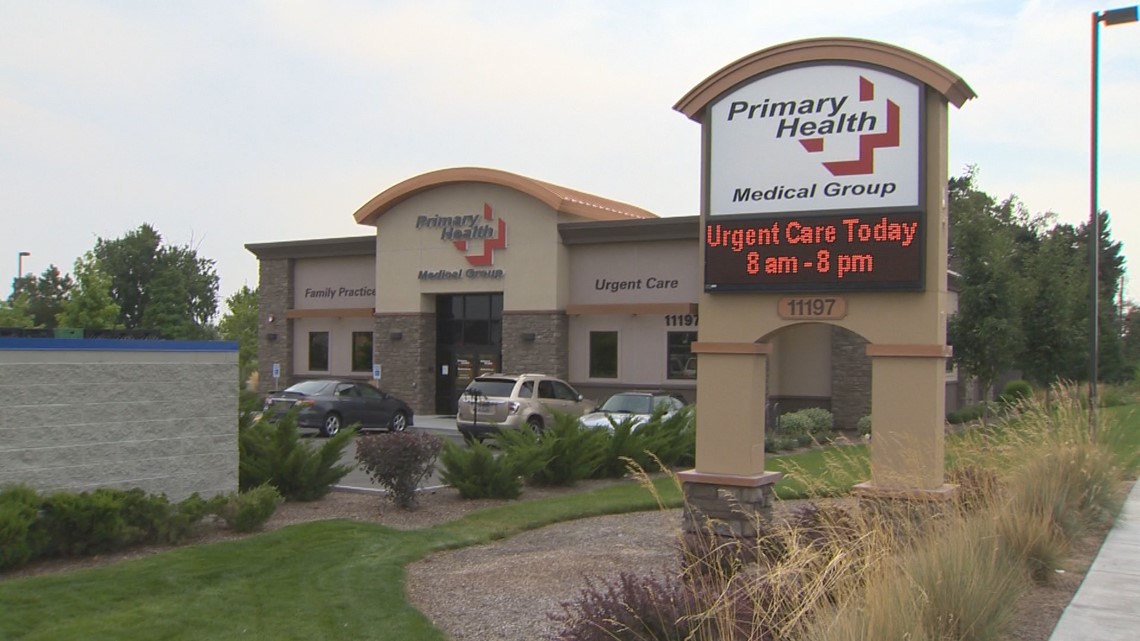 "Our highest priority is to keep our clinics safe for all our patients and our staff," wrote Dr. David Peterman in a letter to staff.
BOISE, Idaho – Primary Health Medical Group announced Thursday that all staff are required to receive the COVID-19 vaccination with reference to the safety of patients and other staff.
Primary healthcare professionals must be fully vaccinated for COVID-19 by September 9, 2021, the medical team said. Limited medical exemptions from the policy will be considered based on the FDA's list of vaccine contraindications, the Primary Health chief said, while religious exemptions "may be considered."
;
"We understand the enormity of this decision and place the mandate in the light of current medical information that has overwhelmingly demonstrated the efficacy of vaccines and the rare occurrence of very few serious side effects," wrote Dr. David Peterman in a letter to staff. "Our highest priority is to keep our clinics safe for all our patients and our staff."
Trinity Health, of which Idahos Saint Alphonsus is a part, and St. Luke's Health System also made similar announcements that employees should receive COVID-19 vaccines.
Primary Health currently has about 640 employees throughout Idaho, 78% of whom are already vaccinated.
More than 2,100 Idahoans have died of coronavirus since the pandemic reached the state in March 2020, and more more became ill.
Peterman said the coming fall and winter months will bring thousands of patients with all types of viral diseases to primary health clinics, and that schools are likely to reopen in the fall with most, if not all, of the children participating still unvaccinated to COVID -19.
"We cannot go through another year like last, where 30% of our staff were sometimes out of illness and clinics had to be closed. We have to be available to our patients," he wrote.
The release came the same day that Saint Alphonsus' owner Trinity Health announced that the vaccine is required for all staff, contractors and anyone else "doing business in its healthcare facilities." Saint Alphonsus employees have until November to provide proof that they have been vaccinated.
Primary Health will require its staff to receive their first dose by August 5, 2021, with the second dose coming by September 9. Those receiving a single-dose vaccine must have it by August 5, 2021.
Peterman spoke with The 208 on Thursday, saying that decision was long overdue.
"We have a group of doctors who look at the evidence, who then make a recommendation, and then we follow that policy, we do it with flu vaccines," he said, "we do it with other vaccines, like hepatitis, and I'm prepared. on us to do it with COVID vaccine, and if it means an employee wants to work somewhere else, then I support it. "
Peterman explained that there was enough data to show the effectiveness of the vaccines and that now is the time to demand the COVID-19 vaccine.
Approx. 130 of the employees of Primary Health are unvaccinated. Peterman said, "This is a diverse group with different thoughts. I'm sure there is one particular group that is hesitant, but hopefully this will push them to be vaccinated."
He said demanding that all staff be vaccinated gives him confidence to tell his patients and staff that Primary Health is a safe place to work.
"If some employees find out that they just do not want to be vaccinated and they do not have an exception, we will have to get them to work somewhere else," he said. "It's as simple as that."
The requirement applies to those who have already entered into COVID-19, as well as those who do not.
Peterman added that concerns about the growing delta variant of coronavirus and the upcoming school year influenced the decision.
"We see hospitals and other medical clinics across the country in the last four weeks have also started requiring vaccinations, and when I saw it and honestly, I started to see the school calendar, and I especially saw what happened in Israel with children and the delta variant, I said we should do it now, "he said. "If some of these children are asymptomatic with the delta variant, they will give it to those who are unvaccinated, and then we will see admissions again, and that is a concern."
The medical group has had a vaccination policy for its staff in place for ten years, and the staff must have the flu vaccine every year. Peterman said the COVID-19 vaccine should not be treated differently.
"Every employee at PHMG has done an excellent job over the last eighteen months. I cannot express enough how proud I am to be associated with you all. You have literally saved thousands of lives," Peterman wrote. "Taking the next step to vaccinate all of our staff will keep us on track to provide quality care to all of our patients in a safe, healthy environment."
At KTVB, we focus our news coverage on facts and not the fear surrounding the virus. To see our full coverage, visit our coronavirus section here: www.ktvb.com/coronavirus.
Facts do not fear: More about coronavirus
See our latest updates in our YouTube playlist:
Source link