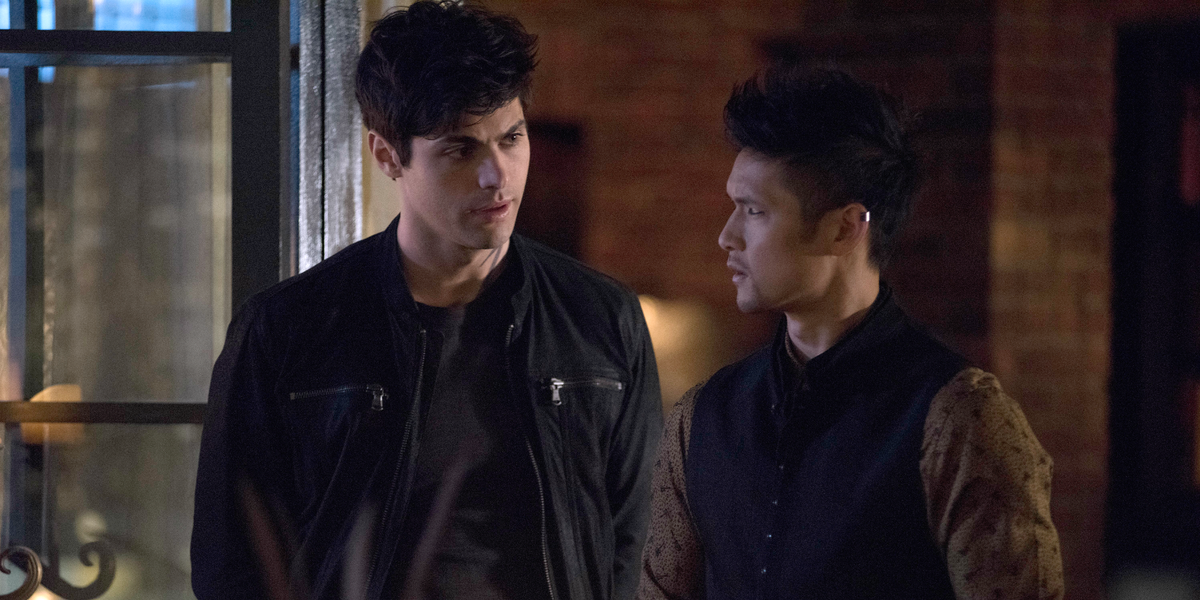 After an awfully long wait, Shadowhunters finally returned to the remaining 12 episodes and believe me when I tell you that we as a collective were not ready. As much as we have all been begging for return, after this evening's episode, I wish we could have a few weeks of hope to stick to.
Warning: spoilers for season 3B premiere, "Lost Soul". Prior.
Honestly, it's shocking that the creators didn't know 3B would be the last on Freeform because the mood they've created is remarkably similar to the way many fans feel: broken. And it looks like they are setting the mood for the rest of the season. Despite the "revelation" that Clary (Kat McNamara) is not dead, she now has another seemingly unobstructed obstacle in the way, and it will probably not solve anything if it is sprayed to Edom. Here are the most heartbreaking moments from Shadowhunters great return:
Everything with bad sweet baby Jace
Clace fan or no, it's hard to ignore Jace's (Dominic Sherwood) pain over the "loss" of clary Because of the fact that his love of life would still be alive, if it was not for him (his words, not mine), he seems innocent in hunting and literally throws himself into and a firmer spear.
If the pain of losing Clary wasn't enough, he also has flashbacks for his time as The Owl … and it's not beautiful. It takes some devastating lectures with Izzy (Emeraude Toubia) and Alec (Matt Daddario) to stop him from doing anything he cannot take back.
It especially tells that the King of Bad Plans is so rejected that he does not himself jump on Luke's (Isaiah Mustafa) Wild Conspiracy Theory that Clary might still be alive somewhere.
Talking about he is quite right, but it is a little depressing to think that Luke is hiding from the world by understanding that his daughter, who disappeared after a literal explosion, is not dead.
Simon also accuses himself
As if there was not enough "if it was not for me, Clary would still be alive "and the episode shows a literal montage of platonic Climon moments while Simon (Alberto Rosende) hides alone in apartment. When Maia (Alisha Wainwright) – who is officially back, btw – trying to get him out of his hooves, he tells her that he is too much of a threat to be near someone. Someone protects my daydreaming son.
The beginning of the end of Saia [19659005] See, based on teasers for 3B alone, we already knew that Sizzy will happen in the near future, and if Simon and Isabelle finally find you s way to each other, it must mean the end of his relationships ip with Maia. But would it come soon?
It was true that there was no official breakup in this episode, but the normally burning couple's set chemistry marked the beginning of the end. In the 3A final, Maia left town when Simon most likely needed her (no shadow to Maia, it's important to take care of your own mental welfare first). I can see why her return would be bittersweet for Simon.
Surely enough, Maia doesn't feel like joining Simon on her mission to find a vampire who might have a cure for Markus Cain, while her excuses are certainly clear (she's right, it's not a good idea to bring a wolf into a closed sewer system), there was a time she would do something to help Simon, this exchange is what broke me:
Maia: Call me if you find him.
Simon: And if I don't?
Maia: [long, uncomfortable pause] I'll always be here for you. You're not alone.
Rip out my heart, why don't you
Magnus of the whole
All the men in Shadowhunters have a great need for a hug, despite his ability to avert Iris Rouse's (Stephanie Beldi ng) spell and protect Madzie (Ariana Williams) with her willpower, even without his powers, believes Magnus "Quite Magical" Path that he is useless.
Doesn't matter what Alec tells him, the loss of Magnus's magic will clearly be a trauma that will continue to affect him for the rest of the season. I already get anxiety about the upcoming Malec anxiety.