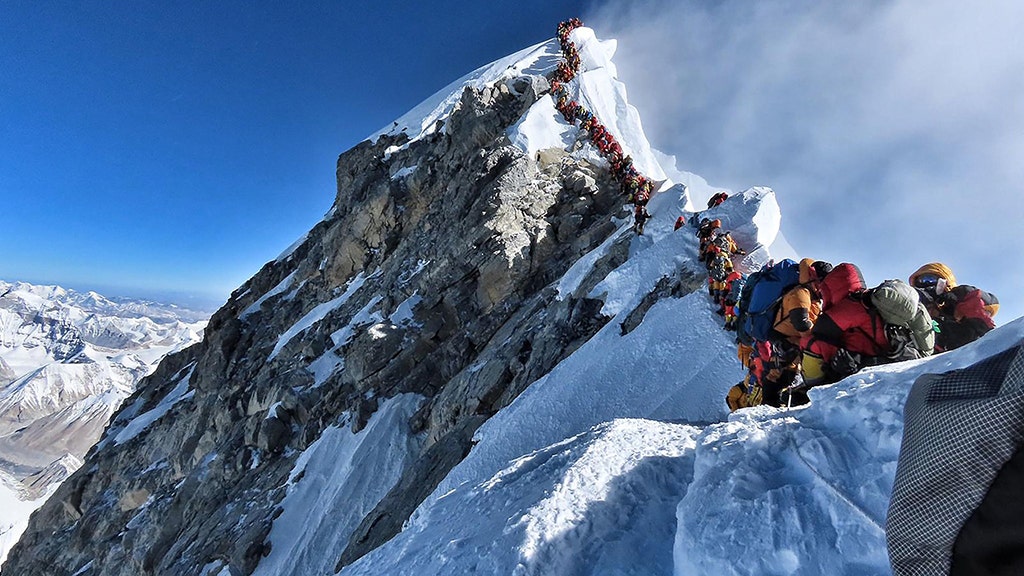 Three people died descending from Mount Everest on Thursday, increasing the death toll for the week to seven.
Climbers hoping to make it to the top of the mountain are forced to wait for hours at 26,200 feet in freezing temperatures in
UTAH MAN DIES AFTER REACHING MOUNT EVEREST SUMMIT: REPORT
Tour organizers say they believe it's the number of permits and the long traffic jams are causing the deaths on Mount Everest
"This is a huge problem because the route is already dangerous, and there is always risk. And a lot of traffic makes the journey quite difficult, "Nivesh Karki, a tour organizer, told The New York Times.
MOUNT EVEREST IS REPORTEDLY COVERED IN GARBAGE AND DEAD BODIES
Many climbers reportedly received permits to get up to the mountain top because of the recent good weather. Nepal issued nearly 400 permits costing $ 1
1,000 each for the spring season, BBC reported
Another tour organizer told AFP a man who died Thursday was stuck in the traffic for more than 12 hours and was exhausted.
An astounding picture posted on Facebook was just how long the line was up to the mountain was.
Two Indian men and another climber were among those who died Thursday. An American, Austrian, Indian and Irish climbers were among the others who died over a week's span, according to BBC
CLICK HERE TO GET THE FOX NEWS APP
Only five people were known to have died on Mount Everest last spring season.
Source link