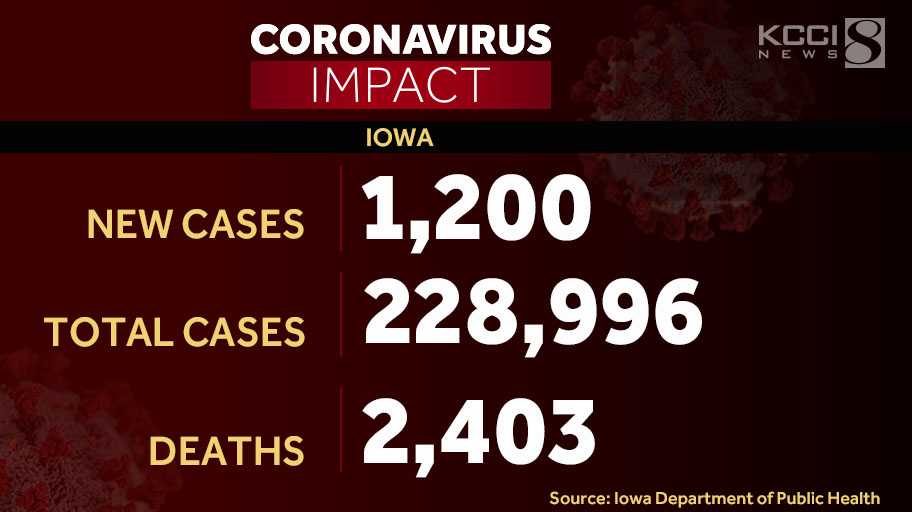 RIGHT NOW IN IOWA PRISONERS THERE ARE MORE THAN 280 CASES ABOUT COVID-19. IT IS UNDER THE CORRECTION DEPARTMENT. 81 OF THESE CASES ARE IN ANAMOSA, 37 ARE IN FORT DODGE, AND THERE ARE 85 NOTHING WITH COVID IN MT. PLEASE
28 additional COVID-19 deaths, 1,200 new cases reported in Iowa
The Iowa Department of Public Health reports 28 additional COVID-1
9 deaths Monday as several long-term care facilities report virus outbreaks. Iowa reported 1,200 new positive coronavirus cases on Monday. From kl. 10, the health department reported a total of 228,996 positive cases, 132,210 total cures and 2,403 total deaths since the start of the pandemic. Iowa reported a total of 227,796 cases and 2,375 deaths 24 hours earlier. State data show that 1,211,072 Iowans have been tested for COVID-19. Iowa received 3,786 individual laboratory test results a day ago with 853 positive cases. The state receives test data from previous days that adds to the total sum. Iowa's state 14-day positivity rate rose from 17.8% to 18.9% on Monday. Data from the health department show that 87 of Iowa's 99 counties report a 14-day positivity rate of or higher than 15%. Schools in these counties can apply for a waiver to provide 100% online learning. Forty-two of Iowa's counties report a rate higher than 20%. Lyon County reports a 31.3% positivity over the last 14 days. Trends in virus admissions continue to decline in Iowa. There are currently 1,162 Iowans hospitalized with the virus, down from 1,175 a day earlier. There were 138 patients admitted within the last 24 hours, and 224 patients were listed in intensive care. Both of these numbers fell from the previous day. Iowa reports approximately 3,500 hospital beds, 393 ICU beds and 843 fans available. Hospitalization analysis shows that 852 patients were hospitalized with a primary COVID-19 diagnosis, while 310 were hospitalized for another reason but tested positive. State data show that 71% of inpatients are over 59 years of age. Two more long-term care facilities report COVID-19 outbreaks in Iowa, bringing the total to 155. There are 4,937 positive cases and 2,078 recoveries reported within these facilities. 1,063 deaths have been reported in Iowa's long-term care facilities. The Iowa Department of Public Health provides real-time virus data on the dashboard of this site. KCCI publishes a daily overview at 10 in the morning
DES MOINES, Iowa –
The Iowa Department of Public Health reports 28 additional COVID-19 deaths Monday as several long-term care facilities report virus outbreaks.
Iowa reported 1,200 new positive coronavirus cases on Monday. From kl. 10, the health department reported a total of 228,996 positive cases, 132,210 total cures and 2,403 total deaths since the start of the pandemic. Iowa reported a total of 227,796 cases and 2,375 deaths 24 hours earlier.
State data shows that 1,211,072 Iowans have been tested for COVID-19. Iowa received 3,786 individual laboratory test results a day ago with 853 positive cases. The state receives test data from previous days that adds to the total sum. Iowa's state 14-day positivity rate rose from 17.8% to 18.9% on Monday.
Data from the health department show that 87 of Iowa's 99 counties report a 14-day positivity rate of or higher than 15%. Schools in these counties can apply for a waiver to provide 100% online learning. Forty-two of Iowa's counties report a rate higher than 20%. Lyon County reports a 31.3% positivity over the last 14 days.
Virus incidence trends continue to decline in Iowa. There are currently 1,162 Iowans hospitalized with the virus, down from 1,175 a day earlier. There were 138 patients admitted within the last 24 hours, and 224 patients were listed in intensive care. Both of these numbers fell from the previous day.
Iowa reports approximately 3,500 hospital beds, 393 ICU beds and 843 fans available. Hospitalization analysis shows that 852 patients were hospitalized with a primary COVID-19 diagnosis, while 310 were hospitalized for another reason but tested positive. State data show that 71% of inpatients are over 59 years of age.
Two additional long-term care facilities report COVID-19 outbreaks in Iowa, bringing the total to 155. 4,937 positive cases and 2,078 recoveries have been reported within these facilities. 1,063 deaths have been reported in Iowa's long-term care facilities.
The Iowa Department of Public Health provides real-time virus data on the dashboard of this site. KCCI publishes a daily overview at 10 in the morning
Source link